I want to start by saying I don't know the first thing about writing a book. I do know enough to look in the front of several in my library for a pattern of some kind and this is what I found. First, I need a PROFOUND STATEMENT for page one so here goes. Dizzy Dean said, "If you can do it, it ain't bragging." I wouldn't have known that except I heard Nolan Ryan, another baseball player quote him in a television commercial. Since this will be written in first person singular, there will appear to be a lot of bragging. Next, a table of CONTENTS. That will come as different episodes are written and posted to the web site. I also need a section titled ACKNOWLEDGMENTS and here I have something to say. I want to thank my friend Max Booker who came up with my nickname, "Froggy." We have been best friends since 1958. Next, Edwin L. "Skip" Skipworth who has encouraged me from the first to write a book. I have only known "Skip" and his bride Wilsie for a little over a year, but it seems like a decade or longer. We worked for the same company at different times.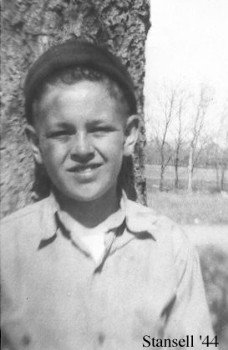 Me

The episodes are actually letters relating some of my hare brained escapades. Hare brained or not, they are true. I may be a little off on some of the dates but close enough for government work.

I was born August 7, 1933, in Haskell County, Texas. My dad was a cowboy for the Swensons, ranch people who owned land in several counties. First picture of me that I have is me in his lap at about eleven months sitting on the water wagon. Just about everyone hauled water back then. The railroad furnished it. This was back in the steam engine days when the trains still took on water from a tower. Ranchers and farmers would drive their wagons up under the spout for a load of life giving fluid. I don't know if they paid for it or not. Can't make much difference now.

My dad wanted to be a truck driver from the first time he saw one. He finally started driving full time soon after the war broke out and was driving one the day he died December 7, 1986. We moved many times before I finally settled in Weatherford, Texas at age fifteen.

I want to call this book, ME AGAIN. If anyone objects, please let me know. The phrase is one a customer used every time he called me about the automobile I had sold him. I hope you enjoy the stories and photos.




Visit The Frog Pond at Sweetwater Hicks'.





Preface
1
2 Hog Killing and Other Occupations
3 The Photo
4 Take the Tour
5 My Name is Froggy
6 Cairo 1984
7 Pet Peeves
8 When In Rome
9 Hail Columbia
10 On the Trail
11 Orville and Wilbur
12 Move Over Buddha, You Have My Seat
13 Move Over Buddha Continued
14 Birds
15 Gardening
16 Guitar Pickin
17 Marriage, Truth or Consequences
18 Weed Eaters
19 Cross the Brazos at Waco
20 The Lonestar Tavern
21 Flying Coffins in Cairo
22 From Butte to Paradise
23 My Favorite People
24 Tight Lines, Sharp Hooks
25 Rescue at Sea
26 Of Course I Can Fly
27 Working Without a Net
28 How Do You Want Your Eggs?
29 Showdown at Gambler's Gulch
30 Get the Net!
31 If I Could Would You?
32 That Reminds Me
33 Coffee, Tea or ...

34 Very Important Truffles Alert
35 Airline Meals
36 On the Way to Work
37 Do's and Don'ts
38 A Day at An Shas
39 Geronimo
40 Kids Will Be Kids...Or Something
41 Moby Dick
42 Life at the Sheraton
43 Life is a Gamble
44 "Now I lay me down..."
45 Treasure or Trash
46 It Pays to Complain
47 Scoutmasters
48 The Judge
49 Not Ever Again
50 Repo Man
51 Keep Those Caissons Rolling
52 The Nigerian Cardinal
53 Intentional Spins Prohibited
54 GI Joe
55 Lead Me Not Into Temptation; I Can Find It By Myself
56 Debbie Reynolds and the Blue Tail Fly
57 Bits and Pieces
58 Wonder What the Poor Folks are Doing
59 TWA and My 1938 Chevy
60 Early Point and Shoot
61 Cairo Memories
62 Just the News
63 Deer Season
64 Camping Out in Germany
65 Characters
66 And now, for the rest of the story
67 Adios Amigos