Chapter 12
Move Over Buddha, You Have My Seat
Through the generosity of my brother in law, David McDavid, my first wife and I were able to journey to Japan in May 1975. Dawn and I had suffered the loss of our only son February 22, 1975, and the family thought this would be a way to take our minds off this tragic event. In retrospect, it worked for a while. David had actually won the trip through the automobile division of Honda Motors but he was allowed to give it to us and for that I am grateful.

We started making plans the last of March and May arrived all too soon. We departed DFW and arrived at LAX mid afternoon. We were met by Honda representatives and escorted to our hotel near the airport to meet the other 91 people on the trip. I was glad the trip was limited to that many people as our previous trip to Rome had over five hundred.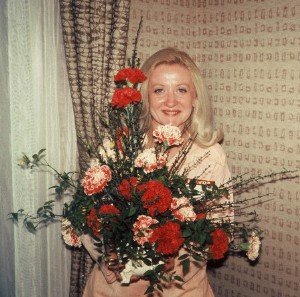 Dawn with welcome bouquet
A welcome reception and dinner followed along with a briefing. In addition to the tourist attractions, we would be obligated to attend some meetings at the various factories in Japan. I was just glad to see some old friends on the trip, namely Ramsey Gillman, of Gillman Pontiac-Honda in Houston.
You cannot have a better traveling companion than Ramsey. We had nicknamed him, "Rambone, Hambone, Buffalo and Carp" for some reason. He was young, full of life and planned to meet his fiancé in Tokyo, a flight attendant for Continental Airlines.
Next morning early we were taken to LAX where we boarded a JAL 747 for the long trip to Japan. Ramsey managed to trade seats in order to sit next to me. He informed me he intended to pay for his trip by beating me out of a lot of money playing gin rummy. This was his first mistake. It is a good thing he is rich. The other mistake involved the size of the seats on JAL. Ramsey is rather portly and I swear the seats are seven-eighths the size of seats on American carriers.
Service, even in tourist class, was excellent. Flight attendants started by handing out hot towels followed by a choice of American or Japanese appetizers. We elected for the Japanese, my first experience with sushi and I was hooked. We even started to get the hang of chopsticks. I wasn't so sure about the entree but in for a penny, in for a pound. Ramsey assured me they would not poison an entire plane load of people.
We had a brief layover in Honolulu and were allowed to deplane and stretch before the next the next leg. We arrived at Tokyo Airport after dark, were escorted through customs at a rate that surprised me, loaded on buses after a group picture and taken to our hotel, The Imperial, right across the street from the Emperor's palace. Dawn and I had a room on the second floor that offered a wonderful view of the grounds. Honda's middle name is efficiency. When we got to our room, our bags were already there.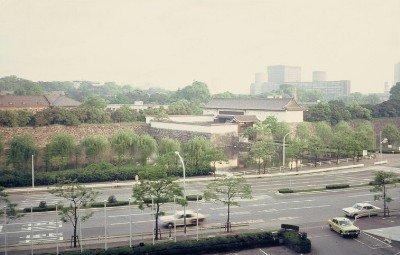 View of the Imperial Palace from our room in the Imperial Hotel
We freshened up and joined the group in the dining room for a late dinner and another briefing. This is when we met the English speaking young man who would be our guide and companion for the next ten days. There were ten of these young people and each were responsible for ten Americans. I don't know when they slept because we kept them up all hours. Not me, but some of the winners could be pretty demanding. They seemed to be trying to win the "Ugly American Award." Ramsey and I nicknamed ours "Mac" because we had a problem with his real name.
We returned from dinner to find our bags unpacked and clothes hung neatly in the closet. What I really wanted was a soak in the huge bath in our room. We filled it with hot soapy water, opened a bottle of wine and got a little drunk. Next morning at breakfast I could hardly move. I ached in every joint and Dawn suggested a massage. I asked Mac who told me he would arrange it, just call the desk when I was ready. We had the morning free and I called the desk. A few minutes later we opened the door to find a Sumo wrestler, not the petite masseuse we expected. This woman cracked every joint in my body and left me feeling much worse.
First order of business that afternoon was a trip to the Police Academy to watch a demonstration of Honda motorcyles and to meet the President of Honda Motors. I had a gift for him and I have to back up here. David had told me the President was taken with western attire. I had gone to Ryon's Western Wear to purchase a new hat for the trip. The one I wanted was marked $110.00. I told Whistle Ryon that was more than I wanted to pay, that all I needed was something to water my horse. He said, "In that case, you can have it for $55.00." I said, "Good, I'll take two." So I had a new Resistol to give to the Pres.
It was one of the highlights of the trip. About a hundred school children were on a field trip. They kept pointing at the hat and saying, "Cowboy, Texas Cowboy." We had our pictures made with the President and the school children, some with the kids wearing my hat. They were also fascinated with Dawn's long blond hair.
That night after dinner Dawn, Ramsey and I decided to check out the bar. We met up with a group of Australian Honda Motorcycle dealers and this was almost our undoing. We had been told to sign any checks for food and drinks, anything except laundry, and Honda would pick up the bill. Ramsey and I took turns signing the bar tab, "shouting" our new found friends drinks. The next morning Mac approached our table and bowing asked that we not go to the bar unless he accompanied us. Seems we had run up a rather sizable tab. Cutty Sark is very expensive in Japan.
Next day was a trip on the Bullet Train and overnight in Kyoto. We only took clothing for the overnight and left our luggage in our room. Unheard of in America but that is the way they wanted it. All seats on the Bullet are reserved and you had better be ready when it comes time to board. Delightful trip. This is already too long so will take up again in Kyoto.