Chapter 13
Move Over Buddha Continued
Kyoto, a beautiful city and we had the afternoon free. I told Mac I wanted to see Japan, not the tourist traps but the real Japan and meet the people. He told me to take a street in front of the hotel and when I no longer saw, Master Card, Visa, or American Express in the windows, we would be in Japan. Our first stop was the fish market. This old boy from Texas has seen some fish in his day but nothing like this. Every description and kind you can imagine. Prawns, octopus, big fish, little fish and yes, swordfish and what I guessed to be whale blubber. Do not get in to a bowing contest with a Japanese. I made this mistake in the fish market. We left without buying any fish and came to a Kabuki Theater. The billboard advertised in English as well as Japanese and we went inside. We were given programs written in English in order to follow the script and it was very entertaining. All of the actors are men, they play all the roles. Pretty exciting during the fight scenes.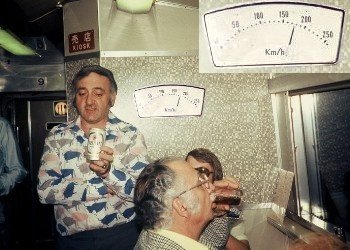 Bullet train from Tokyo to Kyoto - 180 Km per hour!

Back at the hotel we had a good laugh. One couple had taken a taxi but could not tell the driver where they were staying. The man remembered the book of matches he had picked up from the desk before they left. He showed it to the driver who took them to the matchbook factory. Another couple had purchased almost $2500.00 worth of Nikon equipment, walked off and left it on the train. Within two hours, it had been returned. Might not have been so lucky in the good old US OF A.

I was still hurting. Back in the room, I called the desk and asked for a massage. When I opened the door there stood a little man about five feet tall wearing a kimono. Uh-oh, another Sumo wrestler but this man was fantastic. Within thirty minutes, I didn't have an ache in my body. Felt so good, Dawn even had a massage.

Back in Tokyo and another round of factories and tourists spots. Lunch one day was very nice, a cook it yourself, pitch til you win. We were outfitted with aprons, chefs hats, knives and spatulas. The President of Honda joined our table wearing his new cowboy hat and demonstrated the proper way to cook all the dishes. What a hoot!

Another trip required a two night stay. First to the Honeymoon Hotel on a beautiful lake. That wasn't the real name but our guide told us it was a favorite with newlyweds. We would also have our first real Japanese bath. Originally, bath houses were coed but this was not to be. The bath is split level with the women bathing on the upper tier. We were issued small towels and buckets and that seemed a bit odd but when in Rome. The towels are modesty cloths. The buckets are used to draw water. I found out you bathed before you entered the pool. Everyone washes with soap and water before selecting one of three pools heated to different temperatures.

The tour was all couples, male and female with one exception. A lady from Yonkers, New York, brought along her twelve year old daughter instead of her husband. The lady was something else. She joined in the liars poker games, played golf and teed off from the menus tees. Very competitive, good looking too. We were all squatted down going through the soaping ritual when we heard a whistle. Looking up we saw our wives and girl friends looking at us over the top of a privy hedge. They had an unobstructed view of our area and the lady from Yonkers was busy snapping pictures. The modesty cloth certainly came in handy that day. Never did see the photos.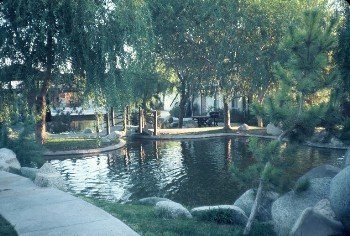 Garden and pool in Kyoto

From the hotel we journeyed over to the Mikimoto Pearl Factory. Did you know that the irritant placed in an oyster is a grain of sand from Biloxi, Mississippi? Back in the late twenties, early thirties, the man who had started the cultured pearl business selected the sand as the best for pearls. Very interesting and a wonderful salt water aquarium. Worth the trip.

Last night in the hotel, a party in our honor with a Japanese Country Western Band. They didn't understand a word of English but knew just about every country song in the book. We were all seated on futons drinking hot sake, every one but me. I elected to drink my cold against the advice of Mac. It was about this time that Ramsey Gillman gave the band some money to let me sit in. The leader played a very nice Gibson ES-335 very similar to mine. I thought I would be doing a solo instrumental, "Steel Guitar Rag," but they jumped right in. I started "Walking the Floor Over You," an old Ernest Tubb tune and they played it just like the record. By now we were on a roll and I must have stayed up there thirty minutes or more. If you have never seen a little fat guy in a kimono, wearing a Resistol cowboy hat and playing a guitar, then you have missed the eighth wonder of the world.

Here a bit of advice. Never drink cold sake. I have had hangovers and headaches but never one compared to the pain I felt next morning. Mac fixed things with a Bayer aspirin and a Bloody Mary.

Back in Tokyo for a round of factory tours and a sayonara party. We had our group photos taken at every stop and we were all in the habit of saying, "Gloop piture." This night was no exception. The photographers who had followed us around were busy snapping photos. At the end of the evening, the President of Honda presented each of us with a personalized album full of candid shots or our group. They even included shots of the party.

Ramsey's girl friend, a flight attendant for Continental Airlines had joined us during the honeymoon hotel trip. When we boarded the plane to return, he sat down beside me. We were in a middle aisle, four seats across at a bulkhead. Great for stretching out. It was not his assigned seat but he bragged he could swap with the person who was supposed to sit there. The lady from Yonkers came down the aisle with her daughter. The young lady looked at Ramsey and said, "Move over Buddha, you have my seat."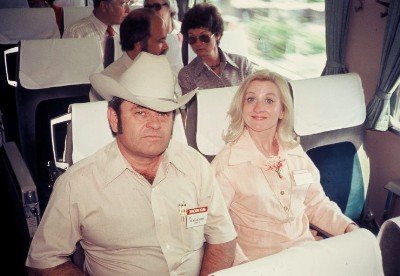 Me and Dawn on the bus to the airport for the return home -
It had been a good sayonara party!

Back to Tokyo for a minute. While we were in town, I noticed the Sumo tournament was in full swing. I had always wanted to see a match and asked Mac if he could arrange it. Arrange it he did. Reserved seats for Ramsey and me. We arrived at the hall courtesy of one of the Honda drivers who told us he would return when the match was over. We went inside and started looking for our seats. I asked a couple of uniformed people who all but ignored me. No help. I looked down to see a box located ringside. I told Ramsey that must be it. Looking for seats is thirsty work and we had fortified ourselves with several Suntori beers. We took our seats and managed to watch one match. They last thirty seconds...maybe, before several ushers came for us. They were very excited and the one who spoke English told me we were in the Emperors box. At least they found our seats and we didn't go to jail.

We had a layover in Honolulu, my first taste of Hawaii. Next morning I called my old buddy Doyle Cox, a used car dealer. He was at the hotel in a flash and convinced us to extend our visit. While he was tending to business, he loaned us a new Buick Riveria to tour the island. I vowed I would return someday and did.