Chapter 36
On the Way to Work
A trip to AN SHAS, the air base where we worked in Egypt was "fraught with danger" as writers are prone to say. We were not exposed to enemy fire or anything like that but traffic could be just as dangerous. Somewhere between Terminator I &II.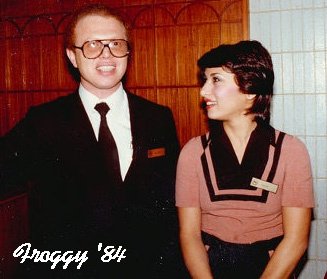 Captain and Nifa

It almost always began with a hearty breakfast at the Sheraton Heliopolis. Except for the wait staff, it was hard to tell you were in a foreign land. I had established a rapport with the dining room staff and folks, it really felt good to be treated almost like royalty. I know I was something special as I could see the way they treated other guests. My liberal tips helped some I am sure. Five mornings a week, I would be met at the entrance by the redheaded captain and escorted to my favorite table, the one where I could watch the lobby. Before I could think about it, Nifa, the waitress would sit a steaming cup of coffee down and greet me with "Hello My Darling." You have to understand something here. Nothing between me and this beauty, she was just learning English and some wag told her that she should greet all her male customers with those words. I thought she might be in love with me until I overheard her say the same thing to some guy who took a table near mine. Every morning the same. She would present a menu and without looking I would say #25 with two eggs over easy and dry toast. (If my buddy Dewveall was with me, we ordered #50 which was two number twenty-five's.) The meal was a small sirloin, so tender it could be cut with a fork, hash browns and the eggs. While the steak was cooking, I browsed the buffet and packed a lunch to take to work. One of the perks I received at no charge. While my coworkers ate Pita bread sandwiches, I dined like royalty at lunch.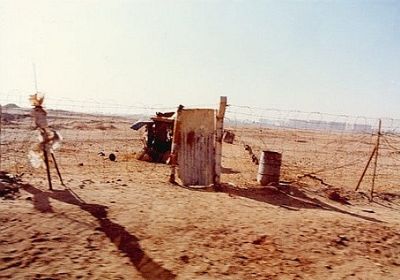 Guard Post
I always arrived in the dining room early enough to enjoy several cups of coffee and read USA Today before I had to get on the bus that took us out in to the desert. It wasn't until you left the parking lot that reality set in. (See Guard Post and Rock Sales photos.) We rode air conditioned tour buses to work, same size as our Greyhounds and our route took us out the desert road along one side of Cairo Airport. One of the first things one notices are the guard posts every fifty yards. If you look closely, you can see what appears to be a scarecrow. Not really, but to enemy eyes it looks as though two guards are at the post. For shelter, the guards have a cardboard box or one similar to the photo. The piece of corrugated metal is a gate! What should be a cyclone fence appears to be hog wire in need of much repair. The barrel? Never did figure that out. Could have been for water or maybe trash although I never did see a bumper sticker that said, "DON'T MESS WITH CAIRO."
Just past this guard shack, the road turned left and became a two lane, pot hole marked instrument of death. Egyptians invented "chicken." I have first hand knowledge of this. In most cases the road is too narrow to pass without one driver giving way. The driver who gives way runs the risk of becoming stuck in the soft sand on the shoulder. I chided our bus driver one time about forcing drivers off the road and he told me, "I gave him my lights." This meant he had used the high beam handle to flip rapidly at the other driver who was repeating the signal at us.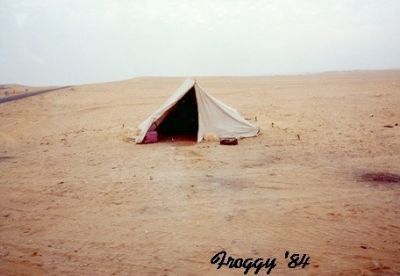 Rock Sales

Repairs, flats are handled on the road in the lane the car was in when repairs were needed. Safety conscious as always, the driver hurries to find the largest rock he can carry to place behind his vehicle to discourage other drivers from running in to his car. We called them Egyptian flares. Speaking of flares, the Department of Transportation has a unique way of repairing pot holes. If they are not too large, they put a large chunk of paving material in the hole, drop and old tire around the mixture then light it. As it burns, it melts and blends the hot topping, filling the hole. Automobiles finish the job by smoothing it out.

In the Rock Sales photo take note of the squad tent. It was pitched about fifty feet from the road in the middle of nowhere. An old man usually squatted in the entrance and being the nosey type, I asked our driver what he did. He told me, he sold rocks. Now that desert is full of rocks, there for the taking. But see, I did not understand Egyptian commerce. Sure enough, one morning we had to wait for a farm tractor pulling a trailer loaded with rocks to enter traffic. Looking closer I saw they were uniform in shape and size and they were for cement work. Learn something every day.

Not a single day passed that we didn't see at least one or more accidents, most of them fatal. I won't provide the gory details here. Most of them involved fellahin, farmers on their way to town, fifteen or more in a half ton Toyota or Datsun pickup, galabayas flying, the springs on the trucks compressed to the axles. This disrupts the geometry steering of a vehicle and I am sure contributed to a lot of wrecks. That and speed and reckless abandon. They have a saying, ENSHALLAH, literally translated, God willing. If a person lives or dies in a wreck you always hear, "Enshallah."