Chapter 65
Characters
Hard to say when my education in the automobile business began. I was briefly exposed the summer of 1948 when I drove cars for the "Swindlin' Brothers" used car lot in Weatherford, Texas. Not their real name of course but they had a reputation for shady dealings.

Over the next few years, I gained some more experience with my father-in-law, a successful Oldsmobile dealer in Houston, Texas. I managed to buy and sell some used cars at a small profit while stationed in Wiesbaden Germany but the bug really had not bitten me.

When I was discharged from the Army in December 1956, I had a job waiting for me with Raytheon as an instructor at Fort Bliss. One morning over coffee, my father-in-law asked me how much I would be paid. When I told him, he sweetened the deal so much I would have been foolish…nay, dumb to turn his offer down. All I had to do was move my family to Houston and start learning the automobile business. I would even have a title, "Assistant Used Car Manager."

I reported to my supervisor Don Howard, an old friend who had followed my father-in-law to Houston. My job would be to keep track of his sales. We did not have a retail used car operation. All trades were sold wholesale to buyers who usually arrived early Monday mornings to get first shot at any good trades. Don conducted what amounted to an auction, raising and advancing the cars until he thought they had brought all they were worth.

The cars that did not sell during that time were usually less desirable, high mileage, some even with damage. Don told me not to worry about them, that a person named Big Heart would be around to bid and mostly likely claim all of them. Sure enough, Tuesday morning about ten, Big Heart arrived with several drivers. He and Donald conducted their business in the office. He only gave the merchandise a cursory look. I thought that was strange. Most buyers at least raised the hood or kicked the tires. I asked Donald about the way Big Heart did business and he told me that he would not pay more than two hundred dollars for anything we had for sale and that he trusted him. I thought this was strange but I had already been chastised once for being nosy.

One day, Big Heart arrived without enough drivers and asked if I would mind following him, he would bring me right back. His lot was only few blocks away from the dealership. The first thing I saw was his huge billboard.

BIG HEARTED BERT

The Working man's Friend

AFFORDABLE USED CARS

The front two lines were shining examples. On the back of the lot were the less desirable. As I got to know Bert, I found out this was his "parts department." I found out a lot about Bert over the next couple of years. First, he only sold to Afro-Americans. No Hispanics or Whites. Every car was sold with a lifetime warranty as long as the buyer was current with his weekly payments. If a transmission went out, Bert either replaced it with a matching transmission from his "parts department." He even furnished a loaner at no charge while repairs were made. This practice was rare. Bert usually told the owner that since they had been such good customers, they were entitled to an upgrade and encouraged to pick a car from the front two lines. This started a new payment schedule of course and another "soul made happy" as he was fond of saying.

I visited the lot one Saturday afternoon to watch and learn. Bert stood in the middle of his lot wearing a large straw and nursing a tall Scotch and water. He didn't sell cars on Saturdays, he only greeted customers by name, asked how they were doing, how about the family? His secretary-book keeper, a cute little redhead with figure to match handled the collections and money. A very simple system. Two boxes of 5 x 7 index cards with the name, address and payment amount filed behind alphabet dividers. As the customer paid, she made a note on the appropriate card and placed it in the other box to be posted to a ledger. Cash went in a large lockbox. After paying, the customer was offered a cold drink from one of two ice boxes, either beer or soft drink. One to a customer. The cards left in the first box were subject to repossession on Monday morning. Double payments could be made as late as Tuesday and the regular payment schedule resumed. Seldom more than two or three cards were left in the box at day's end.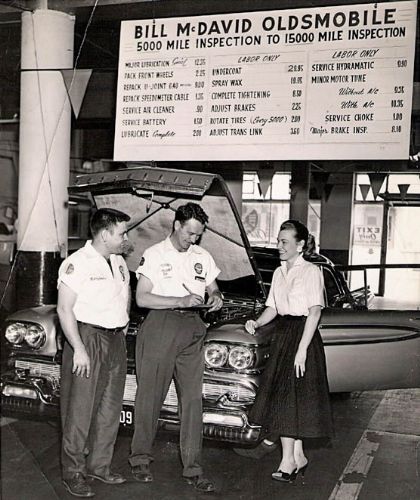 I had noticed that Donald occasionally put a pretty nice car in the mix slated for Bert. They always conducted their business in the privacy of Don's office. Later, Don would tell me how much Bert paid for each car. I would post that amount in my book and turn that information over to the title clerk. One day after Bert left, Don handed me a spanking new hundred dollar bill. I asked what it was for and he said, "In case we get separated." I won't go in to the details as it was slightly illegal but it happened several times before I moved to the Service Department.
Sammy Miller. A shoe clerk at Foley's just up the street from the dealership, had purchased a new 1957 Super 88 Four Door Holiday, yellow in color. Very nice. Every day that the Service Department was open, Sammy had his car there for some piddling warranty repair. Finally, I had to tell him his warranty was 4000 miles or 90 days and he had far exceeded the 90 days. He didn't like it but he didn't show up for a couple of months. One day while checking cars on our parking lot, I noticed Sammy's car parked there with a job placard hanging from the mirror. I called the dispatcher and asked if Sammy had his car in for maintenance and he told me hadn't seen Sammy in weeks. A light came on. Sammy had purloined the job placard, slipped his car in to a parking space on our customer lot and was saving the parking fees…..about three dollars a day. I made a key and moved Sammy's car to a metered space on the street where he collected several parking tickets.
I was ready for him when he stormed in to my office. He threatened to sue me and I told him to go ahead. I would call the police and charge him with trespassing. That got his attention and I didn't see him for a couple of months. He came in for his free lifetime lubrication card we issued to new car customers. I let him park free that day
I had to weed out a few more customers. Several prostitutes were in the habit of trading their wares for repairs to their cars. They were the reason I had been moved from Used Cars to Service Manager. Very tempting but very wrong.
I can think of several more characters but about to run out of room for this chapter. Check out the photo. Me, Ted Hodges, another character and Service Writer and Wanda Ragle, my Cashier.