Chapter 3
The Photo
Me again and the story behind the photo of me as a lad. I have to credit the Internet with finding some old friends. It started back in November 1999, when my daughter in law gave me her old 1994 Macintosh Performa 630CD computer. One of the first people I met on line was Rolland Cecil (Rod) Hinrichs from Plainview, Texas. We had one thing in common, Western Swing music. I don't know how Rod obtained my E-mail address but we exchanged letters almost every day until his death July 11, 2001. He introduced me to his sister and brother in law, Richard and Mary Starr from Washington. They are also musicians and Mary soon joined in the mail exchange. One big happy family.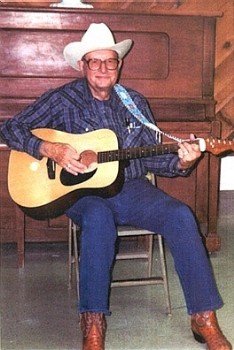 Rolland Cecil Hinrichs (photo by Mary Starr)
Rod and I finally met face to face at the Lincoln County Cowboy Symposium in Ruidoso, New Mexico in October 2000, where we managed to get in a couple of hours of conversation. I discovered he was a Kirby Vacuum salesman and knew everyone old enough to pay attention. I asked if he knew Keith Stansell from Floydada. He not only knew him but had his E-mail address. He also mentioned another running mate from Floyd County, John (Junior) Perry.
I had moved to Floydada from Amarillo when I was in fifth grade, 1943. Keith was one of the first boys I hooked up with. It is a wonder he is around today as I remember some of the stunts we pulled. He had a beautiful little palomino mare he called Blondie. He also had a big Roman Nosed horse that stood nearly sixteen hands we called Midnight.
We attended the "piture show" every Saturday afternoon. We were not so interested in the plot but the stunts our heroes performed with their horses. Roy Rogers was a favorite with his Pony Express mount. Here the rider grasps the saddle horn and raises both feet when the horse starts to run. Still clinging to the horn, the feet are planted momentarily and the momentum carries the rider in to the saddle. We almost ruined Blondie as a saddle horse. She would start to run as soon as you grabbed the saddle horn. Okay if you were expecting it, but woe to the person who didn't know about this habit. They usually wound up on the ground.
We had watched Johnny Mack Brown twice one Saturday afternoon. Johnny had chased the bad guy upstairs who fled through an open window, out over the porch and dropped on to his waiting mount. Did you ever notice that the horses were always placed in just the right spot for this maneuver? Johnny Mack hesitated just a moment and then followed the bad guy out the window where his horse was also waiting. He dropped in to the saddle, chased the bandit down and beat the stuffing out of him.
We had no intention of chasing anyone down but Keith announced he could do that stunt with Blondie. I stand corrected here, but I think Keith's grandfather owned the rodeo grounds. We collected our mounts and headed for the grounds. Once there, Keith climbed the stairs to the judges stand and took a seat on the edge of the platform. I positioned Blondie under him and draped the reins around her neck. Keith didn't hesitate long. When he dropped in to the saddle, Blondie took off like a rocket and Keith fell out of the saddle. I didn't even stop to see if he was okay, I took off after Blondie. If she managed to get out of the arena, she would be hard to capture.
I eased her in to a corner and led her back to the judges stand. Keith was still on the ground and there was blood everywhere. When he fell he had hit his head on a water hydrant and was knocked cold. I thought he was dead and for an eleven or twelve year old kid it was catastrophic. I started crying, begging him not to die. I turned the water on, washed his face and this brought him around. We pressed a rag or his shirt, cannot remember which to the wound, mounted up and headed for the Emergency Room. While they were patching Keith up, someone called his mother. When she arrived she gave me a look that would have frozen ice cream. That ended our trick riding. Who knows, we might have become world famous had it not been for Johnny Mack Brown.
Keith or his mother took the photo of me in the watch cap. He found it a month or so ago and forwarded it. He also sent a copy of the 50th class reunion annual which I have really enjoyed. Brings back a lot of good memories.
John Perry was another jewel from the past. I knew him as Junior back when. John is semiretired, writes a column for the Plainview paper. He has a memory like a steel trap. He never fails to come up with the right answers to my questions about former classmates. Floydada will always be my hometown. That is where I spent more time in school than anywhere else until I moved to Weatherford, Texas.