Chapter 61
Cairo Memories
Me again. I have been trying to catalog my photos, get rid of duplicates, etc. I came across these and got to thinking about how much fun I had the day they were taken.

Nonie arrived in Cairo the middle of June 1984 and on this trip to the Great Pyramids at Giza I persuaded her to take a camel ride. I had met Sam, the camel's owner in 1983 and always had a nice visit with him when I went to the pyramids. He was one of the few who didn't pressure the tourists to have their pictures taken aboard "California," his trusty steed. When a camel rises after the rider mounts, the rider has to hold on pretty good until he gains his feet. Here is what a real female camel jockey looks like. She was pretty vocal while I took several poses. I took my turn earlier with a tour behind the pyramids.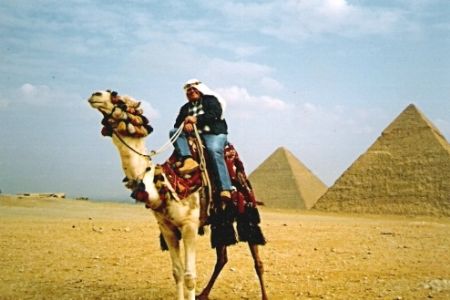 Another of our trips took us to Ismaliyah on the Suez Canal. I had my fishing pole and was busy casting when Nonie pointed out this ship. She said it looked familiar and it should have. We had watched Jacque Cousteau for years. This is his ship Calypso on the way to the Red Sea through the canal. Small world.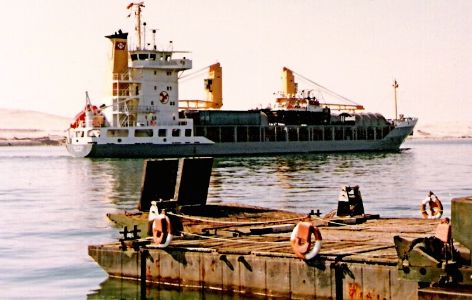 We rode tour buses to work, air conditioned coaches, and they made a nice place to have a meal, smoke break and a place to avoid the flies that are a fact of life in Egypt. The drivers always left the motor running with the airconditioning on. Made it nice.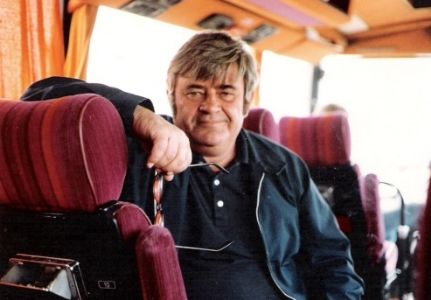 This photo of me taken from the balcony of the Cairo Hilton with the Nile and Cairo tower in the background. Sonny Bowles and I had enjoyed a successful day in the Hilton Casino playing roulette. The series of numbers we played just kept paying off and I asked Sonny where he had come up with them. Red faced, he said, "Their my wife's measurements." I told him I was glad she was a little woman because the numbers only go to 36 on a roulette wheel.
Fatima and Mohammed on the balcony of my cabana at the Sheraton Heliopolis. She was the maid and "Hammed" as I called him was the pool boy. They really took good care of me. When I came in from a long hard day out in the desert, Fatima would have clean clothes laid out while Hammed would have two bottles of Stella Local iced down in a champagne bucket. I had taught him to add salt to the ice and the beer was so cold it almost gave me a headache.