Chapter 60
Early Point and Shoot
A short story about a Speed Graphic or Press Camera I inherited in 1970. I am sure most of you will recognize the picture . If you have ever watched any old movies where reporters were involved then you most likely saw variations of this camera.

The title should read, "Point, focus, check shutter speed, cock shutter, remove plate to expose film, point, focus and then...you might get a picture." I got better as I went along and took some of the best pictures ever.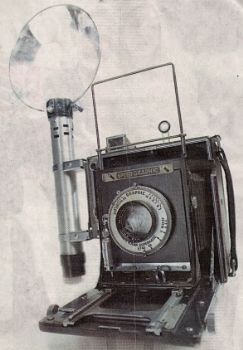 My buddy Dennis Norton put me in touch with an old gentleman who installed a roll film adapter that allowed me to use 120, 100ASA roll film, ten exposures. I purchased three adapters which let me have 30 exposures without reloading. I also replaced the flash unit with a strobe light.
I took almost a hundred pictures of local scenes before we won a trip to Rome in 1972. I didn't have a camera other than the Speed Graphic that would take the kind of pictures I expected to take in Rome so I packed everything in the wooden case. I didn't weigh it but I can tell you it was heavy. A friend had given me a tripod that weighed almost as much as the camera. Off we went the first day in Rome ready to record the trip. First day we were on a chartered bus with a guide. Just about the time I would have a shot lined up, it was "Everybody back on the bus!" That did it. I told my wife before the day was over, I would have either rented a car or a car and driver.
We stopped by the outdoor cafe at the Excelsior Hotel on the Via Veneto for a drink. Just as we were served a young man approached, introduced himself as Remo Bartolinni, licensed guide with a full size Opel. A native of Rome, he was ready to serve for twenty-five dollars US a day plus his meals. I pulled ten days, $250, out of my pocket and told him we would be ready to go at eight the next morning.
That evening I was visiting with a friend from Austin. We both agreed that the bus was not our cup of tea and I told him about the car I had hired. He asked if there might be room for him and his wife, that he would be most happy to pay half. When he asked me how much, I told him $50 a day. He promptly pulled $300 out of his pocket, gave it to me and said if I needed more to let him know. Now there is honor among thieves and car dealers and I fully intended to return half his money before the trip was over. It didn't work out that way.
When we got home, I sent a copy of the enlarged photos I had taken along with a check and an explanation. He returned the check, called me later and told me it was a good deal at twice the price.
Really what this tale is about is a photo I took of Miss Texas 1973, Judy Mallett. I took several with the camera that morning she came to Weatherford to appear on a radio show I sponsored. Nice lady.