Chapter 28
How Do You Want Your Eggs?
This is the story about an Ol' boy from Plainview, Texas. I first heard about him in the early sixties when he recorded BIG JOHN, the story of a miner who saved his fellow workers. If you haven't guessed this is about Jimmy Dean.

In 1970, I shared a deer lease with my brother in law, Bill McDavid. He called one day the middle of the week to firm up plans to take our wives to deer camp on Friday. Before he hung up, he asked me to bring my guitar. Little unusual since he hadn't shown that much interest in my style at the time. He arrived at the house early Friday in his station wagon to pick us up. As I walked out to the car I saw someone besides Bill's wife Barbara. It was the one and only Jimmy Dean. Now I wasn't about to let on I was mightily impressed with Jimmy. I knew he was from Plainview, had just launched his Jimmy Dean Sausage and had to be a pretty good old boy. I had a thousand questions to ask him but kept my mouth shut and treated him like any other guest.

On the way to Llano, in the heart of the Hill Country, I mentioned I was from Floydada. Jimmy told me he used to visit his aunt in Floydada but I didn't know the lady. He knew a lot about Floydada and we talked about growing up in that part of the country and some of the things we did to make a living. Long before we arrived in Marble Falls, I felt as though I had known him all my life. He is that easy to talk to.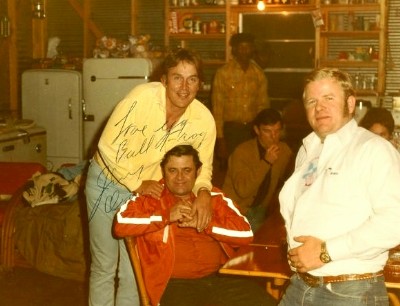 We stopped in Marble Falls to purchase perishables for the weekend. Our two cooks had gone on ahead to open the camp and they had all the staples we needed. While we were shopping, Jimmy headed for the rear of the store. He met us at the checkout stand and asked the cashier why they didn't have Jimmy Dean Sausage in the meat department. After she caught her breath and asked if he was Jimmy Dean, she told him the distributor from San Antonio would only sell it to their competitor down the street. Jimmy asked if he could borrow the phone and since it is a small store, we could overhear the conversation between Jimmy and his brother Don back in Plainview. Jimmy told him in no uncertain terms that he would be back in the store on Monday and there had better be Jimmy Dean products or there would be a new distributor in San Antonio.
A little old lady had been standing near the checkout with a small sack of groceries. Her eyes were big as saucers. I nudged Jimmy who looked at her and said, "Granny, would you like for me to carry that bag to the car for you?" With that he took the sack and followed her out of the store. She didn't speak until she was outside when she thanked him. With that he leaned down and kissed her on the cheek. Wonder if she ever washed?
We had invited our land owner Ted Franklin and his wife Sarah to join us for steaks that night. Bill had told Ted that Jimmy would be there and he asked if he thought it would be all right if he asked a couple from Llano who were big fans to join us after dinner. Bill told him it would be fine. We were sitting around the campfire talking and having an after dinner drink when I looked to see several sets of headlights winding through the pasture on the way to our camp. Soon more headlights appeared and made their way in to camp. I counted ten cars, all full of Jimmy Dean fans.
They piled out of the cars and almost overwhelmed Jimmy. He was good-natured about it and signed a few autographs. Someone asked if he would sing a couple of songs and he said he would if I would accompany him with my guitar. He really didn't do anything fancy, just some old standards that I happened to know. For two hours he sang and quoted poetry for the good citizens of Llano. He said later it was the best audience he had ever performed for.
Next morning, I woke up to hear Jimmy talking to Willie Green, our cook. He and Jimmy were cooking sausage, Jimmy Dean brand of course. Willie, who never missed a chance to endear himself to anyone who might leave him a big tip, was telling Jimmy all about sausage. He made one little slip. Willie said he had been using Jimmy Dean sausage for twenty years. Jim let that slide as he had only been in the business for a few years.
We had a great weekend hunt, several couples came back out on Saturday night and Jimmy and I repeated our performance. On Monday we stopped at the store and here action spoke louder than words. The display case was full of Jimmy Dean products!
Several years later I worked at General Dynamics as a supervisor. Twelve socials for Management Club Members were held each year and the highlight was always the Western Swing event. The VP in charge of the galas always managed to have name entertainers such as Hank Thompson, The Texas Playboys, etc., and this year it would be none other than Jimmy Dean.
Saturday morning and Nonie decided she didn't have anything to wear. (Ain't this the case?) A tour of Western stores finally produced a lovely little denim skirt, boots, new blouse and other goodies. Have to admit, she looked pretty as a picture. While we were in one of the stores I happened to run in to the VP who was running the show that night. He didn't know me very well, I was one of some seven or eight hundred supervisors. I greeted him and after some conversation told him how glad I was that Jimmy Dean would be providing the entertainment that night, that I had not seen him in years. I could tell from the look on his face, he was thinking, "Yeah, right. Who are you trying to snow?"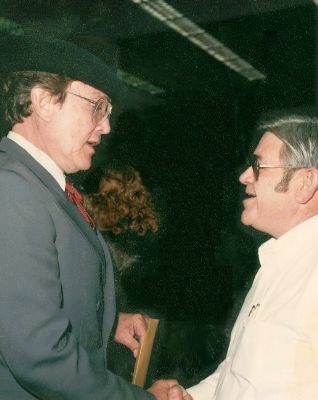 We had a little clique that sat together and this night our table was close to the bar and the entrance to the large auditorium. After a short business meeting to make it legal, it was time for the show. Jimmy walked in the door about ten feet from my chair accompanied by the VP and one of his gofers. I didn't make a move but when Jimmy saw me he yelled loud enough for the whole room to hear, "Bull Frog, what in the hell are you doing here?" I stood up, we embraced and he kissed me on the cheek. Then he turned to the VP and told him it was one of the best surprises he could have given him. The VP just stood there catching flies.
We visited a minute and he took the stage for the first half of his two hour show. He mentioned me a couple of times and my head swelled just a little bigger. At intermission, he came to our table and sat next to me. We didn't get to visit much, too many people wanting autographs and my superintendents wife, Miss Alice, said, "Froggy, he kissed you and I want him to kiss me too." No problem Miss Alice. Jimmy stood up, hung a lip lock on her that curled her toes and sat her back down.
People didn't stick around too long but our table stayed. Jimmy came back to the table with the VP and we sat around for another hour swapping tales and Jimmy telling jokes. I will have to say this for the VP. When the photos came out, I received a number of them with me and Jimmy. That VP and I are the best of friends now. He is an officer in the retired employees club in charge of the dance held every year. He relies on me to get the good bands for him. I guess that makes me in charge.