Chapter 23
My Favorite People
This chapter deals with some of my favorite people. I just lost one of my favorites, Larry Frank McWhorter, my son in law. We found out he had cancer January 16, 2003, and despite the best efforts of the medical profession and the prayers of hundreds of our friends, he died March 19, 2003. He grew up on a ranch in the Panhandle, worked as a cowboy for such prestigious outfits as the JA, 6666s and Swenson. His father Frankie is a Texas Playboy and toured with Bob Wills for several years as a fiddle player. Larry loved horses, music and poetry. In 1989 he read one of this poems to Red Steagall. Red encouraged him to write more and to record the ones he had written. His first poem, "Waitin' on the drive." became an instant hit with fellow poets but also with the cowboys and ranchers who associated with this work. Here are the last two verses from that poem published in his book of contemporary poetry.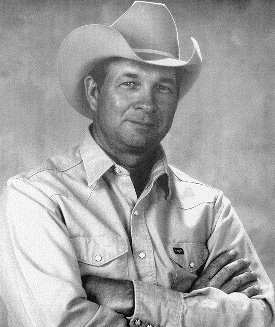 Larry Frank McWhorter
Well, the herd's gettin' near the draw I must guard,
Like many before me have done.
If I don't get there to head them off soon
They'll sure have a long ways to run.


But before I drop off I draw a breath of crisp air,
The kind that brought Adam to life,
And I thank God that He made this feller that's me
As I sit, waitin' on the drive.
Larry did me a great honor by asking me to photograph him for the cover of his first CD, THE OPEN GATE. That was honor enough but he added to it by asking me to play guitar in the background for the title cut. Along with Rich O'Brien, I played the melody "Stardust". The poem and song are dedicated to my daughter Andrea, his wife of nine short years. I didn't take the photo in this chapter, I wish I had. The photographer captured the essence of Larry, the twinkle in his eyes and just the hint of a smile. I like the black and white format. It is so much Larry, no gray area.
Larry also introduced me to the great musicians who carry on the tradition of Western Swing as played by Milton Brown, Bob Wills, Spade Cooley and the likes. I want to include them in this chapter along with photos I have taken when we met. They are in no particular order, they are all number one favorites in my book.
---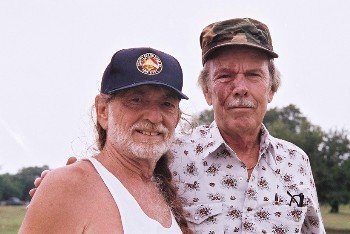 Willie Nelson and Max Booker

I have to include Barry M. Booker, better known as Max. He is the one who hung the name "Bull Frog" on me. It didn't sit well at first but within thirty minutes of our first meeting, we were old friends. We both loved music, fishing, hunting and beer drinking. When we met we worked for Convair, later General Dynamics and now Lockheed in Fort Worth. October 1958, he came to the back of the airplane where I was working, looked at the initials "B.F." on my badge and asked, "What does that stand for? Bull Frog?" It stuck and has been modified as Froggy, Frogster, Bulius Frogius and thanks to Snuffy Elmore, Froggarazzi for all the photos I take. No one knows B.F. or Bill Worden anymore but they all know the Frog.

Since he is in the picture, I want to include Willie. We were on his golf course the morning this was taken. Finer feller you never met. We both share the same upbringing and he is from April 26, to August 7, older than I am. We know what a hoe and a cotton sack are for, both love music and dominoes. Can't get much closer than that.
---
| | |
| --- | --- |
| Have to include the Hag. I only met him this one time, December 31, 1999, Billy Bobs sound checks, Fort Worth, Texas. Even though he was busy, he took time to visit and introduce me to the rest of the band. I could have kicked myself for making plans to spend New Years somewhere else. We had backstage passes for the show with all the perks that go with them. One of these days we will have the time to sit and just talk about old times. Nonie, my long suffering wife took this picture. | Me and The Hag |
---
| | |
| --- | --- |
| Freddy Powers, Theresa Haggard, Bonnie Owens, and Me | This group goes along with the picture of me and Hag. That is Freddy Powers, Theresa, Merle's present wife sipping on the water bottle, Bonnie Owens and me. Merle was married to Bonnie at one time after she divorced Buck Owens. She has sung harmony on most of his records and continues to tour with him even though they have both remarried. I will have a separate letter about Freddy. His career deserves more than a paragraph. |
---
| | |
| --- | --- |
| I have been a fan of Johnny Gimble for as long as I can remember, never dreaming I would someday meet him. Not only meet him but sit in a recording studio visiting between takes. The highlights of his career alone would take days to write down. Movie star, recording artist, television shows and best of all, a great family man. His sense of humor is well known among his peers and one of my favorite stories is one he related while we enjoyed a cup of coffee in Austin. Seems he and his brother heard of a fiddle contest to be held in a town near their home and they decided to enter. He said, "The contest paid three places and me and my brother placed third. We were the only ones entered." | Johnny Gimble |
---
| | |
| --- | --- |
| Dave Alexander and Billy Briggs | Two more musicians I call Friend, Dave Alexander and Billy Briggs. Dave plays piano, trumpet and several more instruments. Always in demand. Same for Billy Briggs, saxophone player extraordinary. These two bring a song to life when they create the big band sound made popular by The King, Bob Wills. |
---
| | |
| --- | --- |
| Just to show you my wife trusts me around beautiful women, I want you to meet Dianne Zamost. You can readily see why I gave her the nickname, ZEEEEEEMOST! Diane sells cowboy clothing, accessories and can be seen at most major horse shows all over the country. She also has a successful mail order business called WAHOO located in Santa Fe, New Mexico. Fun loving little lady, great sense of humor and a wonderful dancer. Proud to call her friend. | Dianne Zamost and Me |
---
| | |
| --- | --- |
| The Mounted Patrol | I have been the official photographer for Red Steagall's Ranch Rodeo and Cowboy Gathering since 1996. The event kicks off with a parade from downtown Fort Worth up North Main to Exchange Avenue in the Historic Stockyards District. It is led by this group of Fort Worth's Finest, the Mounted Patrol. Their presence on horseback has done more to deter crime in the Stockyards than any single program. They are ambassadors of good will, friendly, helpful and I like to think they are all friends of mine. |
---
| | |
| --- | --- |
| Rich O'Brien, one of the most talented musicians I have ever met. Performing artist, producer, composer...I can't say enough. All that and a sense of humor. A good friend. This photo was taken at the benefit for son in law, Larry McWhorter. | Rich O'Brien |
continued on next page