Chapter 5
My Name is Froggy
Me again. I have been asked how I got the name Froggy or Frog or Bulius Frogguis plus some other combinations. I give full credit to my good friend Barry Max Booker from Goldthwaite,Texas, Mills County. I first laid eyes on Max forty-four years ago come October this year. I was standing under the tail of a B-58 Hustler on the flight line at Convair in Fort Worth waiting for my "A" man. I was not a happy camper. I had been hired as a "B" Electronics Technician and had been performing my assignment without supervision or help and the thought of having someone looking over my shoulder didn't set well. I had already had a bad experience with another "A" technician.

I looked toward the front of the airplane to see a tall, skinny person wearing starched jeans, western shirt and the goofiest hat I had ever seen. He also had a Van Dyke beard. I distrusted everyone who wore a beard at the time. Max walked with a swinging gait, kicking his heels out as he moved along. When he got to me, he didn't say hello, kiss my foot or anything. He fingered the badge on my shirt and asked, "What does that B.F. stand for? Bull Frog?" My temper went to red line and I told him I would Bull Frog his skinny frame. He jumped back and took up a silly defensive position, fists doubled but with his thumb sticking out between his index and second finger. He looked so ridiculous I started laughing. My previous "A" man had tried to make a gofer out of me with all the dirty work. Not so with Max. We shared the work. Within an hour I knew he was a guitar player, liked a cold beer, fishing and hunting. We fit like a glove.

We share something else. We noticed that when either of us suffer some trauma, the other senses it. I am not all that hep on ESP but I know that on several occasions, something happened and Max called to find out what was wrong without knowing about it beforehand.

Both in our dotage now, but we still find things to do that some folks might think weird. We like to "Oink" around. You know, just like pigs rooting for a morsel, we are always looking for something new.

Max is well read, remembers everything and is quick to correct those in error. He can be very kind when correcting a mistake if you are his friend. If you happen to be a produce manager attempting to pass off Florida Pink Grapefruit as Texas Red, then he can be a bit more caustic.

In 1989, we asked our wives to go to Hawaii. They both declined. You might think we wouldn't have a place to come home to if we took the trip without them but we are blessed with wives who take our antics with a grain of salt. Besides, we had been planning the trip for a year. A friend in Kahului, Maui, arranged for a deal on a condo and car to drive for a week. Max secured tickets at a good price through the NASA travel agency and we met at DFW.

The car was ready when we arrived. We loaded up and headed for Kihei on the south side of Maui. Since we both like to cook we stopped at the grocery store where I shopped when I lived there. (A little tip when visiting Hawaii if you are on a budget. Shop the way Hawaiians shop, stay at a condo instead of a hotel. Less expensive and I like the privacy afforded by condos.) We loaded up on basic food groups including plenty of Coors and Max picked up a book called INDIGENOUS PLANTS OF HAWAII.

We checked in to the condo that was exactly as described in the brochure. Maid service every day, a washer, dryer, TV and microwave. Time share deal and the people had outfitted it with good equipment. It had been a long day and after a tour of the garden, we fired up the barbie, cooked a steak and hit the sack. In the garden, Max had started collecting samples of the flora and placing them in his new book.

Next morning, up early, good breakfast, we headed for Hana and Lindbergh's grave. It is fifty-two miles to Hana, narrow two lane twisting road that normally takes at least two hours to navigate. Our travel time was over four hours, we had to stop every time Max spotted a plant or tree that was in his new book. We saw everything, did everything you can do in Hana. Back at the condo, Max's new book was almost full of samples.

I am going to take a little side trip here and tell you about my association with some folks who lived near Hana. I was sales manager for Maui Toyota. One day I sold a new car to a couple from a small town near the Hana airport. The new car would not be ready for a couple of days and they didn't want to drive their old car back home. I had access to a Cessna 172 and offered to fly them, a fifteen minute trip. When their car was ready, I picked them up at the Hana airport. They were most appreciative of the service. A few days later I had a call from a friend of theirs. He wanted to know if I would pick him up at the Hana airport, he wanted to purchase a new Toyota. That scenario was repeated several times and made a nice profit for the dealership not to mention the good will.

Sunrise on Haleakala, the volcano, is a must. We were there long before sunrise. At over ten thousand feet, this puts you above clouds that form soon after sunrise at an altitude of five or six thousand. An awesome sight looking towards west Maui across the isthmus. The trip down through the clouds can be exciting.

Max and I have had lots of good trips but the one to Hawaii will always be the best. I thought I could describe Max but words fail me. He is my friend, closer than a brother. This is a picture taken at Willie's golf course.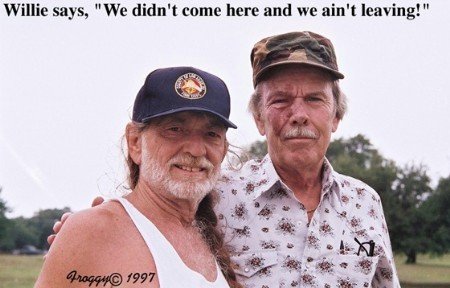 Willie Nelson and Max Booker