Welcome to our web site! The links below will take you to our monthly newsletter LARVALBUG BYTES, galleries of dog photos, and the archives of past "larvalbug bytes" articles. We also have companion websites: LARVALUEBUG, value investing articles by Larry; Austin Bug Collection, a photographic guide to insects and spiders here in central Texas; LARVALBUGTOO, which features artwork by Val; LARVALBUGZOO, with animal photography; larvalbugGIF, offering free clip art; LARVALBUG EYE, presenting free digital nature photographs; and LARVALBUG'S GARDEN, which hosts Garden Bits: short articles with photos about things in our gardens. We periodically add new features to all sites so please visit us again in the future.
The larval insect that you see in the background is an original graphite drawing of an immature ladybug. The insect on the background of the larvalbug byte archives is the larva of a damselfly.
Most photogenic member of the "larvalbug" staff: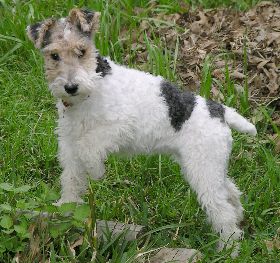 Periwinkle Dynamo Sue, a female
wire-haired fox terrier born Dec. 26, 2003.
For those who miss the previous photo featuring Frisky:
it's still available on another page.
The current (March) issue of "larvalbug bytes" is available for viewing.
All artwork and photographs are copyrighted and are the property of the owners of this site.
---