Frisky was featured as dog of the week on Crazy for Dogs for the week of 11/19/00!
Welcome to Frisky's section of the larvalbug website.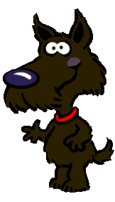 Frisky Pepper Tornado Rex was a Scottish terrier/schnauzer mutt who we bought from the local Humane Society in September of 1989. She participated in many activities with her larvalbug owners and was energetic, enthusiastic, and basically never whined or complained. She lived with us for over 14 years and died in December of 2003.
She has galleries of photographs, as well as a series of interactive sites in which you can participate in her favorite pastime: PLAY. She was a cute dog, and, although she was not really keen on being petted, it was hard for most people to keep their hands off her. To see what we mean, just move your mouse over her cartoon image at right. If you think it's fun, or at least semi-amusing, try out her other play sites listed below under Frisky's Frolics.
Heading by