Probably our most colorful stink bug is the Harlequin Bug (Murgantia histrionica). In our area, it is most frequently associated with India Mustard (Brassica juncea), an introduced weed. Unfortunately, it also attacks garden plants. At times, the population of this species can explode, so that there are thousands of insects practically coating every available Mustard plant. The color on these insects varies from orange to deep red.

Murgantia histrionica: two color variations

Murgantia histrionica
nymph
Cosmopepla lintneriana recently underwent a specific name change. It used to be C. bimaculata. The insect, though, is unmistakable. This stink bug is quite small (about 5 mm) and is black with red markings. They seem to prefer plants in the mint family (Labiatae), and sometimes adults can be very numerous. The nymphs, though, are more often found separately, and they range from tan to red, with varying amounts of black markings. They're quite rotund and resemble little beetles.
| | |
| --- | --- |
| Cosmopepla lintneriana | Cosmopepla lintneriana nymphs: color variations |
All of the species discussed so far have been plant feeders. As mentioned earlier, Pentatomidae contains a number of predatory insects too, many of which are in the subfamily Asopinae. These bugs are not fast moving and so they tend to feed on not-so-fast prey, such as caterpillars. I've also seen them dine on pupae (which don't move at all), as well as plant bugs and ladybird beetle larvae. The very young nymphs sometimes feed on plant juices and adults will sip nectar at flowers.
| | |
| --- | --- |
| Stiretrus anchorago: two color variations | Stiretrus anchorago nymph |
Stiretrus anchorago is a black insect with red, orange or yellow markings. Their black color may be more metallic blue, and sometimes those with the bluish color have no light markings at all. Nymphs are black with orange legs and heads. This species is very rounded in appearance and is not particularly large (they get up to about 8 mm in length). I've never seen them eat anything but caterpillars, and it is not unusual to see two insects feeding on opposite ends of the same victim.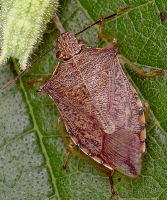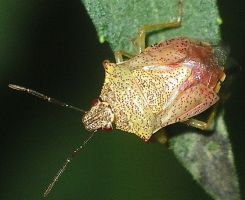 Podisus maculiventris: two color variations
Our most common predatory stink bug is Podisus maculiventris. This rather nondescript brown bug is often confused with Euschistus species. It is about the same size and can vary in coloration, often having a pinkish tint to the wings. The wing membrane frequently, but not always, has a dark line in the center. Although they are usually brown, lighter colored individuals can occur. One difference from Euschistus is that the legs never have black dots. If it is possible to view it, the rostrum of Podisus is much thicker than that of Euschistus.
Both adults and nymphs feed mainly on caterpillars, but I've also seen a nymph eating an adult Four-lined Plant Bug. Podisus maculiventris nymphs are mostly blackish with yellow, white and red stripes on the abdomen. Some other predatory stink bug nymphs are also quite colorful, as are those of the two most common green stink bugs. When a single insect is found the best way to identify it is by feeding habits. If it's not eating, though, the different color patterns can be quite confusing. It takes a bit of practice to recognize the various nymphs of some pentatomids, such as Nezara, Acrosternum, and Podisus, but they are fairly consistent in their markings. In fact, one took me a long time to figure out: the nymphs of Thyanta custator are so brightly marked and I find them so infrequently that I thought they must be a predatory species! They're not.

Podisus maculiventris
nymph

Tylospilus acutissimus
nymph

Thyanta custator
nymph
A less common species in our area is Podisus placidus. This bug has a similar look to P. maculiventris, with brown coloration and dark bands on the sides of the abdomen. However, the shoulder angles of the pronotum are not as sharp, and the wing membrane is darker and lacks a dark line.
| | |
| --- | --- |
| Podisus placidus | Apateticus lineolatus |
One predatory stink bug that can be confusing is Apateticus lineolatus. This insect has the shape, size, and dark mark on the wing membrane of Podisus. However, its general black and white markings, especially the patterns on the legs, look like Brochymena. It is not particularly common.
The most ornately colored predator here is Tylospilus acutissimus. This gorgeous insect also used to be in the genus Podisus but has been moved to a new genus named after its previous subgenus. The pattern of black and white on green is unmistakable and the nymphs are equally gaudy. This is not an uncommon bug, and is often found feeding on flowers or caterpillars.
| | |
| --- | --- |
| Tylospilus acutissimus | Apoecilus cynicus nymph |
Another stunning nymph is Apoecilus cynicus. This used to be called Apateticus cynicus. It is a large species and I have not yet found an adult. However, the nymph looks like nothing else, with metallic markings that appear as if they were painted on.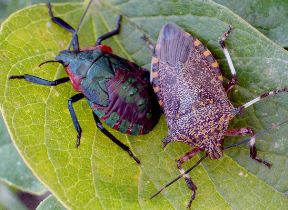 Alcaeorrhynchus grandis and nymph
One of the largest stink bugs in Austin is Alcaeorrhynchus grandis. The size of about 15 mm, the heavily banded sides of the abdomen, and the white and black markings on the legs are all good identifiers. The shoulder angles are unusual in having a double spine on each side. Their main prey consists of caterpillars. In a very unusual behavior for a predatory insect, the nymphs of various sizes often remain clustered together, and even adults remain with the nymphs. The nymphs are metallic blue-black with red shoulders.
| | |
| --- | --- |
| Brochymena species | Parabrochymena arborea |
A very different looking sort of predator belongs to the genus Brochymena. These insects are extremely well camouflaged against bark and lichen and they spend much of their time in trees. The sides of their bodies are serrated and it is actually difficult to make out a bug "shape" even when looking directly at nymphs or adults. There is another species that used to be in the same genus but has since been moved to its own: Parabrochymena arborea. This bug is even more ornately camouflaged and is usually only seen when it is on an inappropriate substrate. I often find them on the sun-guard screens of the southern facing windows on our house during cooler months, where they are probably warming up.

Brochymena species
nymph

Parabrochymena arborea
nymph