Yet another green stink bug can sometimes be found in our area. At only about 6-7 mm in length, Banasa euchlora is a beautiful green and yellow bug, with a very shiny texture. It is rather rounded in appearance. I've found it in juniper branches, where it blends in admirably. It also sometimes shows up at lights and its color doesn't usually help it hide on the side of a house.
| | |
| --- | --- |
| Banasa euchlora | Banasa dimiata |
Banasa dimiata is just as shiny as B. euchlora and of similar shape but the color pattern is different, with green on the front of the pronotum and the scutellum, and a large brown area over the back of the insect.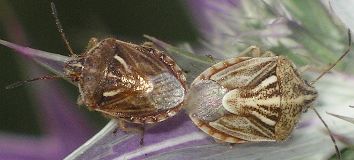 Trichopepla semivittata mating
Some pentatomids prefer feeding on seeds, and these can be very numerous in the fall and winter when the fields are full of dried seed heads. Trichopepla semivittata is a small (about 5 mm) variable brown insect. They rarely occur alone and sometimes can be pretty numerous. The stripes and amount of light or dark brown can vary quite a bit, and I've even seen individuals with a decidedly pink tinge. They seem to feed on a variety of plants, mostly weeds. I have found large populations of T. semivittata in the autumn on Eryngo (Eryngium leavenworthii), at which time they were mating and laying eggs. Nymphs are brown with transverse stripes. In the spring, I've seen adults feeding on Poison Hemlock (Conium maculatum).

Trichopepla
semivittata nymph

Trichopepla semivittata

Agonoscelis puberula
There is a very similar looking bug that is actually a recently introduced import from South Africa. It is called African Cluster Bug (Agonoscelis puberula). While T. semivittata is slightly hairy, Agonoscelis puberula is extremely hairy. It shows up in the winter and is quite host-specific: it feeds on Horehound (Marrubium vulgare) which is itself an introduced weed. The Cluster Bug is aptly named, as the adults form masses of up to 30 or more tightly packed individuals on the seed heads of Horehound.
| | | |
| --- | --- | --- |
| Hymenarcys species | Menecles portacrus | Menecles portacrus nymph |
Hymenarcys species are rounded, brown stink bugs that have a white edge to the rear point on their scutellum. They might be mistaken for Euschistus species, but they are chunkier looking. There is another VERY similar bug, though, and that is Menecles portacrus. This species has the same rounded profile and is also brown. However, it always has a thin white line running down the center of its back, from its head to the scutellum. Even the nymphs have the white line. There is also a slight difference in how much the pronotum overlaps the eyes to the front. In Hymenarcys, the pronotum "neck" corners only extend to the back of the eyes, while Menecles has the same corners extend up to the middle of the eyes. It's simpler to look for the white line.
| | |
| --- | --- |
| Holcostethus limbolarius | Dendrocoris species |
Another brown bug that might be mistaken for Euschistus is Holcostethus limbolarius. This coppery brown insect with black mottling has a clear light spot on the tip of the scutellum and a light rim around its entire body. It is about 7 mm in length. It sometimes feeds in small groups on flower stems.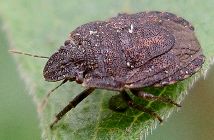 Sciocoris longifrons

A smaller brown stink bug is a Dendrocoris species. This insect is only about 6 mm long. It has reddish antennae, mildly extended rounded shoulder spines, a constriction just behind them, and a wide abdomen with narrow brown bands along the edges.

One of the smallest stink bugs is also one of the strangest looking. Sciocoris longifrons is dark brown with a very rough surface, less than 5 mm long, and super flat. In fact, it looks a lot like a flat bug except for the head shape. When threatened, this little bug curls up its legs and plays dead. It looks like a brown seed or piece of dirt.


| | |
| --- | --- |
| Mormidea lugens | Moromorpha tetra |
Another genus of very small stink bugs is Mormidea. These have a rounded shape and are often found on grasses. Mormidea lugens is a metallic brown color and has very definitive white markings on the pronotum and scutellum. Another stink bug of the same size and shape is Moromorpha tetra. This species has only tiny dots and small white markings on a slightly metallic body. It also tends to be found on grasses and was previously classified in the genus Mormidea.
Not all pentatomids are wide and Mecidea major is so narrow that it can be hard to recognize as belonging to this family. This is another species that often feeds on grasses, and the light tan color with longitudinal stripes helps the insects blend in with foliage in the late summer and fall. The nymphs are not quite so elongate and have dark stripes. Adults are about 10 mm long, but don't seem very large because of their shape.
| | |
| --- | --- |
| Mecidea major nymph | Mecidea major |
| | |
| --- | --- |
| Oebalus pugnax nymph | Oebalus pugnax |
Nymphs of Mecidea major look rather similar to another grass-feeding stink bug, Oebalus pugnax. This one is called the Rice Stink Bug, and it is light tan and rather narrow in shape, but not as much so as Mecidea major. The Rice Stink Bug has very sharp shoulder spines that point forward.
| | |
| --- | --- |
| Proxys punctulatus | Chlorochroa ligata |
One very distinctive pentatomid is the Black Stink Bug (Proxys punctulatus). This handsome insect has strongly pointed shoulder spines and consistent black and white markings. It is about 10 mm long and is usually easily seen on foliage.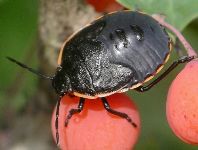 Chlorochroa ligata nymph

Something about the look of this bug makes people think it is predatory, but it feeds on plant juices and is sometimes found associated with Dayflower (Commelina erecta).

The Conchuela (Chlorochroa ligata) is large stink bug that is easy to recognize. Adults and nymphs are black or dark charcoal gray, with an orange rim. They are sometimes very numerous and feed in groups that can include nymphs of all ages as well as adults. Their preferred food sources are the fleshy fruits of various plants, especially Agarita (Berberis trifoliata) and Balsam-gourd (Ibervillea lindheimeri).