This is one of the biggest families of hemipterans and, due to their generally large size, are frequently encountered. While many pentatomids feed on plants, a significant number are predatory. The rostrum on plant feeders is noticeably more slender than that of predators.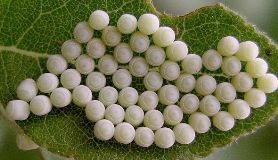 stink bug eggs

Other than that, there is no easy of telling the two apart except to learn the species. It can get even more confusing because the predatory stink bugs sometimes feed on nectar or plant juices.

Stink bug eggs are probably found more often than those of most other insects. They are usually laid in clusters or rows on stems or leaves. Their relatively large size makes it possible to actually see the "lids" on the barrel-shaped vessels.

Pentatomids are called stink bugs because of the odor they produce. There are a number of other true bugs that also smell quite strongly, but the name just stuck with these. They are usually wide and flat, with a shield shape. They have a large triangular scutellum that extends over their back between their wings.

Perhaps the most common of all stink bugs are in the genus Euschistus. These include the insect that gardeners know as the Brown Stink Bug (Euschistus servus), although there are a lot of stink bugs that color. The members of this genus are sometimes rather variable and often the differences between species are not all that great. One thing that all the Euschistus species have in common, besides being brown, is a vague, barely visible dark patch in the center of the scutellum and a smaller matching spot on each upper wing half. These look more like smudges than markings, and are more visible in certain light conditions and at certain angles.
| | | |
| --- | --- | --- |
| Euschistus obscurus | Euschistus tristigmus | Euschistus servus |
Euschistus obscurus is rather small, usually less than 8 mm long. The most noticeable feature of these is the light bar stretching between the humeral angles of the pronotum, where it looks like it was "worn" a bit. The shoulder angles are usually rounded but may also be slightly pointed. These insects are either green or yellow on the underside and when they mate, there is always one yellow and one green.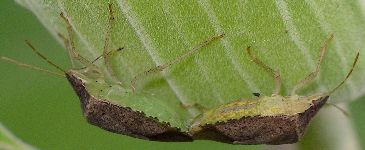 Euschistus obscurus mating
Euschistus tristigmus has more pronounced shoulder angles with black tips and no light bar across the pronotum. There are small black markings on the center of the underside, but you've got to turn the insect over to see them. The tip of the scutellum is often white. This species is quite dark in color and not much larger than the previous one, but is less common.
The largest of the Euschistus, E. servus often has a more or less chalky look to it, as if it is covered in wax or dust. It reminds me of the residue left on plant leaves when they are sprinkled with tap water and the minerals remain as an unsightly coating when the water droplets evaporate. These insects are usually about 10 mm or more. They are the most variable in color, ranging from very light tan to rather dark brown.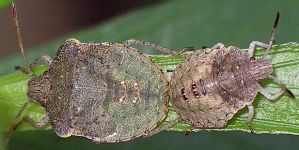 Euschistus species nymphs
A common misconception is that predatory stink bugs have points while others are rounded. This is not a good rule to follow and doesn't hold true. Euchistus species look very similar to Podisus species, which are predatory. There are slight differences in their structure, but it really helps to see what they are eating.
As with many stink bugs, the nymphs are different than the adults, but distinctive. Euschistus nymphs tend to be either light green or brown, with a speckled appearance. They are rather flat and wide, although well-fed individuals may be more plump. Although the insects in the accompanying photo of two nymphs look like they are mating (how precocious!), they are really watching each others' backs for danger. Just kidding. They just happened to be together like that and show two different colors and ages rather well.


| | |
| --- | --- |
| Euschistus ictericus | Euschistus species |
Although the previously discussed Euschistus species are very common, we also have a distinctly different species, Euschistus ictericus, which shows up occasionally. This rather large insect is light brown, has very light bands on the sides of the abdomen, and has large, sharp spines on the shoulders, with a high ridge across the pronotum connecting them. I've also seen a similar bug that lacks the ridge between the shoulder spines, which may be just a variation of E. servus or yet another species. It has red legs and antennae.
Many people think of the true "stink bug" as being green. It is true that a number of species are that color and there are several in our area. The species that is really called Green Stink Bug is Acrosternum hilare. It is a large, solid green, native bug found throughout most of North America.
| | |
| --- | --- |
| Acrosternum hilare | Acrosternum marginatum |
Almost identical to A. hilare is Acrosternum marginatum. This green bug is much less common, although at times it can predominate in a small area. As the name suggests, A. marginatum has a yellow border around most of its body, especially on the face. This doesn't help much in distinguishing it from its cousin, though, because sometimes A. hilare also has a bit of a yellow border. The best way to tell the two apart is by the antennae. On A. hilare the distal segments of the antennae have black and white coloration, while on A. marginatum there is no white color but instead the bluish green of the base of the antennae continues to the distal segments. While this might seem a very small detail, it holds true on all individuals I've seen and also on mating and associating insects. Bugs with all blue antennae only mate with each other.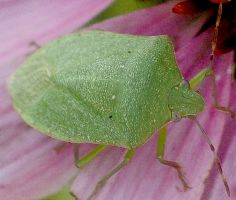 Nezara viridula

While the adults of the two Acrosternum species are difficult to distinguish, the nymphs are not. Nymphs can vary greatly in color, usually being more black when they are young and then turning more green, but that is not a fast rule. A. hilare nymphs always have stripes on their abdomens, and usually have orange shoulders. A. marginatum nymphs have spots. They look something like the nymphs of Nezara viridula, the other large green stink bug, but they are different enough that the two can be separated. In fact, the way I figured out the nymphs for A. marginatum was to use clues such as the similarity to both Nezara and Acrosternum hilare, as well as finding both nymphs and adults in a limited area. Also, there were just no other possibilities - it's like pairing socks after doing the laundry.

The mention of Nezara viridula brings us to our second most common green stink bug. This one is called the Southern Green Stink Bug, and is an introduced species from Europe that is now established in the southern parts of the U.S. Adult Acrosternum hilare and Nezara viridula look so similar that many people cannot tell them apart. There are differences, though, that are quite consistent. Unfortunately, you either need good eyesight or a magnifier to see them. The black parts of the antennae on Acrosternum are reddish on Nezara. The other feature is a pair of tiny black dots on the forward two corners of the scutellum of Nezara. These are absent on Acrosternum. While the antenna color might be a little hard to judge, the presence or absence of the two dots will confirm an ID.



Acrosternum hilare nymph

Acrosternum marginatum
nymph

Nezara viridula nymph
Again, the nymphs of Nezara viridula look quite different from Acrosternum hilare. The most obvious difference is that they are spotted instead of striped. The spots line up in rows, which is different from Acrosternum marginatum.
The nymphs of both A. hilare and N. viridula form congregations when they are young. I've never seen this with Acrosternum marginatum, but I have also not seen that species as often as the other two. As the nymphs get older, they usually separate and feed alone.
| | |
| --- | --- |
| Thyanta custator accerra | Thyanta custator accerra mating |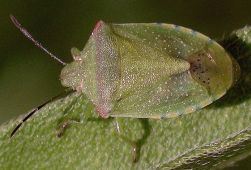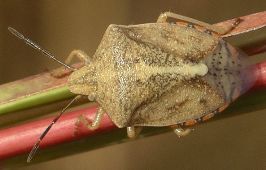 Thyanta custator accerra: two color forms
As if having three kinds of green stink bugs is not enough, there is another similar species. Thyanta custator accerra is a highly variable insect that is a bit smaller than the previously discussed species. In one form, T. c. accerra is solid green. Once again, antennae color comes to the rescue and the antennae of this bug are almost solid dark brown, without the two-toned segments found on the larger green stink bugs. Thyanta custator accerra is one of several species and subspecies in this genus that have given taxonomists fits. It turns out that our particular subspecies has several forms, including solid green, green with red across the pronotum and/or along the front edges of it, very pale green to almost white, and brown. The solid green and very pale forms have no bands on the edges of the abdomen but the red-tinged and brown have bands that can be yellow or orange, and black or blue. The humeral angles (shoulders) can be rounded or with a slight point. The upper wing halves often have tiny white dots all over them. The brown form appears in the winter.
| | |
| --- | --- |
| Edessa bifida: two color forms | Edessa bifida nymph |
One of the largest stink bugs is Edessa bifida. This bug is large, smooth and rounded, with a very tiny head. The antennae of both adults and nymphs seem to never stop vibrating. The nymphs are oval shaped. Adults come in brown or green, but always have a prominent white spot on the tip of their scutellum. They are not particularly common.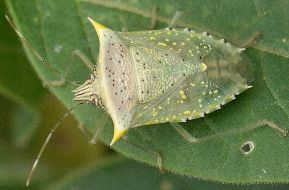 Arvelius albopunctatus
On the opposite side of the shape spectrum from the rounded Edessa, Arvelius albopunctatus is spiky and pointed. Not only does it have sharp shoulder spines, but even its face is pointed. I've only found this insect occasionally, but it is easy to identify. Color is consistent: light green with yellow specks that look like paint splatters. This attractive species prefers plants in the Solanaceae family, and I've seen it feeding on Jimsonweed (Datura inoxia). It is reported to sometimes be a pest on tomatoes, which are in the same family.