Chapter 66
And now, for the rest of the story
continued from previous page

Me again: Might as well get in my beef with Continental out of the way. The flight to Las Vegas was pleasant enough. Gave me a couple of hours to reflect upon the events of the day. It had been pretty much of a whirlwind tour, a third class physical that updated my Private Pilot's License, orientation, how to fill out an expense report, signed countless documents that I didn't read and then the last stop at the cashier's office to pick up an American Express Gold Card, Hertz Rent-A-Car credit card and a thousand dollars in Traveler's Cheques. I almost felt rich.

I was waiting for my luggage at the carousel and had all except a custom made hanging bag. It came down the chute, hung on a corner and before I could climb up and free it, had worn a six inch hole in the top. The bag had been a monogrammed gift from brother-in-law Bill McDavid and it meant a lot to me. I found a Continental baggage lady, made the report but from her attitude knew a storm was brewing. It took almost six months to settle the matter. I was told by one claims agent that I should not have carried expensive luggage on the plane. Lesson number one where Continental was concerned.

The little gal in Houston who handled travel and reservations had done a good job. I stopped by the Hertz desk to find my car waiting, "Jus sign here Mr. Worden." Same with my room in a nice motel just off the strip. This was not my first trip to Vegas. I had two friends, brother and sister from Weatherford, Bud and Janet Uphof. Bud was the Bell Captain at the Stardust and Janet ran the cage at the Aladdin, both on second shift, desirable and well paying jobs. It was Friday night so as soon as I had freshened up, I set out to see Janet at the Aladdin. We had a nice reunion and when she finished work after midnight, we hooked up with brother Bud for drinks and more reunion at the Stardust. They were to prove settling influences on me for the next eight months. They had both married and divorced, purchased a home in Henderson and lived there with their mother, Flo, another good friend. They asked me to have dinner with them Saturday night, a home cooked meal and that turned out to be a rip roaring good time with my favorite chicken fried steak and all the trimmings.

Sunday afternoon the phone rang. It was Curley Lewis from Lockheed Houston. He was staying at the same motel, had arrived the day before and told me we were to share the rent car. I met him for coffee in the motel dining room. He was a Bible Thumper, a Mason and had a secret but more about that later. He knew where the Lockheed office was located on Maryland Parkway and he knew the man we reported to, Everett Richardson. He was knocking on my door next morning at five ready for breakfast. Good thing I am an early riser or we might have had problems. I had seen a sign at the Castaways on the strip, Centennial Breakfast-76 Cents! Sounded like a deal to me and I ate there every morning any time I was in town and wanted to eat out.

We checked in with the secretary at the Lockheed office who told us to report to "Rich" in the lab at UNLV. We found Rich who turned out to be a really good friend and a talented electronics wizard. He didn't have any idea what to do with us so he told us to take a seat and watch. He and an engineer were working on a dye laser that would be mounted in an acient twin Beech to check for suspended particulates, whatever that meant. For the next few days, we wondered around the lab, checked out the campus at UNLV and were later told we would be working Saturday. Go figger. We finally had a job. A German mechanical engineer assigned to the project had designed the mount for the laser and Rich wanted it installed in order to make a flight envelope the following Monday.

I didn't have the foggiest idea about how to go about the task but Curley knew all the ropes. For the next two days, yep Sunday too, I handed him tools, fetched hardware and tried to make a hand. We finished late Sunday afternoon, installed the laser and it fit like a glove .I was more impressed every day. I had started stopping at a small liquor store to pick up a six pack of beer on the way back to the motel after work. Next door, a XXX rated movie house featured a movie I had heard about but never seen. When I returned to the car, Curley asked if I had ever seen a porn movie and I admitted I had but they were not on my list of favorite things to watch. Then he asked if I would accompany him, that he would pay the way. Now here was a man who had gone to church before we went to work that morning and now wanted to see a porno flick. I thought what the heck and agreed. We entered, took seats at the rear of the filthiest movie house I have ever been in. About thirty minutes in to the movie, Curley said he had seen enough and wanted to leave. I was more than ready to vacate the joint. He told me later it was research for a Sunday School lesson he planned to teach when he returned to Houston. Sure.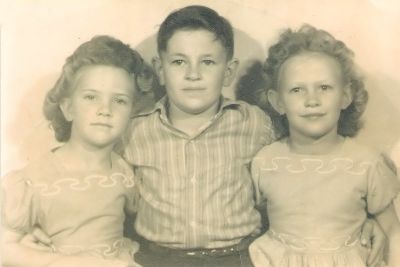 Me and my two sisters, Rexie and Gail, about 1945.
By the time Curley returned to Houston, I was plugged in pretty good. The laser project didn't need me anymore but I managed to sneak aboard a few flights when we flew to Los Angeles at night to fire the ruby laser over the basin. I was given another assignment, helping the engineer on the Ozone Study and finally my dream job. Flying technician on the Douglas B-26 that was equipped to sample emissions from factories and power plants. Later on, I was assigned to the Anaconda project which meant a TDY stay in Butte, Montana. That project was covered in other chapters so I won't dwell on it. I left Butte Thanksgiving Day to return to Las Vegas to prepare for six months on Maui.
The original plan called for me to spend six months on Maui, move the study to Oahu for another six months study of Hawaii Electric. Near the end of the Maui tour, I was informed that Northrop had outbid Lockheed. My manager offered some options. I could return to Vegas to work in the lab, take a six months leave of absence to work for Northrop on Oahu and return to Lockheed or be declared surplus. The Northrop deal sounded interesting. When I returned to Vegas I set up an interview with the manager and found out how they had won the contract by bidding $35,000 less than Lockheed. They wanted me to take up the slack by moving to Oahu, no per diem and no company station wagon. The biggest insult was a pay cut. No thanks, I would play my ace in the hole.
I had been offered a job as office manager in a doctor's office on Maui. I took my leave of Lockheed, drove my 1976 Toyota pickup to Los Angeles, put it on a Matson lines ship and caught a flight to Maui. It was the middle of July, 1977 and I had never worked in a doctor's office but I learned fast and soon had the office running smooth as silk and had some time to spare. One day I took the pickup to the Toyota store for regular maintenance and while I waited struck up a conversation with one of the salesmen. I discovered I could make a lot more money selling a very popular vehicle. Besides, things at the doctor's office were getting a bit sticky and I won't bore you with those details.
I filled out an application and handed it to Bill Peres who was acting sales manager for Maui Toyota. He read the application and told me I didn't want to be a salesman, that with my background, I could have his job. (He was also the acting used car and rent car manager.) He arranged an interview with Damian Farias and Gordon Moderhock, the partners and at five that afternoon, I walked out with the title of New Car Sales Manager, Maui Toyota. Damian was a workaholic and expected his managers to do the same but it paid well. I had a ninety day probation period and when that day came, I was promoted to General Manager with a contract that ran to November 1, 1978. More money but a lot more responsibility. Damien and Gordon were busy building a new facility and I was charged with everyday operations of the dealership.
February, 1978, Damien told me a lady would be in on Saturday. Her name, Nonie, and she worked with his wife at the Intercontinental Hotel. She needed a new car and he told me to settle her on one and he would make the deal. I took it as just another assignment and had almost forgotten about it. I looked up from my desk to see one of my salesmen talking to the cutest little brunette I had seen in a long time. This salesman considered himself quite a ladies man and I knew he already had one customer. I walked out, introduced myself and Nonie told me I was the person she was supposed to talk to. She also told me she was from Detroit and knew that all car dealers were crooks. Now that hurt my feelings. I hadn't done anything to warrant that accusation but ever the professional, I found out that a small station wagon would best suit her needs and pocketbook. She carpooled and after we drove the car, she and her son Mike, who came along, agreed.
It took a week to make the deal. We found out we had some things in common. Both divorced, kids, and no hurry to remarry. We both swore we would never remarry. When she came to sign the final papers on Saturday, I asked her for a dinner date and she agreed. We had a good time, found out a lot of things about our families, she had eight siblings, two children, Mike and Liz who were eleven and seven at the time. I offered to deliver her car the following Monday and pick up her trade-in. I arrived about six on Monday and she was preparing Reuben sandwiches. That sold me. She makes the best Reuben sandwiches I have ever eaten and they are still a treat for me.
We started dating on a regular basis, I took her and the kids flying, whale watching. we got along famously. We were having dinner at a nice eatery one night when Liz asked her mom why she didn't marry me. I thought that was good idea and asked her. She agreed and April 28, 1978, we tied the knot on the lanai at her home in Kihei, Maui, with a barefoot Baptist preacher. Our dog had run off with his flips. Nonie agreed to marry me on one condition. If I was ever offered a job on the mainland, I had to take it. I agreed of course, never dreaming that Slim Goodman would call me in December to offer me a job with General Dynamics building the F-16 Fighting Falcon in Fort Worth. I left January 19, 1978, two years to the day on Maui and reported for work January 26, 1979. Nonie stayed behind to sell the house and arrange the move to Texas.
The next few months set the pace for our first five years of marriage. Nonie had not been home in several years and was really lonesome for her family. When the house sold, she shipped our household goods to Texas where I put them in storage. She put the kids in school in Hazel Park near Detroit and moved in with her sister. I had rented a nice apartment in the meantime and Nonie made a permanent move to Fort Worth in June, 1979. We started looking for a home and found it at 2933 Portales. We closed at eleven in the morning, April 11, 1980, and I boarded a plane for Amsterdam, Holland that afternoon at four. That was the first of many trips and separations. Nonie kept the home fires burning and joined me when possible in Germany, Holland, California and Egypt. Mike and LIz married, Liz with three little ones. My girls have blessed us with some grand and great grand kids. We get along famously with my ex and all it well.
I am seventy-one at this writing, fair health, could use some parts replacement but I am close to termination according to insurance actuary tables. I am trying to decide what I want my obit to say. I think either, BEEN THERE, DONE THAT, or I TOLD YOU THIS WOULD HAPPEN.