Chapter 66
And now, for the rest of the story
continued from previous page

Me Again. Let's see. Where did I leave off? Oh yeah. Service Manager, Bill McDavid Oldsmobile, Houston, Texas. Actually I got a little ahead of myself. I served a short apprenticeship as Assistant Used Car Manager, New Car Service Manager and then, SERVICE MANAGER.

A lot of characters came through while I was there. I met Gen. Curtis LeMay when he was the keynote speaker for the Jaycees banquet held at the now defunct Shamrock Hotel built by Glenn McCarthy. I met and associated with all of the original seven Astronauts with Alan Shepard and Gus Grissom being my favorites. It was a stroke of genius on Bill McDavid's part. He furnished Rocket Oldsmobiles for all the Astronauts and their wives. All of them attended parties at Bill's house at one time or another. Alan Shepard even brought a sixteen millimeter color film of his first trip in to space, the uncut version. Funny. John Glenn and his wife always attended but he never drank alcohol and they always left soon after the meal. Deke Slayton was almost always there for the party also along with other NASA VIPs.

Sammy Miller was a customer who had purchased a new Super 88 Holiday, light yellow in color. Sammy attended synagogue if that tells you anything about his religion and was a top notch shoe salesman for Foleys located just up the street. At the time, the warranty was 4000 miles or 90 days, whichever came first. It could be extended if you were real nice. Sammy was in every work day from the first day he owned the car with some minor problem, real or imagined. When the warranty ran out, I told him I would have to start charging him if he kept bringing it in for piddling complaints. He didn't like it but stopped coming in every day, only for the free lifetime lubrication we offered with every car sold. (More about that later.) He would arrive early, leave the car all day and pick it up after the service department was closed. He made sure he didn't owe any money. One day, I was making my rounds on the customer parking lot and noticed Sammy's car with one of our red and white job number tags hanging from the rear view mirror. I asked the dispatcher if Sammy's car had a ticket on it and he told me no. "Light Bulb!" Sammy had copped one of the tags and was parking his car in the lot without a ticket to save a couple of bucks in parking fees. Simple matter to make a duplicate key and move his car out on the street on a meter where he promptly got a ticket. Mad, I thought we might have a knock down drag out. If Sammy had needed the money, I would have let him park forever but he was a wealthy man and that is one of the ways he obtained his wealth.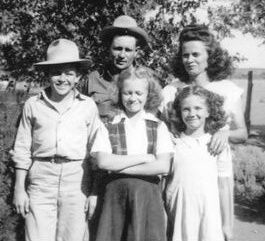 Me, sisters Gail, Rexie, Dad Carl and Mother Claudia. Taken on the farm where we were living with Granddad and Mama Willie Worden. Summer of 1947, when I learned to fly and just before we moved in to town to start school in Lamesa, TX.

Ted Hodges went bankrupt as the Buick dealer in Weatherford and came to me for a job as a Service Advisor. I was happy to get him. Ted was a great salesman, knew his product, took great care of his customers but was a bit of a hair brain at times when he was in his cups. One day at work I noticed he was limping a bit but didn't think much about it until I saw him trailing blood on the service drive. I called him in the office to find out what was wrong. He was a bit evasive at first but finally admitted he had shot himself in the calf of this left leg. The story he told was he was cleaning his .45 caliber revolver and had just loaded it to put it away. He was sitting in an easy chair watching a Roy Rogers shoot'em up. Somehow he managed to shoot himself in the leg during the chase scene. He didn't want to go to a doctor because for some reason he didn't want the gunshot wound to be reported. I knew a doctor, a good customer of mine, who could be very discreet and carried Ted to his office. The wound wasn't serious, had not hit a bone and only required a few sutures to stanch the flow of blood. While the doctor was working on him Ted made the comment. "I don't mind the leg, it will heal. But that bullet went right through the screen on my new TV set!"

July 1958, Bill McDavid called me in to his office to tell me he was moving me back to Weatherford. Seems his partner at the time was skimming profits and he wanted someone he could trust to watch the store. I was kind of glad, I had enjoyed about as much of Houston as I could stand. We had three children by then. David was born February 21, 1958. Andrea the eldest had been born January 16, 1955 and Alicia November 6, 1956. We were happy with the move. What I didn't realize and Bill had not told me was I would be working for Weatherford pay scale, a lot less than I was making in Houston. One of his little quirks. In for a penny, in for a pound and he had paid for the move. Shortly after I arrived and took over the Service Department, a new partner came along. I admired and respected, Cookie, but he and I didn't see eye to eye on the pay scale and when the opportunity to work for Convair came along, I took a job as Electronics Technician 'B', second shift, October 1, 1958, making twice as much if not more than I had made in Houston!

I bounced back and forth between Convair which became General Dynamics and lastly, Lockheed and McDavid Automobile stores from that date until April 1, 1976. My last position was as a partnership with Bill and David McDavid as the dealer of record in Weatherford, Texas. We had Oldsmobile, Pontiac, Buick, GMC Truck, International Truck, Opel, Jeep and Honda Motorcycle. My son David died the day after his seventeenth birthday, February 22, 1975. For almost a year, the only way I could tell you where I had been was by looking at my American Express credit card statement. Max Booker came to the rescue by arranging an interview with Mr. Douglas at Lockheed Electronics in Houston. I made my peace with my partners, arrived at NASA Clear Lake at eight o'clock in the morning. At five that afternoon I was on Continental Airlines headed for Las Vegas.

continued on next page