June, 2008
Are Previously Long Odds of Catastrophe Getting Shorter?
When we bought our house, Val and I were reassured that, though part of our yard is in the flood plain, this would only be relevant about once every hundred years. Since then, however, we have learned that lots of "100-year" flood areas in central TX actually are underwater with much greater frequency than once a century. Many folks in Cedar Rapids, IA, had been told they could build near the Mississippi River because they were just in the "500-year" flood plain. But as of this month they have now had two "500-year" floods in the last 15 years.

When I looked into the rate of sea ice melting just a couple years ago, I learned that, even with global warming, scientists expected it would be 50-100 years before the Arctic Ocean's ice would melt away. But this week I learned from National Public Radio that the poles' ice is disappearing so fast scientists now think sea ice at the north pole will be gone (during the summer) in as little as 5-10 more years.

The odds are, as we were told after the Cold War ended, with the Soviet Union's breakup on Christmas Day, 1991, the risk of nuclear war anytime soon has been all but eliminated. But recently I learned that U.S. intelligence services now estimate that chances are as high as 50-50 that at least one major U.S. city would be decimated by a nuclear explosion between now and six years hence, in 2014, per Nuclear Terrorism. Evidently President George W. Bush and Vice President Dick Cheney believe it is not a question of if but simply of how soon such a catastrophe would occur, per The Council on Foreign Relations. As some wag has noted, an atomic blast can ruin your whole day!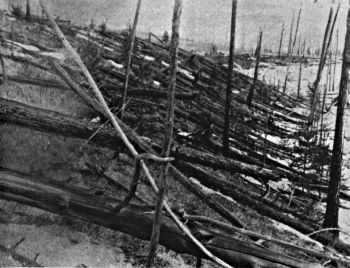 Fallen trees caused by the Tunguska Event, photographed during the Leonid Kulik expedition in 1927

I am not a believer in an imminent end of the world in a prophesied Armageddon or in the dire end-days predictions for the 21st Century by mystics or mystic scientists like Nostradomus or Newton. Yes, apparently Sir Isaac forecast the end of mankind in the year 2060.

But some of what is reported lately is enough to give a person pause. For instance, per New Scientist, as the U.S. attempts to clean-up its worst nuclear site, the Hanford Nuclear Complex, in WA, the odds of a major accident are as high as 50%.

The probability of a large conflagration involving U.S. interests in Asia or the Middle East (Pakistan, Afghanistan, Iraq, India, Israel, Saudi Arabia, etc.) is now considered high, the more so if Iran acquires nuclear weapons, though at the moment many analysts feel turmoil in Pakistan is the greater regional threat.

Not to speak only of military, nuclear, or geopolitical risks, when natural disasters are thrown into the long odds pot, things can get particularly dicey. What with possible bird flu pandemics, mega-volcanoes, tsunamis, earthquakes, comets, and potential large asteroid impacts, this part of the cosmos is rather dangerous and seemingly getting more so all the time.

The planet has a serious fever, we are told, and before it gets well there are better than 50-50 odds at least half of its current life forms will have ceased to be. Some of them, like the honey bees now disappearing in vast numbers (though perhaps not due to an overheated world; the reasons remain unclear), may turn out to have been friends of ours.

The odds were thought to have been only about 1 in 10 that Earth would be hit by a major cosmic intruder within a particular century. Yet 100 years ago this month, as reported in "Scientific American," what most believe to have been a large asteroid entered our atmosphere and caused such devastation in remote Siberia that, had it hit New York City instead, the entire metropolitan area would have been wiped out. As it was, trees were uniformly toppled by that June, 1908, occurrence over a 775 square mile region, and the effects of the detonation were noted, with a sky bright enough to read a newspaper by it at midnight, as far away as London.

But now one hears that such an event may occur about once every 200 years, raising the average chance in a given century such as ours to, you guessed it, 50-50.

Interestingly, there is now a known candidate for the next significant Earth encounter with a big space rock. Asteroid Apophis may be (slight chance) on a collision course with us, unless it can be deflected. If it is indeed "the big one," similar in effect to the one that probably did in the dinosaurs 65,000,000 years ago, its impact would come in 2036. Odds are, though, the next significant chunk of space real estate to plunk itself down on terra firma will not be noticed till too late, but will also not be massive or fast enough to take out more than a few million of us.

One has the sense, particularly after the 9/11 terrorism and then, just four years later, the Katrina-Rita flooding and wind damage destruction of New Orleans, much of the rest of LA, and parts of MS and TX, that with all the potential or actual disasters being reported, including most recently a devastating monsoon in Myanmar (formerly Burma), a huge earthquake in China, etc., that the risks of calamitous events are increasing.

But really they are surely remaining much the same as they have always been. We are merely noticing them more. Even our worst modern tragedies, though horrendous in a more focused view, directly affect but a tiny fraction of the multi-billion overall human population.

In the end, hopefully (and chances are) our species shall as usual get by, whatever happens, even if, as really has been the case on numerous occasions in the last several tens of thousands of years of human existence, and as Thornton Wilder put the matter in his play of the same name, it may again only be by "The Skin of Our Teeth."