May, 2008
For Trees' Sake and Ours: Catalog Choice
Have you ever gotten yet another catalog you never ordered and thought: "Why is there not a "No Catalog List," like the "No Call List," so we could save all those trees and not waste them filling the mailbox with junk!?" If so, you may be pleased to know at least partial help is now available.

At catalogchoice.org, one can in a few moments begin to transform that mailbox into a greener version of itself, eliminating unwanted catalogs from ever being sent.

As the site says, it is as simple as 1, 2, 3:
Set up an account I.D. and password.

Enter the address where you get unwanted catalogs.

Type in a couple code words provided by the site.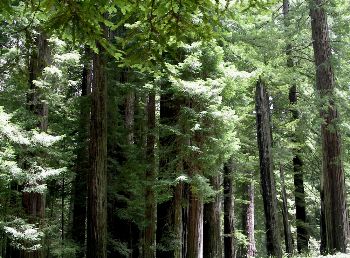 catalogchoice.org will then register you with a free account and begin to work with you to eliminate catalogs you would just as soon not get, thus saving trees, merchant printing and shipping costs, postal worker stress (maybe even another person "going postal"), carbon dioxide in the atmosphere, hassle, landfill space, waste water discharge, and so forth.
Your personal info is guaranteed to be used only to reduce the receipt of unwanted catalogs. (See their security policy, easily accessible at the site.) I would trust this non-profit to protect our information a lot more than the commercial companies who keep sending unneeded catalogs.
Join, and you are likely to be among the first in a building movement for less waste, more protection of the environment, less invasion of your space, and so on.
Besides a little extra trouble individual consumers may have sorting through their mail and filling garbage containers, why is opting out of repeated or unwanted catalog shipments important?
In the U.S. alone, per the site statistics, there are 19 billion catalogs sent out each year, many of them neither requested nor desired.

These result in the destruction of 53 million trees.

To make the catalogs, 3.6 million tons of paper must be created.

There are 52 million tons of carbon dioxide emissions (a key factor in global warming) added to the atmosphere in the process.

Making those catalogs also involves 53 billion gallons of waste water discharges.
The only downside I see right now to using catalogchoice.org is that they cannot assure you never get unwanted catalogs again. These must still be eliminated on a company by company basis, but it seems a great deal easier canceling catalogs through the site than on one's own.
The catalogchoice.org folks will let companies know you do not want their catalogs, so you need not take the time and trouble to do so with each company involved. They have more clout, because they represent a growing number of members, already approaching one million, with so far over 11,000,000 catalog cessations to their credit. In the process, numerous trees are being saved, far better for our planet than these catalogs. Disposal areas are also being spared.
Some corporations are seeing the benefits of not sending catalogs to people who do not want them. (Go figure!) Companies such as L. L. Bean and Land's End are now voluntarily cooperating with catalogchoice.org.
What's not to like? Try it! Today the mailbox, tomorrow the world!