December, 2012
On Giving
by Larry
The poor, we are told, will always be with us. In capitalist and communist societies alike, a certain percentage of the population tends to be relatively destitute. I used to puzzle over this. My quandary was not lessened by the knowledge that in fairly rich countries like our own much more is spent on programs for the poor than would be required to simply give them the income necessary to be raised out of their poverty status.

My confusion is compounded by awareness that there is a tithing tradition in various of our religious cultures. Our poverty rate runs around 15-16%, so it involves roughly 50 million of us in the U.S. Suppose the much greater number of those who are not poor were to donate 10% a year of their relative largesse to assist those who have little. Since the resources of the poor are not zero and they do not, on average, need a huge amount to be lifted out of the official poverty range, oddly enough, the statistics show that this level of giving would provide much more than enough to eliminate poverty in America, even without any government handouts.

Yet poverty persists and, if anything, is even worse in many other parts of the world. I reflect on the maxim that, rather than giving a poor man a fish, one should teach him how to fish. I suppose there is a vegetarian equivalent as well. Perhaps, instead of giving a person a bag of potato chips, it is better to teach her or him how to plant and harvest spuds or yams or even to forage off the land in wilderness areas.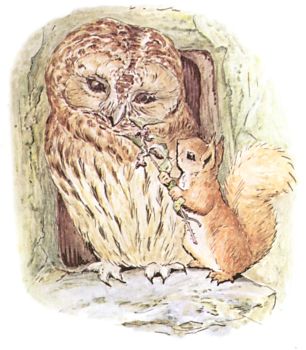 Squirrel Giving Owl a Flower

Still, when I see a street person begging, I cannot help wondering, along with my annoyance that they are bothering more productive members of society, where he or she would be able to fish or to plant tubers, once such skills were learned. These days, even folks with work-related talents may have to do without regular employment.

A friend of mine each week in downtown Austin hands out to homeless people prepared meals, part of a Loaves and Fishes program through his church. I admire him for this, but have enough of Scrooge in me to wonder if his efforts are actually encouraging folks to maintain unhealthily dependent lifestyles.

Another acquaintance suggests I not think so much about the pros and cons of giving or assisting others in need, that I might remember instead that Scrooge had another side, one of whom it was said that nobody better kept the spirit of Christmas. She thinks we ought not worry about whether some folks "deserve" to be poor or would be better served by others being stingy. Instead, her credo is simply to ask in each moment what is the next right thing to be doing, and then do it! Volunteering her time, she routinely works with people struggling with abuse and neglect, major debts, lost jobs, and the emotional scars of past traumas. More power to her. She, better than I, has the inner resources to be good at that kind of generosity, providing a listening ear to folks who very much need one.

If responding to my own better nature, there are things I have to offer as well. Though we think more of sharing with others at this time of year, when images of Santa Claus, sounds of carols, and a million and one Hollywood or retail suggestions of gift giving are in the air, the opportunities (and deep need) for generosity are year 'round.

Many local non-profits are available that can greatly benefit from and put to excellent use our gifts of either time or money. In my own experience, this is the case with Austin Partners in Education, which helps young kids with reading and older ones with college preparatory skills. For Valerie, similarly worthy causes are Austin's exclusively donations supported classical music station, KMFA, and the Ladybird Johnson Wildflower Center, which operates "to increase the sustainable use and conservation of native wildflowers, plants and landscapes."

Ours tends to be a giving people. Whether motivated by our own inner angels or inspired by the generosity of so many others, we too may seek additional ways to lend a hand. Thousands of charity and other non-profit organizations exist, and it seems best to me if we pick ones whose causes "speak to" us. There are also online sites, such as Charity Navigator, which can help us screen non-profits to discern, for instance, which are the most efficient at using people's donations for their intended purposes.

Each person's list of laudable charities will be his or her own. Here are a few of mine:
Doctors Without Borders

Homes for Our Troops

Smithsonian Institution

Teach for America

The Sierra Club Foundation.
Whether or not for this holiday, we wish you rewarding sharing through volunteering time or by charitable giving.


---
---