August, 2004
My Three Dogs
by Valerie
Throughout my life, I've lived with dogs. Never more than two at a time, they were the first animals that I met as a baby and I've enjoyed their companionship immensely. When I was a kid, our dogs belonged to the entire family and, since I was quite young, I was not the person mainly responsible for their care. Although there have been a number of dogs in my life, three stand out as special friends and life companions.

The first dogs we had were miniature schnauzers. Descended from the Dorem kennel line, these animals were not only purebred and pedigreed, but show quality. The first schnauzer my parents owned was Penny, a lovely dog that won many awards and ribbons. Before I started school, we had bought a second pup named Krikit and also sold Penny. Krikit was the dog with whom I won my first show when I was 5 or 6 years old. I still remember the prizes: a new leash and a camera with a red plastic body. I never learned to use the camera, but I did absorb the ability to handle our dogs and helped socialize the pups of Krikit's litters.

As Krikit got older, we decided that I could keep one of the female pups from her last litter as my own. I was 10 years old in 1968 when Krikit produced a litter of four, one of which was female. This made the decision of which one to keep very easy and I named my first pet dog Samantha. The full name on her pedigree was Vee Gee's Samantha. Vee Gee was the name of our "kennel," and all the puppies we raised were given that prefix on their pedigrees.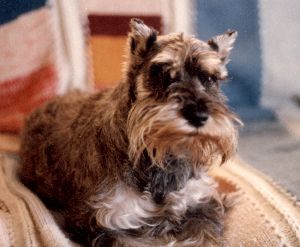 Vee Gee's Samantha, Lemont, IL, March, 1978

From the beginning, it was understood that Samantha, or Sam as I called her, was my responsibility. I had to train her, feed her, and trim her hair. I had helped to groom Krikit, but it was a new experience to do all the electric clipping and then the finishing scissor trim work. Learning to trim Sam's nails was daunting, but the patient pup was quite tolerant of my clumsy attempts.

For a number of years we had both dogs in our household. Krikit died at the age of 13, while Samantha was still in her prime. Since we'd had litters of pups before, we also bred Sam. Once. We had troubles finding a sire of suitable quality and the resulting litter was less than impressive. Out of four pups, one was stillborn, one had a cleft palate (a genetic defect introduced from the father's line) and died after a couple weeks, and the other two were not of show quality. I'd never shown Sam, mostly because I was involved in other activities, along with school, so she did not have any titles or championships to boast. Sam was just a companion dog, but she fulfilled that role to perfection and was an ideal dog with which to grow up.

Sam was my constant companion from 5th grade through my senior year of high school. She was not a particularly athletic dog, but she managed to keep up on hikes and ice skating, had impeccable manners in a canoe, learned to kayak with me, enjoyed traveling and camping, and was certainly an excellent house dog. When I went to college, I could only visit Sam during vacations, but we kept up our relationship just fine and she even came to visit me at the university a couple times. When I bought my first car in the summer of 1981, I took Sam for rides around town, since she was too old and feeble by then to go on regular walks. That fall I started graduate work in Florida, and received word from home that Sam had died. She'd had a full and rewarding life and certainly helped me through my adolescent years.

Since I was involved in school and also moving often, along with living in rented apartments or rooms, I did not get another dog for a number of years. I moved to Austin, married Larry, and, along with a husband, also acquired his dog named Dixie. We only had Dixie, an elderly Shetland sheepdog from the pound, for a few years, before she succumbed to old age.

After a dogless period, Larry and I decided to get another canine. We started going to the pound every weekend and actually brought home a couple of adult dogs but had to return them for problems such as heartworm. Then one Saturday we saw a tiny puppy that looked like the schnauzer pups I so fondly remembered. Marie was a barely weaned, timid and quiet little black dog with undocked tail, dewclaws, and floppy ears. She was half miniature schnauzer and half Scottish terrier. We bought her and named her Frisky Pepper Tornado Rex.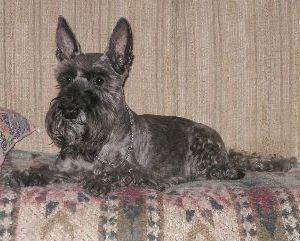 Frisky Pepper Tornado Rex, Turtle Lake, WI, Sept., 2003
Frisky turned out to be the perfect dog for our early marriage. She was easy to train, playful, athletic (at 25 pounds, she had the height of a schnauzer and the stocky build of a Scottie), and cute as a button. Her coat needed to be trimmed periodically, but I had no trouble using scissors to give her a "schnauzer" look. Frisky adored travel, camping, kayaking, and hiking. She was powerful and had incredible stamina, which served her well when we hiked all day in the mountains of Colorado, spent hours swimming and playing in creeks or lakes, or went on long hikes in parks here in Texas. We spoiled her rotten, but also avoided some of the problems I'd noted with our schnauzers as we were growing up. I remembered the dental deterioration and obesity that beset Samantha in her old age. We never fed Frisky table scraps or excess treats, just her dry dog food. She not only didn't beg when we were eating, but her weight was always optimum and her teeth remained clean and healthy throughout her life. Another excellent choice we made was to spay her (part of the cost of buying a pup from the pound anyway), so we never had to deal with her coming into heat or having the related reproductive health problems later in life.
Every dog is different and Frisky certainly had her personality quirks. She feared children, didn't particularly like to be petted, and was in some ways as independent as a cat. On the other hand, she loved outdoor activities and was an ideal walking, swimming, and kayaking companion. She was just obedient enough to make living with her pleasant, she was often very affectionate with us, and she loved to play whenever we wanted. We laughed at her antics and enjoyed her company. I liked keeping her nicely groomed, even when it meant brushing out all the burrs and other debris she picked up on our walks. With perfect house manners, Frisky was an excellent roommate in our home, as well as being a welcome guest when we traveled and visited others. When she died after a brief illness, at the age of 14 this past December, we missed her terribly.
Only a month or so later, I started missing not only Frisky, but just having a dog around the house, so we started shopping for another pet. Having had good experiences with small terriers, I knew that I wanted a similar dog, preferring a mixed breed, but open to buying any of several types of terrier. Larry and I agreed on the size range and we scoured the ads and checked the pound numerous times. Because we wanted a female and a puppy, our options were cut down considerably. We were also a bit shocked by the high prices being asked for dogs of our desired breeds.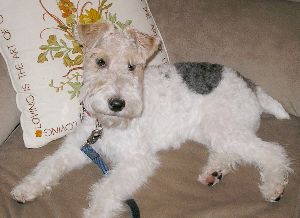 Periwinkle Dynamo Sue, Waco, TX, May, 2004

After a couple weeks of searching, Larry found an ad for wire-haired fox terrier pups, reasonably priced, and located not too far from Austin. When he called, they had two females that had not yet been sold. Purebred, with a pedigree including champions, and of a breed with which I've had no previous contact, our current dog is as different from the last two as possible. Periwinkle Dynamo Sue is a rambunctious, highly intelligent, stubborn, athletic, and wildly playful 8 month old puppy.

I'm discovering a whole spectrum of new experiences with Peri. Her fast growing coat requires almost daily brushings, and I've had to trim her hair FOUR TIMES already. She is not at all interested in pleasing us and so training has been a challenge, to put it mildly. We cannot fool her into obeying because she quickly catches on. On the good side, Peri LOVES to be petted and make physical contact, she adores children, and will play until she drops. Several funny quirks include her penchant for water (she will jump in the bathtub every chance she gets), her reluctance to get out of bed in the morning, and her strange game of pushing a ball around the house with her nose. Unlike Frisky, Peri enjoys fetching a ball so much that I actually got a sore shoulder from the unaccustomed activity. Although I loved my other dogs immensely, they were of only average intelligence. It's rather fascinating to see how quickly Peri learns words, behaviors, and even spatial concepts, as long as she determines that it is in her best interest to do so. The aggravations caused by her strong-willed personality are almost compensated for by that fuzzy little face snuggling up to me just to be affectionate.

I find it funny to think that here I am, at age 46, having only recently acquired my third pet canine. Some women of the same age have gone through as many husbands! With any luck, I may live long enough to have yet one or two more unique and special dogs in my life.