February, 2005
First Books
by Valerie
Reading is something that most of us just take for granted. I don't remember when I first started to read, or exactly what the first books were. However, there were certain titles that stick in my mind as having been particularly influential to my later literary preferences.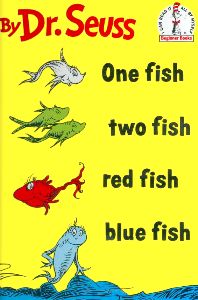 One Fish, Two Fish, Red Fish, Blue Fish by Dr. Seuss (1960)
Just about everyone my age grew up with Dr. Seuss books. We had several titles, including Cat in the Hat, Fox in Socks, and Green Eggs and Ham. My favorite, however, has always been One Fish, Two Fish, Red Fish, Blue Fish. The poetry flowed nicely, and it was fun to be able to read and understand the words, but the illustrations of those bizarre and colorful beasts made a much deeper impression. While I never copied the artwork from that particular book, it did help prompt me to start drawing fantasy animals at a very early age.
Go, Dog. Go! by P.D. Eastman (1961)
Another very simple book that I read over and over was Go, Dog. Go!. It was in the same large hardback format as the Dr. Seuss books and was also designed for beginning readers. It was in a series called "I Can Read It All by Myself Beginner Books" which used the Cat in the Hat as a logo. The colorful illustrations of the dogs, traveling by many ways, from roller skates to automobile, was just part of the fun. There was also an ongoing exchange between a poodle and a hound that popped up occasionally in the text. "Do you like my hat?" always answered in the negative seemed particularly funny to me at age 5. Dick and Jane, even accompanied by Puff and Spot, just couldn't hold a candle to the antics of these dogs. The best part came at the end, with a 2-page spread showing where all the dogs had been going: to a big party in a tree!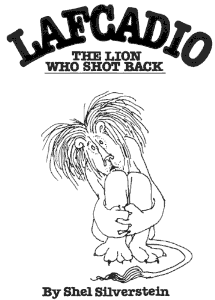 Lafcadio, the Lion Who Shot Back by Shel Silverstein (1963)
The first of Silverstein's children's books to be published, Lafcadio was not only a memorable character because of his exploits, but also because of the charming line drawings by the author. From the jungle to the marshmallow suit to his disenchantment with urban living, I followed Lafcadio's amusing exploits many times.
Bambi's Children by Felix Salten (1926)
Well aware that the Disney film "Bambi" showed the wrong species of deer (the original being a roe deer from Europe) and that it was overly "cute" to the point of being unreal, Bambi's Children seemed a much more sober and dramatic tale. The text was far too difficult for me to read by myself, but my mother read it to my sister and I, in serial fashion, over a period of many days. The small size, plain brown cover, and lack of illustrations (at least I don't remember the pictures if there were any) made it seem a much more adult sort of book than our colorful, big-text kids' volumes. The story was more complex and captivating than anything we could read by ourselves and the animals looked real in my mind, even if they could talk.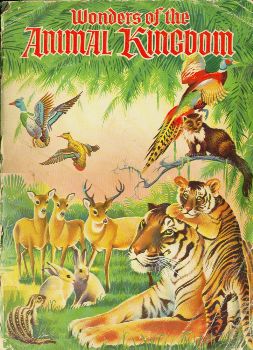 Wonders of the Animal Kingdom by Howard Winter, Benita Bartolome, Filomena Marquez, and Vicenzo Palma (1959)
This book was the first I can remember that identified animals with pictures and gave a bit of information about them. It was a large, magazine-like tome, with color pictures that had to be cut apart and glued in place. After we inserted all the stamps, then the book served as an attractive introduction to a wide selection of animals, arranged in groups. Beginning with Prehistoric Animals, and moving through Mammals, Birds, Fishes, Reptiles & Amphibians, and Insects, to end with Some Other Animals, this hodgepodge of a book was a perfect introduction to the field guides I would later use. The text contained unfamiliar words like ruminant, edentate, echinoderm, and perissodactyl. I eagerly learned them, however, as I read about llamas, pangolins, starfish, and onagers.
Zoology: an Introduction to the Animal Kingdom by R. Will Burnett, Harvey I. Fisher, and Herbert S. Zim (1958)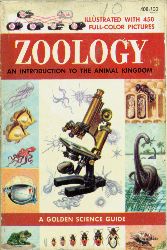 Just about everyone who has taken an interest in the natural world is familiar with Golden Guides. These little paperbacks came out in several series, including Golden Nature Guides, Golden Regional Guides, and Golden Science Guides. I still own about two dozen of these books and use them regularly. Simple but scientifically accurate, they are excellent sources for identifying insects, learning about the weather, or, as in the zoology book, discovering the basics of genetics, anatomy, evolution, and taxonomy within the animal kingdom.
The Golden Apples of the Sun by Ray Bradbury (1952)
When I was about 12 years old, I ran across a small paperback collection of science fiction tales with an intriguing cover design at a garage sale. This was my first sci-fi book and the start of my infatuation with short stories. I wrote a book report on The Golden Apples of the Sun for my 7th grade class in school, and started to look for more titles by Bradbury. I was so taken with his writing that I have been a science fiction fan ever since, acquiring not only 15 of Bradbury's books, but also discovering the writings of such authors as Isaac Asimov, Philip José Farmer, Theodore Sturgeon, H.G. Wells, Robert Sheckley, and Robert A. Heinlein.
Over the years, my reading choices have naturally expanded, but I think I'll always remember those simple beginnings with the elegant little one- and two-word sentences. Go, dog. Go!