January, 2005
The Pits
by Valerie
Of all the venues in which musicians perform, one stands out for its sheer variety, unpredictability, and just plain fun: playing in the pit. To the general public, this term probably doesn't mean much. It refers to the motley crew of instrumentalists who accompany musical theater productions, operas, and ballets. Although usually called a pit orchestra, the group can consist of anything from a small combo of players to a full sized symphonic ensemble. The area where the musicians play is traditionally called the pit, and in large theaters it is a literal description. Beneath the stage is another level, with access from behind and an open area to the front, adjacent to the first row of audience seats. This typical pit is actually rather rare, and I've played in pits that barely fit the definition: side of the stage, behind the stage, middle of the stage, above the stage (on a scaffold), and even (from a balcony) over the audience.

Most musicians have their introduction to the pit during middle and high school, when they are called upon to assist the drama department in a teenage production of some popular Broadway musical. My first experience was typical. I had been playing clarinet for a couple of years and my sister, Vicky, had recently started bassoon. I saw in the newspaper that a local college was holding auditions for musicians to play in an orchestra for "The King and I." My mom was easily convinced to let us audition. Vicky ended up playing bassoon, and I played second clarinet. There were numerous rehearsals and six performances. Because we were only in grade school, Mom had the dubious honor of chauffeuring us back and forth between our home in Lemont and the college in Joliet, IL. I don't think she minded at all because she had participated in the chorus of a couple of musicals while in junior college and found it to be fun. She had told me that, from the viewpoint of the singers on stage, it appeared that the instrumentalists in the pit were having a blast. She was right.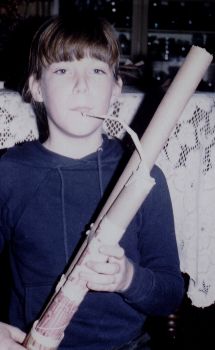 Vicky practicing on a home-made bassoon replica while waiting for delivery of the real instrument. Lemont, IL, 1971
Vicky and I adored working on "The King and I." The music was challenging only because we were so young, and we not only learned our parts, but also memorized much of the dialogue that we heard on stage. We delighted in acting out entire scenes for our own amusement back at home and found the rehearsals and performances fascinating. I cried every time the king died at the end. The other musicians were friendly, and all seemed to thoroughly enjoy themselves. On top of it, we each received $30 for our efforts. This final fact, that the instrumentalists are usually paid for their less than glamorous work, was certainly not lost on my impressionable young mind. It didn't matter that the pay rate was below poverty level. I was just elated to make money doing something I loved.
While still in high school, I played in a number of other musicals, both for my own school (discovering that when one is a student at the institution, pay is definitely an option that can be withheld) and for other schools in our area. I was hooked. Although I enjoyed playing in all sorts of groups, from orchestras to beer garden polka bands, I never passed up a chance to play a musical. When I went to college, the opportunities broadened. There were not only musical theater shows but also opera and ballet performances.
I found out early on that many Broadway musical scores call for musicians to play more than one instrument, known as doubling. One of the books (as the individual music parts are called) which I played in high school had parts for tenor saxophone and bass clarinet as well as clarinet. At the time, I made do with just my single clarinet and played what I could down an octave. However, I wouldn't be able to avoid the doubling issue for long. I auditioned on clarinet for a production of "Sugar" (the musical that was later made into a movie called "Some Like it Hot") when I was at the University of Illinois. After being told I was hired if I could play alto saxophone too, the director then asked if I did. I said yes, and went straight to my teacher for a permit to check out an instrument. Armed with a fingering chart, I managed to master enough in the two weeks before rehearsals started not to embarrass myself. I actually enjoyed learning to play saxophone and even bought my own within a year. A couple years later, I began taking flute lessons. A standard combination to be found (in at least one book) in many musicals is flute/clarinet/alto sax, so I was well prepared to take on numerous jobs that later came my way.
Over the years, I have played in quite a number of musicals. They have ranged in quality from the ditzy tunes of "Little Mary Sunshine" to the excellent score of "West Side Story." I often thought I would like to play on Broadway in New York, performing the same show for years on end. I never moved to New York, and the longest I ever played any one show was a 12-week run of "South Pacific" at a dinner theater.
Some productions for which I've worked have hired full orchestras, but the majority make do with only a few players. Rehearsals for "The Sound of Music" here in Austin started with two violins, a cello, a piano, a flute, and a piccolo. (I played the last two of these instruments.) Before the first performance, the violinists had been fired because they weren't good enough, and we were left with just a trio. Our group for "Fiddler on the Roof" consisted of only four musicians but played a number of instruments, including the required fiddle. One small combo in which I played was positioned right in the center of the stage. We were the "All Girl Band" which was the subject of one of the musical numbers.
In most productions I could see the action on the stage, and there are always entertaining moments during a month-long run of a show. Gypsy Rose Lee once tripped and gave the audience a peek at more than they (or she) bargained for. Toto made a surprise dash out into the audience after behaving perfectly for eight shows. The sheriff bent over and split his pants just before he was going to close down the Best Little Whorehouse in Texas.
I currently perform more often in operas, not nearly as whimsical as the Broadway shows. I also get paid a lot more, so it is easy to give the work the respect it is due. However, I still don't turn down a chance to do lighter material when the opportunity arises. Gilbert and Sullivan operas are somewhere between grand opera and musicals. A recent production of "The Pirates of Penzance" was a pleasant return to the frivolity that helped attract me to music in the first place. As usual, the more fun the show, the poorer the pay.