Halticotoma is a genus of small mirids that feed on yuccas. The most common species we have is Halticotoma valida. This 2.5 mm long bug has a red head and blue-black body. The nymphs are mostly red. With a special fondness for Spanish Dagger (Yucca treculeana), this species can be so numerous that the insects coat entire leaves. There is another species that looks very much like H. valida but it is all black. It feeds only on a plant related to yuccas, Nolina lindheimeriana. I've never seen it as numerous as H. valida but I suspect it is in the same genus.

Halticotoma valida

Halticotoma valida
nymphs

Halticotoma species
A small, uncommon, black mirid is a Slaterocoris species. It is shiny, about 3-4 mm long, and has light colored tibiae. A similar looking species is in the genus Plagiognathus. It is more dark gray and has vague markings. It also has black speckles on the light parts of its legs.
| | |
| --- | --- |
| Slaterocoris species | Plagiognathus species |
Because mirids feed on plants, it would not be unusual to expect many green species. However, there are relatively few that are this color. One species is in the genus Ilnacora. It is about 5 mm long and rather slender. It has many black speckles on its wings and a pair of black spots on the pronotum. The wing membrane is an iridescent gray.
| | | |
| --- | --- | --- |
| Ilnacora species | Reuteroscopus species | Proba species |
Another green mirid is in the genus Reuteroscopus. This is a small insect with distinctive black marks on the back and wings. It is difficult to find because it is so tiny and the black pattern breaks up its shape.
| | |
| --- | --- |
| | Pseudatomoscelis seriatus |
An even smaller green bug is a Proba species. This little mirid can be recognized by the dark markings that include a pair of spots on the wings.
Surprisingly, one of the tiniest mirids happens to have a common name. This is the Cotton Fleahopper (Pseudatomoscelis seriatus), which is a yellowish-white color and only about 2.5 mm long. The only reason it has a common name is because it can be destructive on cotton buds. It has a speckled body and small black dots on the wings and black bands on the antennae.
A very common and easily seen bug (it is about 5 mm long) is Taylorilygus apicalis. This species is usually light green, less often tan, and sometimes has vague dark marks on the wings. It has light-colored eyes; they sometimes look white. These bugs are mostly found on flowers, especially small Compositae species like fleabane.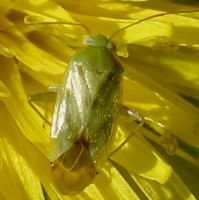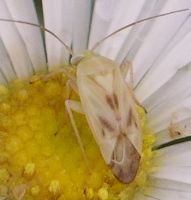 Taylorilygus apicalis: color variations
One of the most common and widespread species in our area is Polymerus basalis. It is brown, with a light colored scutellum that is raised, reddish cuneus on the wings, and dark bands on the hind femurs. It also has a dark front to its head. The texture of this insect is hairy, but it is sort of hard to see, and the colors can vary a bit, from rather light to dark.
| | | |
| --- | --- | --- |
| Polymerus basalis | Lygus lineolaris | Tropidosteptes quercicola |
Far better known than Polymerus basalis but quite close in appearance, Lygus lineolaris is the infamous Tarnished Plant Bug. This species has stripes on the pronotum, a variable white V shape on the scutellum, tan colored cuneus on the wings and bands on the legs. It is slightly wider than Lygocoris, and more strongly marked. Sometimes these insects can be quite numerous on garden flowers or plants and then they do quite a bit of damage. I've seen over a dozen feeding in one zinnia blossom at a time.
Tropidosteptes quercicola is another similar looking species. It is a bit smaller than the Tarnished Plant Bug and has wide dark bands on the tibiae; the cuneus is reddish in color. This bug shows up for a brief time each April, which corresponds to the blooming period of the live oaks. It probably feeds on the flowers, with which its colors blend perfectly.
There is at least one other less common species of Polymerus, which is smaller and more narrowly shaped. It can also be separated from Polymerus basalis by the less pronounced scutellum. It has dark bands on the femurs, but no other really distinct markings. The cuneus on the wing is quite red, a common attribute on members of this genus. The texture is very hairy, so that the insect has a bit of a grayish sheen to it.
| | |
| --- | --- |
| Polymerus species | Tupiocoris notatus |
Not all mirids have the usual oval shape that is so common. Some species are ant mimics, and this can occur in nymphs, females only, or adults. One very tiny ant mimetic species is Tupiocoris notatus. This is a very small mirid, at about 3 mm in length and quite slender, with a slight ant shape. It can often be found on Jimsonweed (Datura inoxia).

Paraxenetus guttulatus
nymph

Paraxenetus guttulatus
The nymphs of Paraxenetus guttulatus are very ant-like, and they have impossibly long antennae with black tips. They might be mistaken for the nymphs of broad-headed bugs but they do not have the constriction of the neck that is characteristic of that family. The adults of P. guttulatus also have the long antennae and are ant-shaped. They are only about 5 mm in length. I've seen them feeding exclusively on River Primrose (Oenothera jamesii).
Species in the genus Phytocoris are long-legged and have mottled gray bodies. They usually have bands on their legs and long antennae. This genus is recognizable even as a nymph by the long legs, but there are a large number of species that look similar.
| | |
| --- | --- |
| Phytocoris species nymph | Neurocolpus species |
Another genus that is easy to recognize but with many similar species is Neurocolpus. These are rather large mirids, at about 6 mm in length. The distinguishing characteristic is the swollen lower segment of the antennae. These are mottled brown bugs, with very hairy bodies and legs, as well as that first antennal segment.