August, 2012
The Youngest Almost Ninety-Year-Old I Know
by Larry
My mom, Julia, was born on October 16, 1922, but many who know her would not believe it, guessing her first year as 1932, even 1937.

Scientists and insurance underwriters might tell you her longevity and relative good health have partly to do with a Great Depression deprived youth. While starving our kids is not recommended, it turns out that children who have a bit too little to eat have, everything else being equal, better odds of living well and long than do those who are given plenty to consume in their formative years. (Parents of youngsters with early excess weight problems be advised!)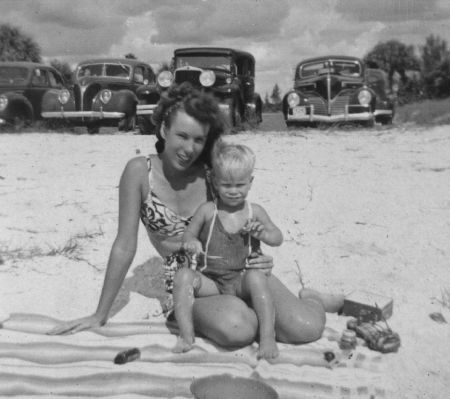 Julia and Larry on a New Jersey beach, about 1945

Another vital aspect, I am certain, is that she has always stayed very engaged. From her early teens or even before, Julia has spent many hours a week doing a variety of needed tasks. Her mom was unfortunately not the most competent, so Julia, as her oldest child, no doubt lent a hand to keep their household running smoothly.

Afterward, when Julia was living with her paternal grandfather and step-grandma, her chores just increased, even as she was also becoming a member of the National Honor Society and keeping up her grades in school (winding up with a higher GPA than the husband who would later accuse her of being "dumb").

She met Leon, a preacher's son, at age 15, and they were wed when she was nineteen, shortly after the attack on Pearl Harbor. Lawrence, her first of eight children, was born less than two years afterward.

During the hurly-burly of the war, with rationing, her officer husband's rapidly changing career assignments, and scrimping to set aside a little for the young family's future, you had better believe she was kept busy, active, involved, and engaged, supplementing her hostess, homemaker, and child-rearing duties with sewing, victory gardening, pre-school teaching, being a Cub Scout den mother, networking with other officer wives, helping enhance their early real estate ventures with her budding interior decorating skills, etc.

Later, even as his earnings grew, Leon insisted she get by on a micro-budget, still only $300 a month for groceries, clothes, and the many misc. expenses when there were 10 family mouths to feed, and yet she managed, capitalizing on talents acquired in a favorite teacher's inspiring home-ec lessons, learning to make the most of every food purchase and meal, to create whole family wardrobes from carefully selected pieces of cloth and varied patterns, growing a large proportion of their everyday vittles, seldom going out or buying big-ticket items, and later working part-time or full-time to supplement their income. As a result, combining their frugality with care in real estate and equity investing, they were millionaires by the time they had been married 30 years, quite a feat for a couple with eight offspring.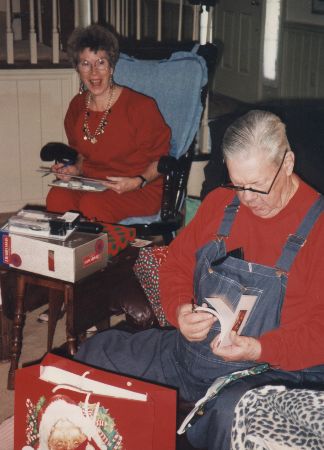 Julia and Leon at their McGregor place, around Christmas, 1989

For Julia, staying active and engaged were not limited, though, to merely filling most of her waking hours with productive involvements or ones that brought in extra money. She also has stayed mentally and creatively stimulated, keeping up with current events, reading scores of books each year, learning how to be a storyteller, teaching herself typing and computer operation basics, enhancing a talent for lively discussions, pursuing musical hobbies, theater arts interests, book discussion groups, community courses, or special lectures, and so on.

My mom has, in addition, stayed highly flexible, whether it was adapting easily to numerous new locations, as Leon's duty stations changed, or, after he had retired, to four different residences in TX, a rental house near the University of Texas in Austin, a fixer-upper mini-ranch outside the city limits, a roughly 200-acre spread with river frontage and a mansion-like home in McGregor, etc. Moreover, she has been at times a young stay-at-home officer's wife entertainer, subsequently a mom for eight years to just one child, then for many years the mother of a growing brood (finally capped at eight), next a grandma, and now a great grandmother several times over.

When her children were all grown and away from home, Julia did not wallow in empty nest worries but took on ever new projects, such as being a producer for a popular nutritionists' TV show, a receptionist for a physician, an Austin Rape Crisis Center outreach worker in local schools, and a chair- and water-aerobics instructor, this last a career she took on when already in her mid-sixties and which persists to this day.

With help from local stars and motivation from the best national enthusiasts in the field, Julia also taught herself the art of storytelling, honing her skills with a growing audience of grandkids, and she continues to participate in regular Waco storytelling guild activities.

Readers of these family newsletters have been the beneficiaries of her storytelling pastime, as Julia has, since 1996, contributed several autobiographical essays to our monthly publications.

Through cards, calls, visits, emails, Facebook, and even a few text messages, Julia stays young in spirit too by keeping up-to-date with a wide circle of friends and relatives who span an age range from newborn great grandkids to exercise students and acquaintances well into their nineties.

Via several volunteer interactions, she models and leads many others in what it means to be an Active Older Adult, taking groups on trips, to concerts, and for dinners out, leading efforts to assist previously homeless families, mentoring elementary school students, holding parties for nursing home residents, etc.

Julia and an intriguing gift, at a Summer's Mill family reunion in 2005

Julia has too an indomitable will to overcome adversity. When her second son was dying of brain cancer, she dropped everything to assist in his care and help keep his spirits up, also aiding in the organization of visits by a stream of other family and friends who came to help out.

When she herself was indisposed, badly breaking an ankle while preparing a heavy load of victuals to donate for one of her causes, she was undeterred. By herself, she managed to yet load her pick-up with the potluck contribution, use the fractured limb to drive herself over and deliver her part of the food, and take herself on to the emergency room, though once the ankle was in a cast she did contact her son living nearby in Woodway to take her home and retrieve the vehicle.

In the weeks that followed, Julia did all she could to lighten the "load" of others who had rallied to help out, herself arranging for a home health aide and finding ways to stay mobile, often whizzing down the hall past me and others on an improvised scooter-chair, clambering onto and off of toilets or bed without assistance, and so forth. Before we knew it, she was back teaching aerobics from the side of the pool, and then was completely well, walking, shopping, driving, and exercising on her own again, in half the time we had thought possible for someone with so severe a break.

Above all, Julia keeps herself young with her sense of humor, an ability to not take herself too seriously and to be tickled by the odd, ironic, silly, embarrassing, absurd things we do, the circumstances in which we find ourselves, or the unexpected, hilarious spins that can be put on the otherwise ordinary, everyday happenings or utterances in our own lives or in those of folks around us. An endearing trait of my mom is to become so overcome with mirth that she cannot stop laughing and at length confesses, between paroxysms of uncontrollable glee: "I peed in my pants!"

So here in her life we may discern the formulae for successful longevity, a mixture, I think, of luck, levity, a healthy, youthful outlook, and something more, the Julia factor, let us say, a drive, in her quite strong indeed, to be involved, independent, intellectual, able to bend without breaking, to focus on what matters in the moment instead of dwelling on the past, to see the bright side, to set an example, to make a positive difference. These qualities have served my mom quite well. No doubt they shall continue to do so!


---
---