July, 2013
Ignored by History
by Larry
Early death seems to have been in the famous Kennedy family's DNA. Most everyone is familiar with President John (Jack) F. Kennedy's assassination in 1963 and his brother Robert (Bobby) Kennedy's assassination, when he was running for president in 1968. Their younger brother, Edward (Ted) Kennedy, did not himself die young, going on to have an illustrious, long career in the U. S. Senate, but in 1969, at age 37, he was the driver when, along with his young secretary/campaign worker, rumored to be his mistress, Mary Jo Kopechne, he was involved in an apparent DWI accident, went off a bridge, and she died from drowning after he had abandoned the scene.

Among several others, Kennedy family tragedies included early deaths for Bobby Kennedy's son, David, of a drug overdose, and for Jack Kennedy's son, John Kennedy, Jr., the pilot in a plane crash, along with the passengers, his wife, Carolyn Bessette Kennedy, and his sister-in-law, Lauren Bessette.

Less known are either the life or the heroic wartime 1944 death of Jack's older brother, USN pilot, Lt. Joe Kennedy, Jr. He was the oldest of the nine children of Joseph Kennedy, Sr., the family patriarch, and Rose Fitzgerald Kennedy. Joseph Kennedy, Sr., was a strong-willed man who seemed driven to have his children recognized for great things, especially in politics.

Roman Catholic Rose Fitzgerald Kennedy was tough in her own right and thought it divine intervention when her daughter, Kathleen Kennedy Cavendish (by then already a widow whose husband had died during World War II), was killed at age 28, along with her new groom-to-be, in a 1948 plane crash that thus prevented her marrying a Protestant. While many of her children, in-laws, grandchildren, or great grandchildren had short lives, Rose Kennedy lived to be 104 and died in January, 1995.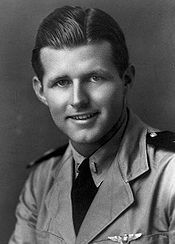 Lt. Joseph P. Kennedy, Jr., United States Navy, 1942-1944 (Wikipedia)
Joe Kennedy, Jr., was born on July 25, 1915, in a summer house rented by his parents in Hull (near Boston), MA. Joe Kennedy, Jr's ambitious father was the son of a saloon owner and grandson of Irish immigrants. He had phenomenal success at investing, and in the 1930s was appointed by President Franklin Roosevelt to head the Securities and Exchange Commission. Later (1938-1940) he was the U.S. ambassador to Britain, in which capacity he was a notorious defeatist, arguing we should back Hitler, whom he saw as the eventual victor in World War II. Kennedy, Sr., was actually furious with the British for spectacularly winning the aviation combat Battle of Britain, thus preventing an invasion of that country by Germany, which development he had seen as ultimately inevitable.
Joe Kennedy, Jr., was a popular and talented scholar and sports enthusiast. He completed boarding school at Wallingford, CT, then went to Boston's Harvard College where his abilities as a student and athlete were again evident. Some thought he might have been the first Irish Catholic to become President of the United States. Next he studied at the London School of Economics, then entered Harvard Law School, but left early to enlist in the United States Navy.
Following flight training, he served in World War II from 1942-1944, first as a naval aviator on patrol in the Caribbean. In 1943, he transferred to the British Naval Command, ironic in view of his father's strong feelings against British fliers.
A successful bomber pilot, he completed the requisite number of missions to have returned home to Boston as a war hero, yet volunteered to stay on military duty. His final mission was super secret, an attempt to get an unmanned, radio-controlled, explosives packed drone Liberator into a German V-2 rocket launching installation where it would be detonated. Unfortunately, the sensitive electronics or remote radio controls involved resulted in an early explosion over the English Channel while the drone had not yet been released, destroying Kennedy's plane and killing its entire crew.
Oddly enough, President Franklin Roosevelt's son, Elliot, was part of the same mission though in another plane, there to photograph the operation, and observed the loss of the drone and Kennedy's craft the evening of August 12, 1944.
While serving or posthumously, Joseph Patrick Kennedy, Jr., was awarded the Navy Cross, Distinguished Flying Cross, Air Medal, Purple Heart, American Defense Service Medal, American Campaign Medal with one bronze service star, European-African-Middle Eastern Campaign Medal with one bronze service star, and World War II Victory Medal.
Primary sources:
Joseph Kennedy, Jr. in Infoplease, last updated in 2013;
Joseph P. Kennedy, Jr. in Wikipedia, last updated July 18, 2013;
Biography for Rose Kennedy. in IMBd, last updated in 2013;
Family Guy - 'The Patriarch' - a Joseph P. Kennedy, Sr., Biography by David Nasaw. Christopher Buckley in The New York Times Sunday Book Review, November 15, 2012;
Joseph Kennedy, Jr. in History, July 20, 2013.


---
---