June, 2002
A Proper Honeymoon - Part II
by Larry
As previously noted in "War Bride," my folks, Julia and Leon, had less than one day to get married and rush to Los Angeles, in February, 1942, before Dad had to return to his soldierly duties. In "A Proper Honeymoon - Part I," we discussed the beginning of their trip five years later, in April, 1947, in which they intended to rectify that situation. We left them just as they were finishing their second vacation in Los Angeles and after Mom had fainted on a high roller-coaster that had carried her out over the Pacific Ocean.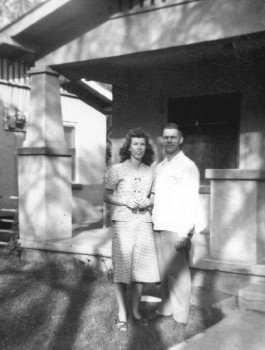 Julia and Leon, in April, 1947, in front of
the Riverside, CA, duplex where they
lived as newlyweds, in Feb., 1942.
In the last issue we inadvertently omitted an important stop the couple made soon after they were back in CA. Once finished with their first set of car repairs, and getting a new radiator during several days spent in Indio, they stopped in Riverside, generally west of Indio and about an hour's drive down the road, and went back to the duplex where they'd stayed for their first two weeks together as newlyweds (before Dad was abruptly transferred to Florida). They spent a sentimental couple hours back in Riverside and had a few pictures snapped in front of their former residence. (Mom said the pictures are obviously from 1947, and not from when they had just been married, as Dad was not in military attire. During World War II it would have been against the law for him to be out of uniform in public, even during his leisure time.) After looking over the place where they'd first lived, they ate supper atop Mt. Rubidoux, "a truly mountain top experience, literally and figuratively," as Mom had written about it in a letter of that time. (www.bouldering.com says Mt. Rubidoux is "one of southern CA's oldest bouldering areas.")
From there they had driven through Kern River Park and up into its canyon. Mom wrote that the "scenery was stupendous. Had fried rabbit for birthday dinner for Leon in the evening."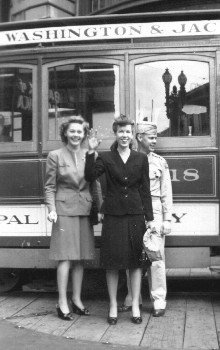 Irene, Julia, and Leon, in April, 1947,
with a San Francisco cable car.
Besides the activities we'd mentioned in the last issue, in Los Angeles Julia and Leon had also gone to the Griffith Observatory and a beach. One day they had taken the scenic drive up Mt. Wilson. Julia cooked supper afterward and they played Chinese checkers to round out the evening. The pair stopped at the Elysian Park, in Santa Monica, and drove through Hollywood. They left heading northeast.
Our account of their trip continues with a visit in Bakersfield, CA, where they visited with Leon's Uncle Marcus, another of Leon's mother, Mama Pearl's, younger brothers, just three years Dad's senior. They enjoyed a great evening with him. He took them for the best Chinese food dinner they had ever had. (Prior to this the finest Chinese vittles Julia had ever enjoyed had been at age seventeen, on a visit to Chicago to see some of her cousins. But that is another story.)
Uncle Marcus was single at that time and working as a postal carrier. Most of his life was spent as a bachelor, though he had married twice. He had wed his last wife when he was in his forties. They had a daughter together.
Uncle Marcus died mysteriously, shortly after a quarrel with a step-son, from a blow to the head after falling into a ravine.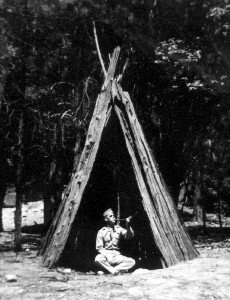 Leon in a wigwam with a peace pipe,
in May, 1947, Yosemite
National Park, CA.
I remember, from a much later visit with him, about 1956, along with Julia, Leon, Jeanine, John, and David, that he had a huge collection of old records, thick 78s and an ancient, crank-operated Victrola. Mom has elaborated that he had even more records, predating the 78s, as well as many of the antique spool-type reels that he would play on an Edison. All the records and reels, as well as the Victrola and spool-playing Edison, were still in good working order.
Their next stop was at the Sequoia National Park. Majestic redwoods and sequoias in huge old growth stands then still existed on tens of thousands of acres of protected forestland. Here they checked out these millennium-year-old wonders at Giant Forest Village. They stayed in a lodge at Camp Kaweah.
Julia and Leon had a fabulous time there. There were rustic cabins with pot-bellied stoves, in which visitors made the fires themselves. In the morning, the sun had to rise way, way up before it could be seen through the immense trees.
Next they went to San Francisco, where they really took in the sights. They visited with Dad's sister (and my aunt), Mabel, and her husband (my uncle), Fred, and spent time as well with Julia's cousin, George, and his wife, Irene, who helped show Julia and Leon around the wonderful city. They saw the Oakland and Golden Gate Bridges, rode cable cars, ate at Fisherman's Wharf, the Lamps of China Restaurant, and the Paris Restaurant, drank at the Top of the Mark, and went to Chinatown.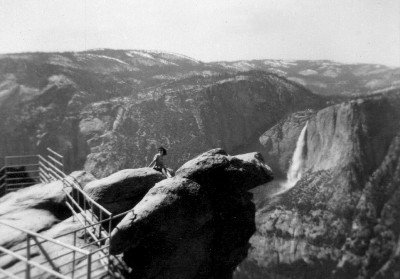 Julia and a majestic view, in May, 1947, at Yosemite National Park, CA.
From there, it was on to Yosemite National Park, where they were awed by the terrific scenery, drove through a huge sequoia, saw neat wildlife, and checked out a wigwam. Pictures from there include Leon sitting in a teepee, while smoking a peace pipe, and Julia feeding a deer.
On the return trek, they left CA by way of Death Valley. At one stop, they were at the lowest point in Death Valley and from it could see the highest peak in CA, Mt. Whitney.
Dad had brought most of their savings, $400, for the entire trip. There were no ATM machines. And he had no additional travelers' checks. What with car repairs, both the replaced radiator and a later brake job, this was significantly reduced. So, by the time they reached Las Vegas, NV, there was nothing left for gambling. They just drove on through.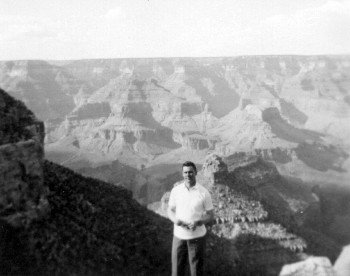 Leon at the Grand Canyon, AZ, in May, 1947.
For one cent, though, they mailed a post card from there back to Mama Pearl, Papa Frank, and me, in San Antonio, TX, letting us know they were leaving the afternoon of May 2 for Boulder Dam (about thirty miles away), and that it was very hot. On either side of the dam were observation points, one in NV, the other in AZ.
They still had a few dollars left after departing NV and so, still on their way back, went to the Grand Canyon, in AZ, where they snapped some pictures.
One unexpected development of the vacation was that Julia learned Leon had begun smoking, a habit he'd been trying to keep from her and which he had taken up during and after the war, while overseas. For a number of years his favorite cigarettes were Camels.
On the last leg of their journey, before returning to San Antonio, they visited Mom's hometown of Waco.
The entire, whirlwind, second honeymoon lasted three weeks, not a month as intended, due to scarce funds. It would be a quarter century before they had the leisure and money for another such excursion, just for the two of them.


---
---