February, 2015
Old Coots Getaways
by Larry
A neat book I was reading recently, The Last Policeman, by Ben Winters, has a premise that mystery detective work must go on despite the knowledge that a literally Earth shattering asteroid is due in a few months. It got me thinking what I would do if I learned I had but a short time to live. Of course, one thinks of bucket list ideas, but are they all they are cracked up to be? If a person got through the list and still had a bit of time on his or her hands, what then? Maybe it is not so different from what we all face everyday. Death is inevitable, but after coming to terms with that, the question remains, how to live our lives well each day we have between then and now.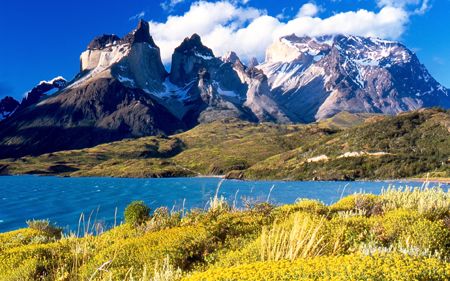 Cuernos del Paine from Lake Pehoé, Patagonia, Argentina (Wikipedia)
One need not have a list of special goals to check off. Making time for going places in the normal yearly routine just makes sense in certain instances. As I enjoy travel, both with and without company, I was struck by an article seen not long ago about old people who travel living longer. It seems like a fair trade-off, particularly if getting out of the house every now and then is already your cup of tea. On the other hand, besides possible pampers and drool bibs, we older folks may have special needs to facilitate our sojourns: like GPS devices that are easy to program, have big screens with bright colors, and speak in loud yet soothing voices.
Happily, there are a variety of resources and organizations to which we foot-in-the-grave wanderers can turn. As with any significant investment, it is best to do one's own research, read pro and con reviews, and preferably talk with folks who have already given things a try.
ElderTreks - Whether by land, sea, or both, ElderTreks, established in 1987, provides 'round the globe small group adventures for the over 50 crowd. Their options for interesting, often exotic travel are amazing.

Road Scholar - Since 1975, this not-for-profit organization has been providing thousands of excellent educational travel opportunities in the U.S. and the rest of the world at comparatively quite reasonable prices.

Smithsonian Journeys - Embarking on its unique brand of knowledge enhancing odysseys since 1970, this organization provides tours and cruises for 150 locations and all seven continents. With Smithsonian Journeys, a traveler can be sure to engage a passion for lifetime learning amid diverse cultural settings.

YMT Vacations - Billing itself as providing "affordable travel since 1967," YMT Vacations adds that its tours are "paced just right for the mature traveler." Focusing its offerings in Europe, Alaska, and Hawaii, YMT also has several other exploration locations, including China, Cuba, and Vancouver.

The least expensive travel mode, though, is just to grab one's maps, backpack, and tent, and drive off to any of the myriad cool places available via a worldwide network of highways and byways. We might wind up, for instance, at Lake Pehoe, Patagonia, a mere 12,000 miles or so of asphalt or dirt thoroughfares from my hometown of Austin, TX!
Woo hoo! Guess it is time to update my passport.


---
---