February, 2014
The World Marks a Major Centennial - 100 Years After the Great War
by Larry
In the months leading up to the 100th anniversary of the start of World War I, 1914-1918, dozens of real and virtual reality exhibitions are opening around the globe and online. For professional and amateur history buffs alike, opportunities abound for research into multiple aspects of the debacle, then the worst conflict yet experienced. Thousands, even millions of fading or crumbling pictures or written archives are being preserved and organized for this commemoration, and, indeed, volunteers are needed to help with the massive overall project. Related documents that for generations have been locked in secret vaults are also seeing the light of day. One can quickly get swamped amid all the websites and links available.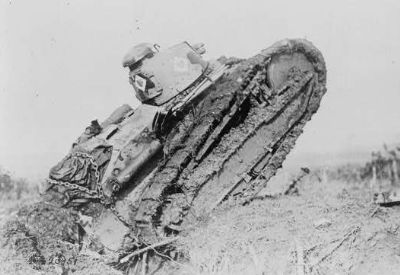 Near Saint Michel, France, during World War I, a tank ploughs through a trench and starts toward the German line (Library of Congress).

Still, for the casual inquirer or the serious student, exploring the treasure of newly declassified or digitized World War I material can be a worthwhile endeavor. As a longtime history enthusiast, I have a special interest in how the war created a template for the succeeding generations and even now significantly affects our politics and struggles. Moreover, my dad was born only a couple years before the outset of the so-called "war to end all wars," grew up much affected by it, and must have been at least as influenced by The Great War as I by the next global clash, coming of age as I was in the aftermath of World War II. Learning about this confrontation is then in some ways a means to better understanding my own heritage.

World War I itself or the terms of its later agreements cast long shadows that profoundly affected the decades to follow. The Irish Rebellion of 1916, the Bolshevik Revolution of 1917, bitterness and misery that helped lead to subsequent Nazism, rearmament, aggression, and genocide by the Germans, the rise of Communism, the breakup of vast regions of the Middle East into arbitrary "nations" with little social or political cohesion, early isolationism in America, and a series of arms races all had their origins in the war or its aftermath. Many of these formed the initial bases of enmity that persist today. Yet there were as well terrific advances in medicine and manufacturing, technological developments, phenomenal innovation in aircraft and shipping industries, not to mention a continued rise to great power and influence for the United States of America. Millions of European immigrants fleeing the war and its legacy of hard times made their way to the U.S. during and after World War I and helped to build this nation into what it has become. In other ways too The Great War was salutary, bringing together folks from diverse cultures and races. The upheavals engendered by The Great War led to pleasant as well as quite unfortunate later adjustments. In some ways the "Roaring Twenties" were only possible due to the conflict-focused years that preceded them. Yet vast numbers of people would die due to disruptions, displacements, and civil war in post-war Russia. That time of extreme hostility was seen as in many ways a transitional conflict. And before, folks were relatively idealistic. Afterward, not so much.

Many more World War I related commemorations will be opening or special events occurring as the calendar takes us to exactly 100 years following one or another signal occurrences from that sphere spanning fight.

One can as well check out photos or other lore from The Great War through various exhibits and museums, such as the Harry Ransom Center at the University of Texas at Austin, PBS television, or DVD documentaries about the First World War. I urge you not to let this opportunity pass to learn more about a key aspect of our times.


---
---