February, 2011
The Smithsonian Institution - A Centennial Tribute
by Larry
If my dad, Leon, had done nothing else by way of neat field trips for me when I was growing up than acquaint me with Washington, D.C.'s Smithsonian Institution (SI) and, in particular, its National Museum of Natural History (NMNH), his job would have been well and truly completed.

I believe I was just six or seven in about 1949 when relatives (likely my paternal grandparents, Papa Frank and Mama Pearl) had come to visit Dad, my mom, Julia, and me where we were then living, in Falls Church, VA, a suburb of the nation's capital, and Dad decided to show off some of D.C.'s more impressive points of interest by driving us all to see the Washington Monument, the Lincoln Memorial, the White House, the Pentagon (where Dad then worked), and, last but far from least, the Smithsonian Institution.

The Smithsonian was founded in the 1840s, but, though doors would open at an initial edifice in March of 1910, its first museums building construction was not finished until 1911. This already massive structure has been expanded with major wings that were added in the 1960s. The Smithsonian complex of 17 great museums was further supplemented in the1980s. Today, besides the initial location in Washington, D.C., there are associated storage and research sites in FL, MD, NYC, Panama, VA, and elsewhere.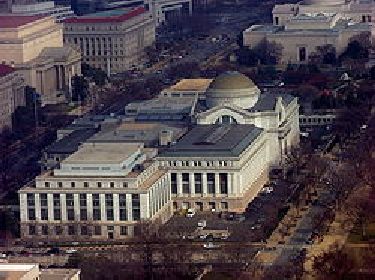 Smithsonian Insitution's National Museum of Natural History, Washington, D.C. (Wikipedia)
A premier scientific and educational resource, not merely for our nation but the planet, the SI employs over 1000 people and houses over 142 million artifacts and specimens. Tens, perhaps hundreds of millions of visitors have been through its halls in the century-plus of its existence.
That exciting initiation visit for me, a little curious guy full of wonder at most everything he was seeing, was the first of several. We would go back again and again while we lived in Falls Church or later when I was in high school (and had won a couple science fair awards), and we were living in Arlington, VA, as my Air Force officer dad was once more employed at the Pentagon.
The impressions from these different visits have blended in my memory by now, but I think in that earliest one I was most captivated by the immense scope everywhere in evidence, of the museum itself, of a life size blue whale model hanging overhead, as if it had leaped out and over the visitors, of dinosaur fossils or models put together as though the bones were still supporting the monster vastness of those ancient creatures, of Pleistocene recreations of the saber-toothed cats and woolly mammoths one might have encountered if among the early men living in North America then, and of the staggering timeline demonstrated here with all these organized collections, from the very beginnings of Earth through to the present.
By contrast, the plane that Charles Lindberg had used in his pioneer flight across the Atlantic, The Spirit of St. Louis, was on hand in another hall and appeared tiny to me for such an adventure.
There were as well excursions into collections of artifacts from early civilizations, such as mummies and coffins for more ordinary citizens of Egypt 3000 or 4000 years ago. There were American history halls and seemingly endless halls with exhibits of early man, of animals from the different continents, of gems and minerals, of geology, sea life, astronomy, and so on.
Whether one's kids are into history or science or nature or education or simply do not yet understand enough to know what they dig, the SI is a terrific vacation destination for them, a must see part of the itinerary on any trip to Washington, D.C.
While waiting for the chance to actually go there, one can now take a virtual tour through The Smithsonian Institution's great website. Here one can find online exhibits on such topics as the Hope Diamond, coral reefs, a history of the museum, race issues, undersea exploration, orchids, the best nature photography, and much more.
Seeing the NMNH and several other collections of exhibits among the Smithsonian Institution's offerings was for me only the beginning of a lifetime interest in museums. Especially since I share this bent with my even more science-oriented spouse, Valerie, I have now made dozens of museum visits in several places. Among these, I think Chicago's Field Museum of Natural History comes closest to being a world class site for exhibitions, like the Smithsonian is, but there are numerous other impressive museum locations I have enjoyed through the years, including The Florida Natural History Museum in Gainesville, seen often with Valerie and one or both of her folks (John and Evelyn), Baylor University's Mayborn Museum, in Waco, TX, seen several times with, among others, Valerie and Julia (my mom), the Houston Museum of Natural History, which I have viewed often in the company of various friends or relatives, and the University of Texas at Austin's Texas Natural Science Center, seen multiple times since my undergrad days at UT began, in 1961.
Whether a person has just an afternoon free or several weeks, one can hardly do better than to treat him- or herself to a view of the marvels on display at a natural history museum, and the Smithsonian Institution's National Museum of Natural History is one of the very best one can encounter.


---
---