December, 2010
Teaching An Old Dog New Tricks
by Larry
If you have a love of dogs and a free hour on a Saturday or Sunday morning in Austin, Austin Pets Alive (APA) has a great deal for you! Since June, 2010, and except for a few holiday weekends or when conditions are really cold, APA has been offering walkers and joggers on the Ladybird Lake Hike-and-Bike Trail the company of one of their neat dogs awaiting adoption. At one time or another, any of several pooch breeds, mixes, and sizes are available.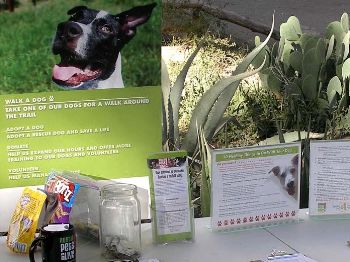 APA Hike-and-Bike Trail Table
Before investigating this program a bit, one might expect dogs looking for a new home from a pet rescue organization would be too wild or aggressive for safe, fun hiking trail circuits, but this is not at all so. A friend turned me on to APA. At the south side of the pedestrian bridge under MOPAC, they have canines available starting at about 9 AM most Saturdays and Sundays. My friend is petite, but she still had a great run around Ladybird Lake with an eager young animal of at least half her weight.
It really depends on finding the right energy, personality, and overall health fit of dog with human. The APA staff will work with you to find a good match. I am age sixty-seven and have both wrist plus shoulder issues, so a small horse of a dog was out of the question for me. On the other hand, one dog I was going to do some rapid walking with, Tammy, may have been a little small even in my case, but, as it turned out, she was quickly adopted, so it was a moot point. Another less robust dog might have been my ideal walking companion, but three cute co-eds out for a Saturday stroll got to her first, apparently delighted with how cute, sociable, and playful she was.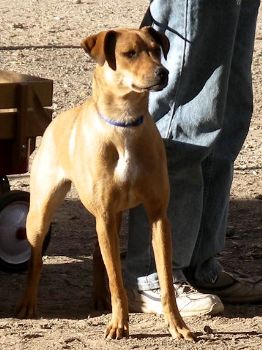 recently adopted APA dog

My first hike with one of the Austin Pets Alive animals was the second weekend of December. I took the coincidentally named Mo-Pack out for a stroll and, though I found the experience a challenge for these old bones, this relatively inexperienced on the hike-and-bike trail mutt put me through my paces so well that I was quite relaxed and in the zone for a meditation group session I attended right afterward. Mo-Pack is young and energetic and weighs in probably at about 40 pounds. Still quite puppyish, he immediately decided to gnaw affectionately on the hand holding his leash. In fact, for about the first two-thirds of the couple or three miles' loop, he had a mischievous tendency to leap up and grab the tether into his mouth, getting thus closer and closer to my grip. When bicycles would go by, he would body slam me from the left. The force was enough to almost send me sprawling. I am still not sure whether he was being excited, fearful, or protective, hoping to push me out of harm's way. When we started up the wooden footbridge over Barton Creek, he hunkered down with as low a center of gravity as possible and would go no further. I suppose for Mo-Pack the arch's vibrations meant we were in the midst of an earthquake! All my charm and powers of persuasion were called upon to coax him further, but eventually he and I successfully made it back to the APA station.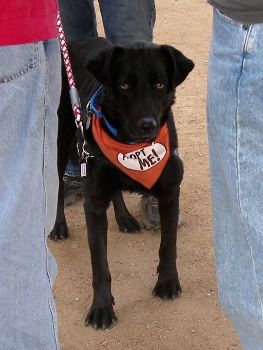 Mo-Pack

Indeed, after the first mile and a half or so, Mo-Pack and I had found our groove and were having a grand time, though as yet he often lurched halfway across the hiking path in pursuit of appealing members of his species. As he pulled me this way and that or repeatedly leaped up at my hand, Mo-Pack and I drew many appreciative comments along the way. "That's a really playful dog!" was typical. I hasten to note that Mo-Pack is apt to be an ideal companion for someone younger and more athletic.

Having tried a creature rather too big for me and just missed a couple that may have been a little on the small side, my next, the following weekend, was with one who was just the right size. Benjamin is, I think, a Shar-Pei and pit bull mix. He is very sweet and likes being held and having the back of his neck scratched. Both the adorable Benjamin and his brother, Dorian, four-months-old dogs, are up for adoption. They were found and rescued, along with their four litter-mates, by Brad, one of the friendly and dedicated APA volunteers. He had been called out to a neighborhood where there were some feral cats. (Austin Pets Alive, at any one time has about 300 foster cats as well as 300 foster dogs on its rolls.) While in the area, he happened to spot the six puppies, estimated at about seven weeks old, living in a small crawl-space under a pile of railroad ties. Over several days, their mother could not be located.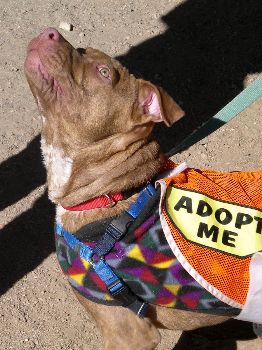 Benjamin

Perhaps she had been hit in the road. The puppies were clearly on their own and in a bad way. That first day, he was able to catch one of them and put it in the kennel he kept in his car. Subsequently, four of the others were enticed out from under the railroad ties by open cans of dog food, and he then hustled them, two at a time, back to his car. He and another volunteer finally got the sixth pup later, luring it with fried chicken from a nearby eatery. Four of the six have been successfully adopted and seem to have good homes. Only Benjamin and Dorian remain, and they likely will make excellent companions for the right new owners.

Benjamin weighs an estimated 30 pounds. He has an easygoing disposition. Though hesitant and a little fearful at times, on our walk he was mostly eager to keep up a steady pace. He showed plenty of interest in and even playfulness around other passing canines but was never too rambunctious for me to handle. Benjamin's happy progress around the lake in his APA "Adopt Me" coat brought many smiles to the faces of other hikers.

Austin Pets Alive has a special Behavior Enrichment program, also available some weekend mornings, for folks who participate in their activities as volunteers, foster home residents, or adoption animal owners. The pets may get a lot out of it as well!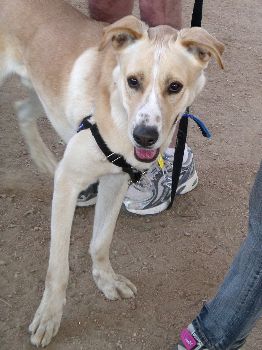 Marley
The Austin Pets Alive Blog has much for the reader to enjoy, including more info about pets that are up for adoption, APA activities, donation needs, etc.
APA is one of the best non-profits I have come across. It is well run, supports a great cause, and has hundreds of enthusiastic volunteers and volunteer opportunities. Austin Pets Alive has saved nearly 6000 animals' lives in the organization's two-plus years of existence.
My review of the potential rescue dog walking experience would be incomplete without mentioning a great pet currently on hand at the Austin Pets Alive hike-and-bike trail station. Marley, a nearly three year old retriever mix, is one of the larger animals that APA is wanting to place and looks like he ought to be in a championship winners' circle, perhaps getting a blue ribbon for best of show! He is "Mr. Personality" and will make some lucky person or family a super companion.
The hike-and-bike circuit around Ladybird Lake (for years affectionately known as "Town Lake") has plenty of attractions besides the obvious chance to get good aerobic workouts while giving rescue pets terrific breaks from their pens or kennels. I ran into three friends during my times out on the paths. There were also lots of cool natural sightings, for instance migrating Canada geese flying over, some monk parrots, coots, ducks of various kinds, plenty of autumn colors, and numerous sliders sunning themselves on half-submerged tree trunks or branches. Try it. You'll like it! I was not too sure about this at first, but, once I had walked my first couple rescue pets, they had taught this old fellow a few things, including yet another reason to appreciate living in Austin, still one of the coolest cities in the country.


---
---