October, 2013
I Think I Khan, I Think I Khan
by Larry
Three years ago, in a TED Talk (a presentation at a conference bringing together people from three worlds: technology, entertainment, and design), Sal Khan told of how awhile before that he was simply trying to help tutor a niece of his. The idea came that it might be easier via YouTube videos. Later others began "viraling" his videos. Not long after that, Bill Gates was interviewed and happened to mention that he was using Sal Kahn educational videos to aid in his kids' educations. When it became apparent Kahn could benefit from some of Gates' organizational and marketing talents, they linked up, and things have proceeded from there. These days, literally millions of people are using the Kahn Academy, a non-profit online educational venue, as an alternative to or supplement for traditional classroom learning.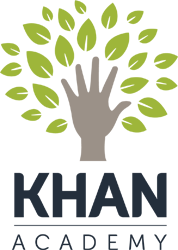 I tried it out recently and, though I wish the resolution of the videos were higher and the sites' "bells and whistles" level were lower, am impressed. You might be too. The Kahn Academy now offers a large assortment of short, progressively challenging video lessons in a number of subjects: humanities; art; math; science, economics; and so on. Testimonials from students around the globe show how well Kahn and those working with him are succeeding in their undertaking: "Khan Academy is an organization on a mission. We're a not-for-profit with the goal of changing education for the better by providing a free world-class education for anyone anywhere.
All of the site's resources are available to anyone. It doesn't matter if you are a student, teacher, home-schooler, principal, adult returning to the classroom after 20 years, or a friendly alien just trying to get a leg up in earthly biology. Khan Academy's materials and resources are available to you completely free of charge."
My own intent here is simply to get a few more folks to check out the Kahn approach to education. Personally, I believe that in many ways our current educational system is broken. Kahn's method was hardly the first or only innovative online one available, yet it is showing excellent results and clearly has appeal to many people. Using its techniques, average students can attain mastery of secondary and college level educational goals, while students of truly exceptional ability will find here the means to move up the learning ladder more quickly and thoroughly than via classroom lecture methods alone.
The student gets initial exams to assess correct base levels and the indicated courses and sophistication required. Along the way, there are tests to check further subject mastery. One gets little or big symbols of success, consistent with new stages of knowledge achieved. It is fun!
The Kahn Academy works too with teachers and coaches, so that an integrated didactic experience is possible, and students can accelerate customary school setting educations while also working at their preferred paces.
Have a free few minutes a day or can't sleep? Go to the Kahn Academy site, and fit in an extra lesson and quiz. Have several hours a week open? Take a course, and then another and another. Before one knows it, he or she will have so much new learning that this will make a genuine difference in one's overall perspective, self-confidence, conversation, academic and career prospects (if those are still personal considerations), and choices.
Feel that you are no longer in need of what Kahn Academy has to offer? Why not become a volunteer and coach or teach others, or perhaps prepare new online coursework which can be added and broadcast via this venue?
Have additional pedagogic ideas? Please share new online educational venues that you find as inspiring and useful, so we can let others know of them too.


---
---