October, 2008
A Trip to Taos
by Larry
During most of the time since we married, Valerie and I have taken vacations together, going to OR, WY, CO, NM, FL, WI, or, closer to home, to San Antonio, Padre Island, Big Bend, Waco, Dallas, Houston, or Galveston, TX, etc. That began to change in 2004, when at the last minute it did not work out for others to go with me to Yellowstone, so that I reluctantly went on there alone. Then, last year, I felt a strong urge to hit the road once more. I would have preferred Val's company, but wound up going on my own to see the Redwoods. Such excursions are not actually new to me. Before meeting Val, I had happily taken solo trips to Mexico, Canada, and India, as well as to attractive destinations in this country. By now, I am again coming to really enjoy such periodic solo odysseys. Thus it was with eagerness and a sense of adventure that earlier this month I took two weeks off (10/2/08 through 10/15/08) for a New Mexico retreat, the bulk of it to be spent in Taos.

Before going, I knew little of the area's history. It is said this is the oldest continuously occupied town in the country, its heritage going back hundreds of years, a cultural blend of Indian, Spanish, and then Mexican cultures and peoples, before becoming part of U.S. territory during the Mexican-American War. The adjacent Taos Pueblo region is said to have been occupied by Native Americans for at least 1000 years.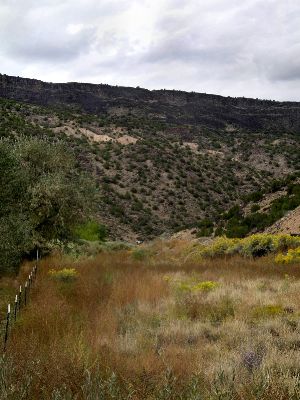 trees, grasses, and shrubs near the Rio Grande
The Taos area also has a prominent spiritual legacy, with adherents of the Native American and Roman Catholic beliefs holding it sacred. More recently, there are two campuses of a Buddhist university in the vicinity, one of them in the mountains a few miles outside Taos.
I had heard of the place, of course, but mainly just that Taos and its environs had been over the years a favorite, at least temporary home for Georgia O'Keeffe, Ansel Adams, and D. H. Lawrence, among numerous other artists, photographers, and writers. I wondered what was the draw.
Taos is about an 800 mile, 15-hour drive from Austin. In my case, the route was by way of Llano, Brady, Coleman, Abilene, Sweetwater, and Lubbock, TX, and then Clovis, Santa Rosa, Romeroville, Las Vegas, and Ranchos de Teas, NM. Most of the route involves little traffic and good roads. Once I had arrived on NM Hwy. 68, which bisects Taos as its central thoroughfare, there were many more cars on the road, and occasionally the drivers were reckless, despite a usually 35 to 40 MPH speed limit, but neither the congestion nor the road rage ever reached proportions with which I am familiar from central TX.
In a hilly stretch a few miles south of Taos, and when heading north on NM Hwy. 68, one may at times see a clear stream off to the left, near and parallel to the road. Local grasses, flowering shrubs, and a few trees grow together thickly in an otherwise arid area between the river and highway. I stopped at a roadside parking area to check this out more carefully. Looking on the map, I was surprised to find that the watercourse, at this time and here hardly more than a large brook, was part of the nearly 1900-mile long Rio Grande River, that eventually forms the southern border between TX and Mexico. I took a few photos of the grasses, flowering shrubs, associated rocks, and river.
Arriving in Taos, I first checked on the motel situation. Room prices ranged in Taos itself from well over $100 down to $47 a night, including tax. But rooms at the one place I found for that lowest rate looked in poor shape and were without phones or any other extras. I settled instead on a place about two miles to the south, in Ranchos de Taos. The room was spacious and comfortable, with phone, half-size refrigerator, microwave, AC, water boiler, large-screen TV (in case I wanted to use one), room heater, shower facilities as well as tub in the bathroom, and a luxurious king size bed (adequate even for my size) with plenty of warm, bug-free sheets and blankets, all for an average rate, including taxes, of just $42.50 a night. There was even a small continental breakfast thrown in for that price. I wound up being quite pleased with the arrangement and staying there, at Budget Host Inn, my whole time in the area.
My new neighbors were an interesting assortment that included several well behaved dogs, a man missing one arm (who joked with me about having "no hands" - to open a door with - as each of our combined three hands were holding breakfast items at the time), a couple just back from several months first in Canada and then Thailand, fellows of few words who came and went on their "choppers," a friendly Indian maid who kept me supplied in fresh towels, when I needed them, but let me sleep in if I wished and never pestered me to get in and clean the room, and a man living upstairs from me who smoked but sounded from the coughing as though he already had advanced lung cancer. About half of the people there were semi-permanent residents or at least staying for a week or more at a time, giving them the lower room rates.
I promptly went shopping at a discount grocery and got all my meal needs taken care of for the next several days. For added entertainment, though, I did eat out about 5-6 times while there, usually taking leftovers back to be reheated in the room later.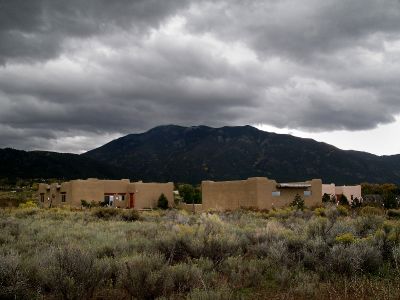 typical Taos area adobe houses and mountain

A nuisance problem initially was that, by the time I got through the surrounding mountains to Taos, my transmission or gear shift was not working right. Once I had it in park, I could not shift back to reverse or drive. It would only be able to do so after several minutes of waiting, sometimes up to a half-hour. So, the day after I had gotten there, I went in search of an auto parts shop, bought what I needed, then filled the transmission fluid back to its proper level. Fortunately, this remedied most of the problem. Subsequent related difficulties were at least resolved within just a few seconds.

Over my first two or three days in the Taos area, I hiked on several trails in the Carson National Forest, all within easy driving of Taos and my motel. After a dusty dry spell, there were several rain showers during my stay, so that I was able to take pictures while everything, including small flowering perennials, were looking fresh and clean. Evergreen pinon pines and junipers were the predominant type trees in the Carson Forest, but there were also abundant deciduous trees, such as cottonwoods, willows, or aspens, showing off their great fall colorations.

Just as the usually rather small seeming Colorado River has over time and particularly when in flood cut through layers and eons of rock layers in Arizona desert to form the Grand Canyon, so the usually now benign appearing Rio Grande, ironically referred to as the fierce or brave river, has carved out a remarkable gorge through the mountains and rocky deserts of northern NM. Early in my visit to the region, I checked out the Orilla Verde Recreation Area, south of Taos, and hiked one of its trails, where the earlier effects of both powerful volcanic and river forces were apparent.

Cattle ranches and adobe homes are among Taos area developments that extend right to the base of impressively imposing mountains. The weather in the region is moderated and complicated by the juxtaposition of peaks and deserts. In summer, thunderstorms on the mountain slopes are a common hazard to hikers, lightning strikes being a too common cause of death. Yet, the storms surging through the area help keep temperatures more mild than they would be if the desert plains were unbroken.

While we are technically in the fall season, the Taos area was still in its summer mode some of the time I was there, with temperatures, even at these higher elevations, at first rising into the 80s (F). But fronts soon brought cool, wet weather, high winds, and lower temperatures, so the average highs in Taos averaged about 70 during my stay, but only half that at night. There were two good freezes, and the forecast included snow for just after I left. Temperatures up in the nearby mountains ranged from about 10 to 20 degrees colder, and hiking there was always most comfortable, even when conditions were warm outside my motel room.

One disappointment of the trip was the scarcity of wildlife seen. There were plenty of "elk crossing" signs, but, aside from a few common birds, ravens, a ground squirrel or two, and a mysterious burrowing creature that looked like a small, thin marmot munching away in a church garden, I saw no vertebrate animals except llamas, domesticated canines, and cattle.

As one would expect in a mountainous area, there were a number of beautiful streams rushing toward the lower, drier altitudes. I hiked in two ski areas, the Taos Ski Valley and the Sipapu Ski Area. Though not pictured much here, there was a little snow still or newly apparent after the last several summer months. Wheeler Peak, at over 13,100 feet, had a great deal of white covered ski lover slopes.

Rio Grande Gorge, looking south
At least at this time of year, a few days in Taos yields demonstrations of the area's attraction for artists. Most days while I was there, amazing cloud formations would sweep in, dramatically changing the look and feel of the place. The combination of these great masses of turbulent cloud and more static formations of them during spectacular sunrises and colorful sunsets made the region so aesthetically pleasing it was easy to see not only the appeal to paintbrush and camera enthusiasts but spiritual seekers as well. Here, to simply go shopping at the local Albertson's or Wal-Mart is frequently to be inspired by a cathedral-like canopy of awesome sky.
Were the scope of this essay and its associated gallery greater, I would also have pointed out a natural perfection I noted, perhaps sensitive to it because of the newness to me of the area, in nearly everything I would see, from twisted roots breaking through rugged rocky sections of the trails, to flowering cacti, shimmering patches of golden desert grasses, crystals in a solitary stone along the path, lichens in several colors and textures, reflections in water as it glided over river rounded pebbles, thorny succulent patches hording moisture after a morning shower, and so on...
From high on a nearby hill, Taos and its adjoining communities almost disappear amid the hues of flat-land trees seen from a distance.
On my last afternoon in Taos, I drove a few miles northwest of town on U.S. Hwy. 64, to where it crosses the Rio Grande. The gorge here is hundreds of feet deep, the river appearing almost yellow with fresh debris scoured from the rocky bottom.
The view from the bridge there is majestic, the thrill the more profound as traffic makes the bridge shudder and one's stance feel less secure. At the same time, the gorge apparently channels the wind which hurls itself in big gusts through and over the bridge with enough power to make headgear fly and from moment to moment give the sensation of being nearly swept off one's feet. Even with one hand cautiously on the rail, one can imagine in the next second being just another kite sailing off, like a few surprised peoples' hats, into the depths below. Against the gorge background, I took two pictures of a young couple. They returned the favor for me.
For light recreation and tourism, exploration of one's demons, discovering inner wisdom, seeking spiritual insight, or serious cultivation of aesthetic talents, I can recommend the Taos experience. I hope to return there myself before long.
(I am most appreciative of Valerie's help with the photo selection for this essay as well as her creating the online link and pages for viewing the gallery and assisting with making the images look as clear and good as possible.)


---
---