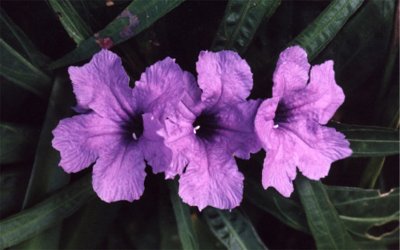 There are a number of species called Mexican petunias, or wild petunias, but they aren't related to the usual garden petunia at all. Ruellia is a genus of very hardy, well-adapted flowers, or extremely invasive plants, depending on the climate and a gardener's tolerances. They are perennials and, as the seed pods dry, they spring open, casting seeds several feet. With a high germination rate, small colonies can spread fairly rapidly.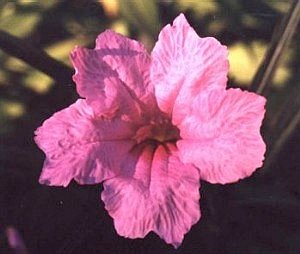 We grow several species of ruellia in our gardens and at least two are native. The most common species in Austin gardens is the dwarf ruellia (Ruellia brittoniana), pictured above, which grows in small clumps. Other names for this plant are willow-leaf Mexican petunia, narrow-leaf wild petunia, and garden ruellia. Dwarf ruellia plants never get over five inches tall and the flowers are bunched right in with the leaves on very short stems. Although the blossoms each last only one day, there are usually plenty of buds forming so that there is a succession of new blooms over long periods. The leaves of this ruellia are dark green and very slender, resembling those of the spider plants that grow amongst them in one of our gardens. As with the other ruellias, this flower does well under quite a variety of conditions, including full sun to shade, as well as dry to damp. They are rather cold-tender and can sometimes be killed by a very hard freeze, but most of the time they come back from the roots.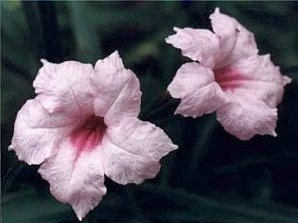 Another form of Ruellia brittoniana is tall with pink flowers, pictured above and at right. The leaves and shape of the flowers is just like the dwarf ruellia, but the plants grow to two or three feet tall, with the flowers spread out on their long stem. There are also purple-flowered and white-flowered forms of the tall ruellia, but I prefer the pink. We have at least two expanding colonies of these plants, each started from a few seeds. As with the other ruellias, these have a high germination rate and do very well in the heat. The tall plants also spread by rhizomes more than the dwarf variety. They freeze back just like their dwarf cousins, but often not all the way to the ground.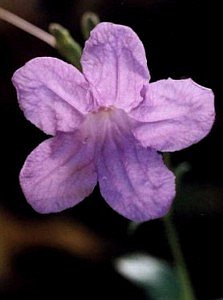 One of the ruellias in our yard was unintentional; being a native wildflower, violet ruellia (Ruellia nudiflora) just appeared in the grass. Once I saw the pretty purple flowers, I tried to transplant every seedling I found growing in the lawn to the gardens. Most of them took, but the plants continue to send seeds everywhere and seem to do best between the bricks of the garden walkways. This plant grows about a foot tall, producing flowers that are a little more pale and translucent (see photos at left and below) than the cultivated species, and its leaves are broader and softer. Most of the violet ruellia plants grow in the shade.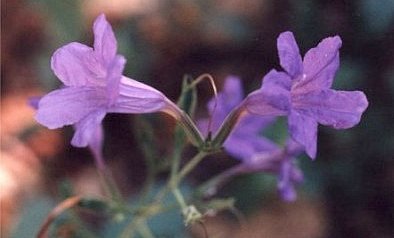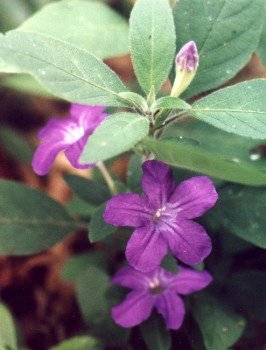 One species of ruellia, pictured at left, has a different habit than the others. Creeping ruellia (Ruellia squarrosa) grows very low to the ground and spreads more by underground runners than by seeds. This type blooms admirably in the deepest of shade and does well when overgrown by other plants. The leaves are wide, dark green, and sort of soft and fuzzy. This plant is sometimes advertized for sale as a water plant but does just fine in a rather dry garden.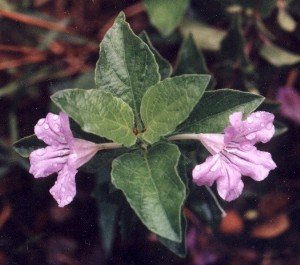 Another native species is Drummond's wild petunia (Ruellia drummondiana) which has foliage that is denser than the other types, with fairly wide leaves. The flowers are often in dense clusters but have a pale pinkish cast rather than dark purple. There are also noticeable dark lines that radiate from the center of the blossom and the petals are narrow and well defined. This plant develops more stems, is stiffer and more robust than the similar violet ruellia, and it rarely falls over even if it gets to be over a foot tall. I've had more trouble germinating seeds of this species than any other and a large number of seeds are often ruined by small insect larvae that feed on them.