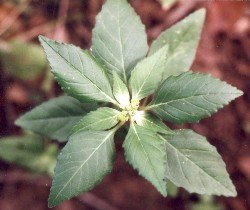 The euphorbia family is large and varied, and includes the extremely attractive poinsettias. There are two species that grow wild in our area and both are annuals. The first kind is the less showy but more common. Euphorbia dentata is called toothed spurge, wild poinsettia, and tooth-leaf poinsettia. It is not often included in wildflower books, but grows profusely in our yard. Unlike the more attractive poinsettias, toothed spurge rarely has any red coloration on the leaves surrounding the flowers. Sometimes there is a tiny hint of pink, but usually it has white, which can give it a lovely frosted appearance.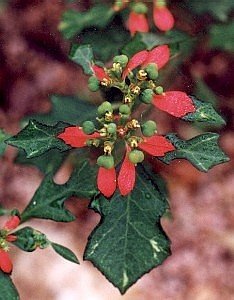 As with all the poinsettias, the color that we admire is actually the leaves surrounding the tiny flowers. Toothed spurge has very fleshy leaves and often attracts plant juice sucking bugs, which also feed on the young seed pods. The plants grow only to one foot in height and survive the heat of summer quite well, often blooming just before autumn. The colorful foliage lasts until frosts.
Less common, but far more showy, is painted spurge (Euphorbia cyathophora or E. heterophylla). This plant has the beautiful red color, but the form of the leaves is not nearly as symmetrical as in toothed spurge. In fact, the leaves vary greatly, assuming all sorts of odd shapes. Besides physically being more colorful, this plant also has more creative names, including Mexican fireplant, painted leaf and fire-on-the-mountain. I suspect this last name is in reference to the related plant called snow-on-the-mountain, which has white and green leaves.