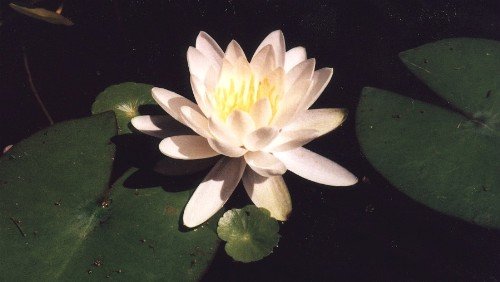 With the addition of a larger pond, we have been able to add plants for which we previously had no room. The first photo shows our white water lily (Nymphaea odorata), a Florida native that grows very well for us. We now have this plant in our smaller pond as well as in a water dish that is just a couple inches deep. Other names for this water lily are alligator bonnet and pond lily. While not as spectacular as the exotic colors of more tropical water lilies, the ease of care of this winter hardy plant make it preferable.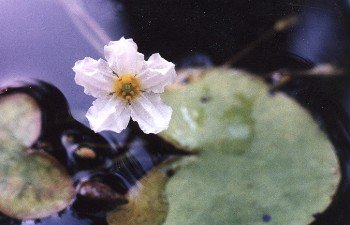 Also shown in the same photo is a smaller leaf with scalloped edges. This belongs to water pennywort (Hydrocotyle umbellata), a weed native to shorelines, shallow bogs and even over-watered lawns. Other names include marsh pennywort and dollarweed. Although pennywort usually grows in shallow water, rooted in soil, it seems to do well just floating in our pond, with its round leaves resembling tiny water lily pads.
One other type of lily pad that we had for a short time is fairy water lily (Nymphoides aquatica or perhaps cordata). This little plant may have been a banana lily but it didn't have the long, thick roots associated with that name. Perhaps that's why it died. Anyway, it produced one delicate white blossom after another for days, then, after we were away for a week, it was gone.