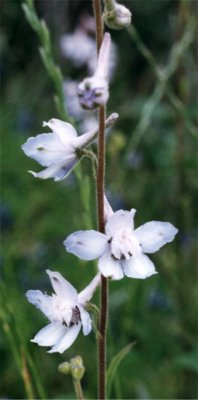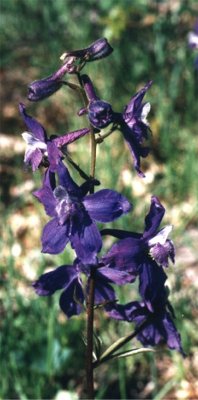 A common flower in fields and small clearings around our neighborhood, larkspur is an early spring blooming plant. Prairie larkspur (Delphinium albescens or carolinianum ssp.) has white flowers, tinged with blue. It grows about two to three feet tall. After transplanting several roots to our gardens, they produced abundant blossoms and foliage the next year. The following year, most did not reappear, although this is a perennial. Either they received too much water, or the added shade from quickly growing trees created an unfriendly environment, or perhaps it was just bad luck. Now, we have just one plant, which doesn't grow very large.

Larkspur is a very poisonous plant, making it unpalatable for grazing animals. Its uniquely shaped blossoms are pollinated by bumblebees, which are strong enough to force their way into the center of the flower.

We also grow another type of larkspur which is an annual of unknown species. These plants came from a seed packet several years ago and faithfully reseed each year, producing small, delicate plants with blossoms ranging from white to pink to deep blue.