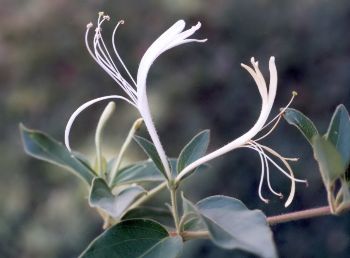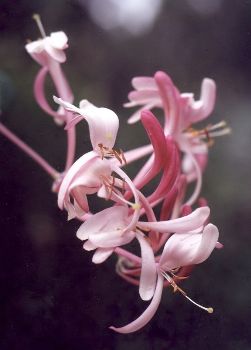 When the internet is capable of producing smells, then an article about honeysuckle will be able to do justice to this flower. Its fragrance is wonderful, especially when it can overwhelm the rather nasty smell of passionflower vines. We grow two kinds of honeysuckle: Japanese and coral. There is also a variety with pink flowers that grows in this area. It is less invasive than the Japanese plant and is called Pam's pink honeysuckle (Lonicera x americana).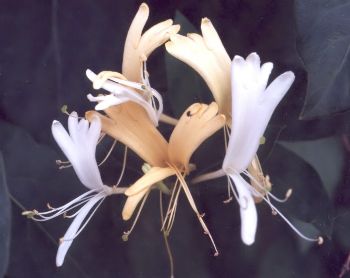 The wonderfully fragrant white blossoms of Japanese honeysuckle (Lonicera japonica) make up for its extremely invasive habit. After starting with a 6 inch sprig, we now have thick vines encompassing the compost bins and a large segment of fence. The plant sends out new shoots which seem to grow several inches every day, as well as ground runners that sneak around behind fences and through the grass. An interesting feature of the blossoms is that they start out white, then turn yellow as they age. Every so often, sections of the honeysuckle vines die and must be trimmed away. The woody stems can be rather thick, but they are soft and easily cut. When extra shoots are cut away from the main stems, the new growth is more profuse the following spring.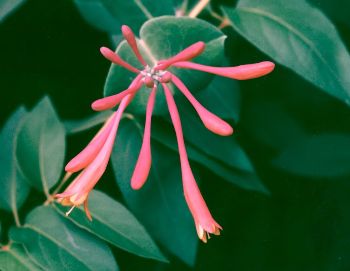 Coral honeysuckle (Lonicera sempervirens), a native wildflower, is quite a bit different from the previous type and does not have much odor at all. It does attract lots of insects and I've watched bumblebees tear away at the base of the flowers to get to the nectar they can't reach down the long tube of the blossom. Our vines also often host a variety of species of sphinx moth caterpillars, or hornworms. An interesting feature of this plant are the leaves right below the blossoms. They look like one solid leaf with the stem coming up through the middle. After the flowers are pollinated, bright red berries form, which are nearly as attractive as the blossoms. The coral honeysuckle is not nearly as aggressive as the other types and so is easier to keep under control.