Several years ago I saw a large shrub at a local nursery and was so impressed by the beauty of its flowers that I eventually acquired three plants. I'm not positive of the identification, but it is certainly of the genus Erythrina. Because it has never produced viable seeds, I'm tempted to assume it is a hybrid, probably Erythrina x bidwilli. The common name is equally confusing. I've always called it a coralbean tree since it looks like a giant version of the common Southeastern U.S. wildflower called coralbean or Cherokee bean (Erythrina herbacea), pictured at left. However, because we get freezing temperatures during the winter, it always dies back to the base, which, in the two oldest plants, has become a large, curled-up ball, like the trunk of a deformed tree. I cover this base with leaves for the winter and it always puts out new growth in the spring once it gets warmer. There are large trees that grow in frost-free areas of Florida that have the same leaves and blossoms and are called cock-spur (because of their nasty little backwards pointing thorns on each leaf), coral, or flame coral trees. Another name I've heard used is mamou tree.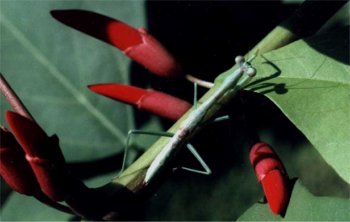 Although the plant grows in a rather messy way, putting out long branches at an astonishing rate, it is difficult to actually prune back because it constantly produces long strings of brilliant scarlet flowers which I can't bear to cut off. The blooms sometimes cover well over a foot of stem. Each blossom is about 2 - 3 inches long. Hummingbirds love it and visit the blossoms every morning. By mid-summer, the stems are over six feet high and about as wide and the plant produces flowers almost constantly. It is fairly drought tolerant, but in 100°+ weather, the tips of the blossoms turn black.
Besides hummingbirds, many other creatures are attracted to the coral trees, including predators such as spiders and praying mantises, who are lured by the many insects visiting the flowers. Pictured here are a young praying mantis and a green lynx spider.