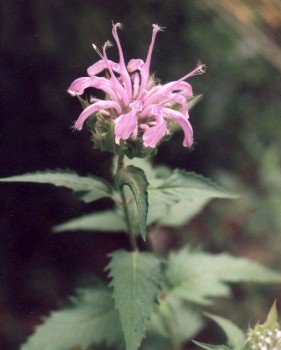 Like many mints, wild bergamot (Monarda fistulosa) forms colonies of upright, pleasant smelling plants. A big bonus with this particular species is its attractive flowers, which form on top of the two-foot tall single stems. I can't remember how we started wild bergamot, or bee balm, in our gardens, but from a single plant we now have two large colonies. The seeds are fairly easy to germinate and it is also easy to transplant the spreading rhizomes. A perennial, wild bergamot is very drought resistant and blooms even in shade, although the blossoms are bigger and the plants shorter in the sun. During the winter the plants freeze back but sprout again very early in the spring.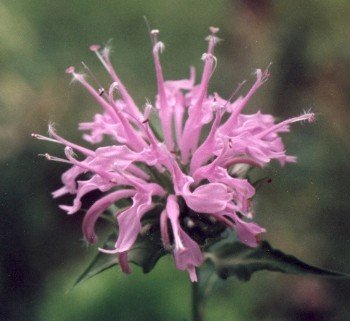 Although many plants in the mint family have square stems, this is a very distinctive feature on these. The stem is smooth and almost leafless, with the leaves clustering at the top. From ground level, our bergamot patches look like strange miniature forests with umbrella-like trees. From above, the clumps of plants look much more lush because of all the leaves, and eventually the flowers.

Not quite as aggressive as some mints, wild bergamot holds its own without taking over. One slight drawback is that in shade, the stems are long and the flowers make the plants top heavy so they sometimes fall over, but only the tallest do this. The leaves are used as a tea flavoring and the dry seed pods have a wonderful aroma.