August, 2010
Junkyard Art
by Valerie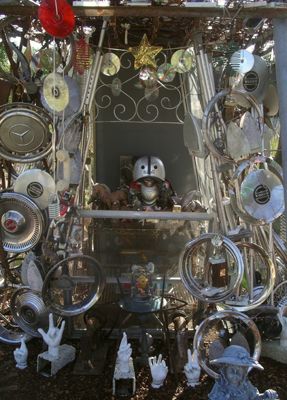 There is a new art exhibit at the Lady Bird Johnson Wildflower Center that is currently being assembled. It is not just the individual pieces being brought together to be displayed, but, in the case of the first work to be shown, it actually was assembled on site. Created by a local Austin man who has previously produced a slightly famous (not very many people have actually heard of it, but his neighbors have) "Cathedral of Junk" in his yard, it is considered folk art of the quaint type. I'm not terribly impressed by it, as it looks like something that kids playing in a junkyard might put together as a play house. It does, however, bring back memories of those nostalgic days when I did play in dumps.

The interesting thing, to me, about the timing of this particular exhibit is that I just returned from a trip to Wisconsin, where we stopped at a major junkyard art collection: the one behind Delaney's Surplus on Route 12 near Baraboo. I was traveling with my mother, Ev; we have both been there before and were eager to return. My mom likes shopping at the surplus store and we both love viewing and photographing the artwork.

While the Cathedral of Junk in Austin is on a small human scale, more just a collection of stuff rather than the bits being assembled to produce something bigger, the works in Wisconsin are on a grand scale. Created by Tom Every (also known as Dr. Evermor), the artist gave names to his biggest works, and they are certainly big. The centerpiece is an enormous graceful structure that looks like something out of a sci-fi fantasy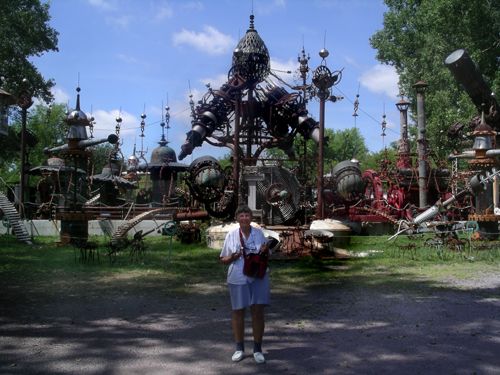 dream world created by Jules Verne: the Forevertron. The pieces from which it is constructed are easily forgotten when viewing the overall creation. It has a style to it that is simply pleasing to view. Another large group of sculptures make up the Bird Band. These incorporate all manner of musical instruments, pipes, horns, knives, and countless other pieces of metal welded together to make over 70 elegant bird-like creatures, many of which are taller than a human, and some of which tower over the trees.
Besides the major components in this hidden art park, there are numerous smaller works. Many of them are based on animals, some recognizable and some completely fantastic. A whole series of small robot-like characters remind one of comic book heroes and villains. A piece called "The Epicurean" was created for an outdoor barbeque, and has been used for such. Some antique items are so charming in their own right that the artist left them just as they were.
We almost missed Delaney's on this last trip because it is now closed on Tuesdays and Wednesdays (make note of that if you want to visit). However, on the way back south, we happened to be passing by on a Monday and altered our route in order to enjoy the whimsical rest area. Oh, and my mother had a chance to shop in the store.