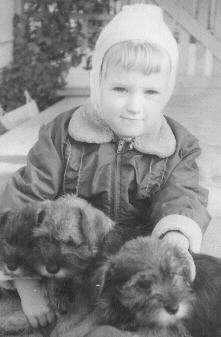 Valerie, with three schnauzer puppies, in Illinois, 1961.
Cape Sable
Originally from Moments by Valerie, a collection of memories (1961-1983), written in 1986 and presented to Larry on their first anniversary.

Cape Sable is on the ocean side of the Everglades. A popular canoe trip begins 12 miles inland and travels through canals and channels out to the Gulf of Mexico where the Cape offers a convenient campsite. My mother, sister, and I took the trip in our aluminum canoe in mid-August.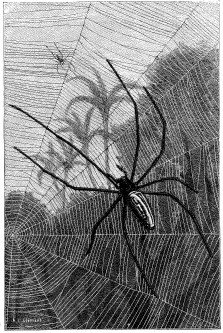 The weather was hot and sunny; but we were often in the shade of mangroves. Above us, spread between the trees, were the huge webs of tropical spiders. As we paddled, vultures flew past just ahead, frequently knocking the spiders into the water, or, on a few frantic occasions, into the boat. We paddled all day, arriving at the Cape with a couple of hours of sunlight left. A strong breeze was blowing off the Gulf as we explored, collected shells, and ate dinner. We watched the sunset, then settled down on our private beach under blankets. During the night, the tide came in, the wind stopped, and then the mosquitoes attacked. They were so numerous that we decided to leave shortly before dawn and, unfortunately, the tide was going out full force. We spent several hours just to get far enough inland to escape the tide. The trip was tiring but certainly unforgettable.