June, 2011
Town Lake
by Valerie
The Colorado River runs through the middle of Austin. In fact, it defines the city, as in "North of the River" or "South Austin." It is dammed into a series of lakes and provides our drinking water and electricity. The lake that is right in the center of our city used to be called Town Lake. Somebody took it upon themselves to rename it Ladybird Lake, but they never asked those of us that know the lake if we thought it was a good idea.

When I first moved to Austin, in 1983, I quickly discovered that Town Lake was a good place to go kayaking. The lakes upstream were open to motorboats and therefore very unfriendly places for a small vessel under paddle power. On Town Lake, I would usually only meet members of the UT Rowing Club, canoeists, or the occasional sailboat at the lower end.

Town Lake was so narrow that the current near the top end could be fairly strong, especially when the gates at the dam were opened to allow more water to flow through. It was so shallow that it was almost like a river instead of a lake at this point, and I had to be careful to avoid rocks as I paddled hard to get upstream. I would often kayak to the island right below the dam (made of huge chunks of rock left over from dam construction) and sit on the boulders to watch the birds, have lunch, or cool off in the water.

On hot summer afternoons, the demand for electricity in the city would soar, and the gate would be opened to allow more water through the turbines. When this happened, the water level would rise a foot or more in a few minutes. If I was sitting on a rock near the water, I'd usually have to move to higher ground.

Although Town Lake was surrounded by residences and roads, there was still a buffer of forest right around the water's edge. It often felt much more wild than it really was. The high cliffs that overlooked the lake had houses on them, but they seemed distant and almost unreal. I'd usually see wildlife when I was paddling: turtles, snakes, raccoons, deer, and water birds of all kinds. I had run-ins with the resident swans and geese, who felt they had to protect their mates and nests, or were just ornery. I once even cornered a beaver on a narrow rock ledge. The massive rodent couldn't go anywhere because my boat was blocking its way to the water. I remember thinking that it looked rather battered, with scars on its flat scaly tail and also across its nose. It had incredibly beady little eyes.

Watching herons fishing was one of my favorite activities. While great blue herons and great egrets would wade into the water, green herons perched on branches and sort of "dove" into the water to catch fish. Once they plunged their heads in, they then had to scramble to regain their balance, always an entertaining sight.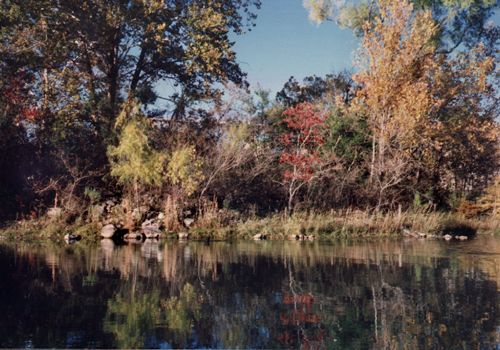 The shoreline of Town Lake, Jan., 1990.

I would periodically see odd things on my Town Lake excursions. I occasionally saw the huge heads of enormous snapping turtles as they rested just below the surface of the water. After heavy rains, there would sometimes be dead animals floating in the water. Once there was a vulture standing on a bloated dog carcass, as if it were a raft. Another time I found a goose egg in about ten inches of water. I happened upon a water snake trying to swallow a fish that appeared to be too big for it. The area right below the spillway of the dam was littered with the shells of large turtles that had probably drowned during floods.

Traveling by small boat, I was able to wend my way around the branches and other obstacles on the shoreline. I always stopped at the little boat ramp on the Brackenridge Field Lab property. It was a perfect place to get out of my boat and stretch a bit - just a small concrete ramp, barely big enough for a rowboat. There was a hidden (and very cold) spring nestled against the steep bank that I liked to visit. Just watching the crystal water pour out over the rocks and into the darker river water was somehow quite satisfying. I would sometimes paddle between the supports of old rotting docks that were no longer maintained by their owners living high up on the cliffs, carefully turning my paddle so it didn't catch on either side. I could even slip under the limbs of trees overhanging the water, imagining that I was exploring an exotic jungle locale.

It has now been years since I paddled on Town Lake. Where the City once had a small canoe rental, now there are other private docks that rent out canoes and kayaks; the lake is almost always crowded. I drive over the Mopac bridge several times a week and there are always boats to be seen. For some reason, a busy body of water is just not as appealing as the quiet and secluded place it used to be. Town Lake no longer exists. A new entity, called Ladybird Lake, has replaced it.