June, 2004
Boardwalks
by Valerie
I like to hike. It is one of my favorite pastimes, whether I'm out in the wilderness or still here in Austin. Just about any sort of trail will do, from a narrow mountain path to a sandy beach, from paved sidewalks to picking my way through a rocky creek bed. While pathways of any type beckon, one kind is irresistible. Boardwalks have always lured me to, well, walk on them.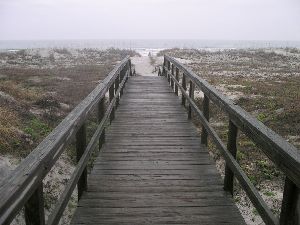 Beach access at Little Talbot Island,
Florida, Feb., 2004

I suspect the first boardwalks with which I came into contact were the ones that led over the dunes to the Atlantic Ocean. There's a great first impression. Who can deny that the smell of the salt air and the anticipation of seeing the waves can only be topped by that first glimpse of the vast waters as one stands on the peak of a rise that has hidden the view up until that moment? Once I'd tried walking in soft, loose sand, the value of boardwalks became crystal clear.

Boardwalks not only help us cross sandy areas without harm to the environment and ourselves, but they allow us to go all sorts of places that would normally be inaccessible. The Everglades trails would be far less interesting if it were not for the boardwalks that conveniently allow visitors to glimpse the essence of the "River of Grass" without the need for boats or waders. Traversing muddy floodplains, swampy bottomlands, thermal springs, and tidal wetlands are just a few of the purposes for which these wooden walkways are used. The elevated walk helps keep hikers dry, safe, and clean, while at the same time protecting sensitive areas from our inept tramplings.

There is a certain mystique involved in walking along a sturdy sidewalk while, only inches away, the surrounding area is totally inhospitable to hikers. I've photographed water moccasins and alligators at close quarters, both of us knowing that I would stay in my place and they in theirs. Animals often become familiar with the comings and goings of folks on a boardwalk and eventually accept the fact that the people will not stray from their paths. This frees the animals to go about their business as long as they avoid the "highway" that intrudes into their territory. One boardwalk that has been a favorite of mine for many years is located at the edge of a lake in the Myakka River State Park in Florida. It is such a good viewing area for birdwatchers that it is actually called the Birdwalk.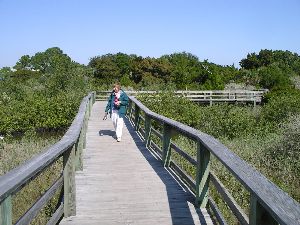 Evelyn in park at bridge to Flagler Beach,
Florida, Feb., 2004
The idea of the boardwalk has turned out to be an excellent solution to several accessibility problems. Just like bridges over a river, boardwalks can span any sort of barrier, allow people to get an "over the edge" view of deep chasms and even explore the treetops. A fairly recent phenomenon is the Canopy Walk, which is a pair of wooden towers with a narrow suspension bridge between them. Once people have climbed the stairs, they can then closely observe a world that is usually 20-30 feet above their heads.
Sure, it's fun to leave the popular trails and forge a path through weeds and brush, but sometimes it is more pleasant to just enjoy the view without having to watch every step. In this case, the beaten path is not something to disdain, and the incongruity of a neat, even walkway built through the most rugged or uninviting landscape satisfies a desire for surrealism that seems to be part of my psyche. While the road less traveled may be a nice metaphor for life in general, when it comes to actual hiking, a boardwalk is tops.