May, 2007
Camp Pinewood
by Valerie
During the summers of my youth, my parents were very diligent about making sure that my sister and I enjoyed experiences beyond our usual home and school activities. We took annual summer camping trips starting when I was three years old, attended picnics and weekend fishing trips, and generally made the most of the outdoors during the snow-free months in Illinois. Once we were old enough, we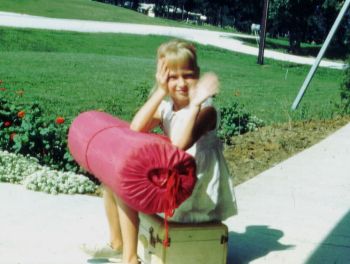 leaving for camp, Manhattan, IL

attended overnight and day camps, some through the auspices of the Girl Scouts or local public school. My most cherished memories, though, come from the four summers I spent at YMCA sponsored Camp Pinewood in Michigan.

Located near Muskegon, Camp Pinewood was established by the Chicago YMCA around 1925. The camp is beautiful, surrounded by the coniferous woods of the Manistee National Forest and situated on private, spring fed Lake Echo. For two weeks each summer, from 1966 through 1969 (when I was 8 to 11 years old), I attended a girls-only session for youngsters my age at the camp. My mother and sister also participated during the last one or two years, with my mom working as a teacher.

When I went to Camp Pinewood initially, it was the first time I was away from home by myself for any length of time. Yet I took to camp life like the proverbial duck to water. After having been on many camping trips with my family where we stayed in a tent, used pit toilets, and ate at picnic tables, this "camp" was luxurious. There were individual cabins (with bunk beds) that each held 8 campers, a main building where we gathered for meals and events or their college-aged counselor, and bathhouses with all the amenities (hot water, showers, and flush toilets). There was a low-key American Indian theme, with the cabins named after local historical tribes and the bathhouses called "teepees." Because there were two such buildings, they were color-coded blue and pink to keep things simple. I even still remember the names of all four cabins in which I lived: Chippewa, Kiowa, Crow and Fox.

I had taken classes at the Joliet YMCA, so I sometimes knew a few of the other girls that were also at camp. However, the majority of the campers came from all around the Chicago area, resulting in quite a number of new friends made each year. Things were very structured, with each and every day planned out so that there was rarely idle time for mischief. But the activities that were included were so engaging that it was like a holiday the entire time I was there. Even the chores were not particularly onerous. These included, in rotation with the other cabins, cleaning the bathhouses, setting and clearing the tables at mealtimes, cleaning and readying the campfire circle, helping with the US flag raising/lowering, and other such mundane, but necessary, tasks.
| | | |
| --- | --- | --- |
| one of the cabins | Val and luna moth | keeping track of swimmers |
At the beginning of each camp session, there were various choices and tests. We had to pick the classes that would make up our individual curricula, undergo a quick physical exam by the camp nurse, and take a swimming test. This last evaluation was important because campers were assigned to one of three different swimming sections roped off in the beach area. The water "colors" were primary: red was for those that couldn't go beyond about waist deep, yellow was for the next depth, and blue was for those that could swim pretty well and could go in over their head. I had no troubles with the length of the swimming test, but failed at least the first time to be able to swim a whole lap with my head in the water doing the freestyle. Later I did make it into the blue water level and this allowed me to also take canoeing as one of my classes. Since I had been canoeing from the time I was old enough to hold a paddle, it was really just a good chance to explore the lake while our teacher relaxed in the boat.
The classes offered were so varied that it was hard to choose the ones for my schedule. I remember taking subjects like crafts, nature study, and archery. The most prized class was horseback riding. However, this cost an extra fee for each session, so it was a real treat to get to ride a couple times during the camp. There were also so many extra activities that the two-week session seemed to fly, with never a moment to get bored. Surprisingly, there were even free times scheduled, but these never seemed to lack in activities either. Putting eight girls together in a cabin is like creating an instant slumber party that lasts for two weeks. We certainly kept ourselves occupied, from talking quietly to playing wild games, such as turning our whole cabin into a jungle gym obstacle course. I remember that game because I think I was the one that invented it. The object was to make a complete circuit around the four walls without touching the floor. This was possible by using the beds, open windows, and two big cabinets, as well as swinging on the door to cross that gap. We also discovered that bunk beds substituted nicely for parallel bars and trampolines. Those cabins were definitely built to last, no matter what.
Each morning started with a set routine (the exact order of events escapes me) that included exercise, a VERY cold swim, breakfast, a flag ceremony, and sitting for a short time in an outdoor amphitheater while somebody mumbled stuff that sounded like a brief church sermon but in English instead of Polish/Latin. This daily meeting was actually especially fun because the amphitheater faced down to the lake and so it was easy to totally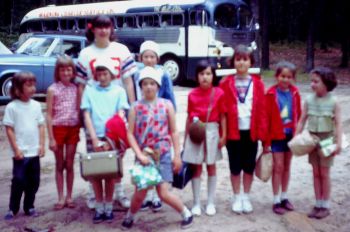 Val, 2nd from left, and other happy campers

ignore the speaker and just enjoy the birds, sounds of the frogs and insects, cool breeze, and watching a scene that was picture perfect.

Not everything was completely fun. I remember the miserable "sleep out on the beach" night, with the cold wet sand slowly filling my sleeping bag. There was at least one time that I got lost between the bathroom and the cabin at night (too many trees in the way). Then there was that wolf spider that nonchalantly walked across my foot as I stood by the campfire one night. For the most part, though, I had a great time. We had the leisure to enjoy all the friends, activities, and beautiful settings. We had little treats, like being allowed to make a pass through the camp store each night after supper. On an allowance of 15 cents a day, we could purchase candy. I'm sure there were other items as well, but I never noticed those. There were the animals that we encountered, such as a box turtle that we kept for the duration of the camp session in a little enclosure, supplying it with ample worms and bugs. One night about halfway through the camp session, before we could enter for supper, we were required to turn in a postcard to be sent to our families to let them know we were still alive. I can remember that I hadn't even THOUGHT about my family in the past week. My perpetual delight was obviously evident to others as well. In one of the camp newsletters handed out at the end of a session, at the little awards section where everyone gets some distinction, I was listed as having the nicest smile.

Evenings always included special events, such as a talent show or other entertainment. There was also the nightly campfire, complete with guitar accompanied singing and skits. One of the first times I was ever sad enough to cry because something was over was the last campfire night on the last camp session I attended. I knew that I wouldn't be back the next year and I had enjoyed myself so much that, even at age 11, I knew I would miss it in the future.