May, 2001
Picnic
Originally from Moments by Valerie, a collection of memories (1961-1983), written in 1986 and presented to Larry on their first anniversary.
| | |
| --- | --- |
| | Valerie at her 2nd birthday, Feb. 26, 1960, Joliet, Illinois (the beer is not for her) |
My father belonged to an organization in Joliet, Illinois, called the East Side Athletic Club that sponsored a big picnic every summer. (I'm not sure why it was called an "athletic" club when most of the time everyone sat around the club house bar, watching a small black-and-white television mounted up in the corner, drinking beer, or, in the case of the kids, 7-Up, and eating pistacios or other snacks. The most active thing to do there was play billiards.)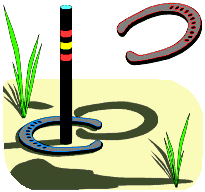 Anyway, the picnic was an important event and there were lots of people and plenty of other kids to play with. We spent all day on the playground equipment, playing bingo, watching the horseshoe games, eating free barbeque sandwiches, enjoying ice cream in little cups with tiny wooden spoons, drinking soda pop, and exploring the wooded surroundings. Polka music was played over loudspeakers and I always thought it was the happiest music there was. The men all gathered around a bar and, of course, drank beer, and sometimes, in a darkened room, they showed slides of photos taken at previous picnics or other club-related events.
There were also family groups scattered about, where grandparents to babies sat in folding chairs or on blankets under the shade of huge oak trees. Organized games included egg throwing (and catching!), races, and various raffles. By the end of the day I was usually so tired I'd fall asleep in the car on the way home.