April, 2004
Big Cat, Big Bird
by Valerie
This past February, my mother and I had the privilege of visiting one of my favorite Florida destinations: Homosassa Springs Wildlife Park. Unique among Florida's state parks, Homosassa is a zoo and sanctuary for injured native wildlife. By far the most popular animals at the park are the manatees, which numbered 7 during my last visit. This particular manatee compound only keeps females as they are not a breeding facility but a rehab center for injured animals. The manatees all live in the large natural spring that is the focal point of the park. A fence at the junction of the short spring run and the Homosassa River protects the manatees from their nemesis, the motorboat. A clever and unusual manatee viewing area remains in the spring from the days when it was a private wildlife theme park. This consists of a floating structure with large underwater windows so that people can walk down below the water surface and look out into the spring, much like a reversed aquarium.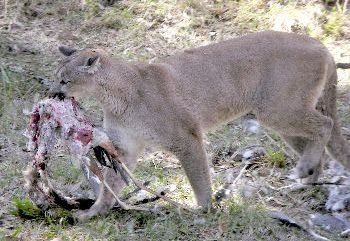 While the manatees are certainly fascinating, the park also contains many other animals, including birds of prey, flamingos, pelicans, alligators, foxes, bears and otters. Besides the confined animals, almost all of which cannot survive in the wild anymore because of injuries or human acclimation, the park teems with wild birds that are attracted to the ideal environment. Ducks, ibis, herons, and egrets roost in the trees and feed in the shallow waters of the numerous streams. Although the park is not large, there is so much to see and watch that any visit is an all-day affair. This was certainly the case during my last trip. We got there in the morning when they opened and stayed until late afternoon, walking through the entire zoo at least twice.
Just before we left for the day, on our second time through the area that houses most of the mammals and birds in large, naturally landscaped enclosures, we noticed a bit of excitement near the pen hosting a pair of cougars. Moments before we happened by, one of the cougars had caught a great blue heron that was careless enough to be wandering about in an area with two big cats. The giant feline had leapt upon the large heron, much like a housecat with a songbird, and was in the process of leisurely plucking its prize. We watched for at least 15 minutes while the predator calmly removed feathers and readied its victim for consumption. As the animals in the park are well-fed, there was no urgency about its actions, and the other cat did not challenge the proprietorship of the snack. Eventually, the cougar carried the scrawny heron carcass to a far corner of its enclosure and out of view of the rapt audience, all of whom had been treated to a small natural drama they would probably never see in the wild.