February, 2011
Raising Puppies
by Valerie
When I was growing up, my family owned miniature schnauzers. We always had one or two females, which were both pets and show dogs. The first schnauzer my parents bought was Penny, who came with a splendid pedigree and agreeable personality. She won many awards in obedience; I'm certain my parents were practicing training dogs so they would be prepared for kids. Penny was the first animal I met in my life, but I don't really remember much about the introduction. Penny whelped a couple of litters and I learned how to handle dogs at a very young age. My sister and I both loved to play with the pups and a small breed like the miniature schnauzer was just our size.

There was only one puppy in Penny's first litter, but Tuffy had a heck of a pedigree. All-time Champion Dorem Display showed up twice in the 3rd generation, three times in the 5th generation, and at least five times in the 6th generation. The Dorem kennel is quite famous in the miniature schnauzer breed and Tuffy's sire was a direct grandson of Dorem Display.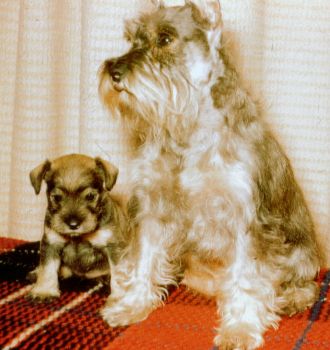 Tuffy and Penny, Feb., 1958
Penny's progeny were given names with the prefix Vee-Gee, as is standard for a "kennel." In fact, Penny's full name was Ace High Pennyroyal, because she came from Ace High Kennels. My sister, Vicky, and I were too young to name that first pup, but we had a hand in all later monikers. This was evident in the names of Penny's second litter: three males dubbed Alvin, Theodore and Simon.
We sold Tuffy, as well as the Chipmunks' namesakes. About the same time as that second litter was whelped, my parents bought Krikit (the weird spelling is quite possibly because I helped name her). Before my family moved from Joliet to Manhattan, IL, we temporarily considered making our home in Florida, and at that time decided to reduce our pet menagerie to just one dog. Vicky and I each had a vote on which we would keep and Krikit, the younger dog, won.
During my elementary school years, my parents bred Krikit several times and she whelped five litters. There were up to five puppies each time, but schnauzers were a very popular breed and those of good lineages were quickly sold. I was usually on hand for the births, observed my mother dock their tails and dewclaws (even helping with the little stitches on the tail), watched the puppies nurse, and had the delightful job of socializing the young dogs. My sister and I continued to help choose names to go on their pedigrees. Females had names like Sugar, Bluebell and Sweetheart, while males were named after our cousins (Ricky and Billy) or one more trio that we decided to humorously call Hart, Schaffner, and Marx.
Even though we liked the pups, and probably learned a lot about animal behavior and biology in the process of raising them for their first two months, we were always pleased when they were so desirable that people bought them almost at first sight. Krikit, however, was our family dog, and she lived her whole life with us. Krikit's last litter was whelped when I was 10 years old and, although the single female we kept was considered the family's dog, it was understood that I would have a bit more responsibility for her. I named her Samantha (her three brothers were Sonny, Snoopy and Stanley - we were into alliteration, I guess), and took a more active role in caring for her. She was my stoic subject as I learned how to groom terriers, no small chore for this breed.
An interesting aspect of this last litter was that at the time we also owned a cat. Smoky was a neutered male and we wondered how he would react to the newborn pups, which resemble rats. Well, Smoky turned out to have quite a mothering instinct and helped care for those puppies as if he really loved them. He spent a lot of time washing them and later would play rambunctiously with all four. I remember finding him under a whole puppy pile when they were 5 or 6 weeks old, purring loudly and looking happy as could be while they tugged on his ears and tail.
We bred Sam only once (I couldn't resist naming the boy of the litter Samson), but by then we were busy with other activities and no longer showing dogs or wanting to spend a lot of time raising them. Samantha continued to be a cherished pet through my early college years.
While I no longer want the responsibilities and, frankly, hassles of breeding dogs (yes, females are in heat twice a year!), I certainly have fond memories of the puppies I met as we were all growing up. Should every kid be so lucky!