December, 2012
Carousels
by Valerie
A century ago, many municipal parks had carved wooden carousels, with ornately painted horses, twinkling lights, and joyful music accompanying the merrily spinning ride. Before giant theme parks, providing rides that can cause heart-stopping adrenaline rushes, nausea, and the occasional death, carousels were a mechanical treat for kids of all ages. They were part of traveling circuses, big holiday celebrations, and state fairs. The fun of spinning around was combined with our love of big toy animals that could be climbed on and ridden. In this age of computers, space travel, and highway speed limits of 85 MPH, it is easy to think of carousels as quaint antiques.

Quaint or not, antique carousels are now few and far between. Many fell into disrepair or were broken down when they became an economic burden. The individual animals, sometimes very artfully carved, were sold off to collectors. The ongoing maintenance of painted wooden figures was more than most organizations could deal with, so the carousel became an expendable luxury beyond the means of municipalities, carnival organizers, and festival promoters.
| | |
| --- | --- |
| mural featuring lemurs, Zoo Atlanta | ornamental detail, Jacksonville Zoo |
I can remember riding on the carousel at the local county fair when I was a youngster in the 1960s. Beyond that, my experience was more with little merry-go-rounds available in neighborhood and school playgrounds: no animals, decorations or music (unless you count the constant squealing of the rusting bearings). The point of those devices was more in the pleasant dizziness produced by our own muscle power, as well as a way to burn off some of that excess childhood energy. In some playgrounds, though, a small reminder of the carousel still existed, in the form of little plastic horses individually mounted on springs. These stationary rocking horses might not have been much to look at, but they were a favorite of mine when I was 4 years old.


white alligator figure, New Orleans Audubon Zoo
I'm hooked on animals. Most kids are, but I just never outgrew it. While I like many forms of art, paintings and sculptures depicting animals always grab my attention more than other subjects. I also developed a love of visiting zoos. As an adult, I seem to have much more appreciation for their offerings than I did as a child, when I would rather be grabbing snakes and salamanders in a local stream than watching exotic and rare beasts from a safe distance. I don't remember the first time I noticed one, but, over the years, I started to see beautiful and imaginative carousels at the zoos I visited. Along with intriguing sculptures, creative architectural highlights, and colorfully decorated signs, zoos seemed with the carousel to be playing up the animal theme to the hilt.
As I visited more zoos, I noticed that these carousels had a similar look to them, sometimes containing the same unusual animal species that I'd seen at a different location. While the size and details of the entire machine were always varied, I began to think that there was one company producing these delightfully retro but certainly contemporary creations. Back when I started taking photos with a simple SLR camera, I snapped a few of the carousel figures, but it wasn't until I got a digital camera in 2003 that I could justify "wasting" photography on just about any interesting subject that caught my fancy.
To date, I've seen elaborate modern carousels at nine different zoos. With the ease of research on the internet, I now know something more about them. In the 1990s, a company called The Carousel Works in Mansfield, Ohio, started producing new carousels with carved and painted wooden figures. They also do restoration of antique models, but I've never seen any of those. Thanks to the promotional efforts and quality products of this one company, zoos all around the country now have a personalized carousel as part of their menagerie.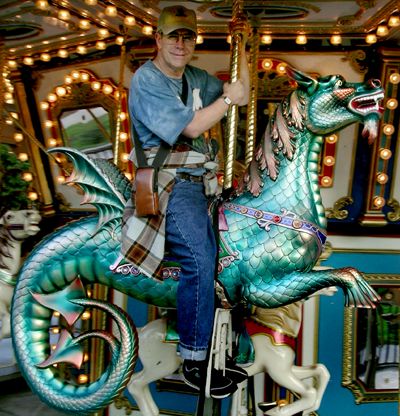 Larry demonstrates how to ride a dragon, Silver Springs, FL

The Carousel Works not only crafts the animals and art, but also all the mechanical bits, as well as installing the entire machine in its new location. I've deduced that they probably work with an organization's budgetary restraints to determine size and amount of detailing in the final creation, and it runs the gamut. The smallest carousel I've seen was at Silver Springs, in Ocala, Florida, a private amusement park with a strong nature theme. This one had eight sets of two animals each. The outer circle of figures included such striking beasts as a colorful rooster, an ostrich, and a resplendent dragon, while the inner circle contained more standard looking horses. At the other end of the spectrum, the St. Louis Zoo owns a magnificent mechanical giant, with 64 animal figures, two chariots (the bench-like seats that don't move up and down), and many original scenic decorative paintings. Although size, number and intricacy of extras (lights, mirrors, paintings, additional sculptural elements) don't always correspond, the smaller creations are usually less ornate than their larger counterparts.

While horses and horse-like animals are still the mainstay of the carousel faunal community, there are some new creatures included that can't help but bring a smile to anyone's face. Alongside zebras, lions, and rhinos are such imaginative delights as caterpillars, seahorses, frogs, and flamingoes. You can ride on the back of a babirusa or on the stomach of a sea otter. Many creatures are based on real animals, but some are super-sized (for example, a hummingbird), others are extinct (a triceratops), and a few never existed (a dragon). Sometimes a special resident of a particular zoo is featured, such as the white alligator in New Orleans, the manatees at Tampa's Lowry Park Zoo, or a hellbender (a giant salamander) housed at the St. Louis Zoo.

Photographing the animals on a carousel is quite a challenge. Starting early in the day is a must, since once the zoo gets crowded, there are so many people clambering all over the ride that it is hard to get a clear view. The inner figures are usually hidden behind the outer ones, and lighting is at best irregular and at worst nearly unmanageable, especially in strong sunlight. And, of course, the machine is almost always in motion. I have a hard time with moving subjects, even when their course is predictable. The sheer amount of detail and different subjects, all crammed close together on a moving target provides both fun and frustration for the recreational photographer.

A day at any zoo can be exhausting, as there is so much to see, but time spent gazing at the grand elegance of a well-built carousel is not wasted.